Mineral makeup is really in demand now because of it's known good effects on the skin. However, is it still good if it's not 100% pure minerals?
I bought this Fashion 21 Fine Powder Blush #5 (Mineral Based) because I saw the words "mineral based". I didn't think twice. This morning, while preparing for this entry, I read the ingredients and saw that this has parabens. In fairness to Fashion 21, they were honest.
So this is the packaging. It's nice. I like the packaging. But it's not just about the presentation, right?
Oh well, what are parabens anyway? Well, according to
Wikipedia
, these are class of chemicals widely used as preservatives in the cosmetic and pharmaceutical industries. They have been found in extremely low concentrations in breast cancer tumors. It also has the ability to weakly mimic estrogen (a hormone known to play a role in the development of breast cancer). Though there is no established casual link between parabens and cancer, it is still better to be safe, right?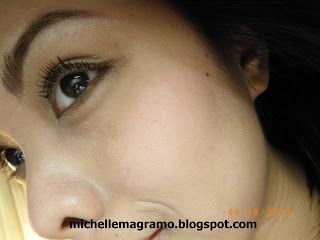 Here's a photo of me with the Fashion 21 Fine Powder Blush on. I applied it using my other brush.
Pros:
- Affordable (around Php 150.00).
- Can be found in some local drugstores and department stores.
- Very smooth on the face.
- Very minimal shimmer (just enought to give glow on my cheeks).
Cons:
- It has parabens.
- The brush isn't really working for me. The bristles are very stiff.
- The blush powder wont really come out of the holes connected to the brush so I had to open it and use another brush.
Overall Rating: 6/10
Will I repurchase? I will research more about parabens and will decide after doing so. But for now, no. :)
Micmic