Here's a photo of me with naked eyebrow. LOL! The right brow was overplucked by yours truly.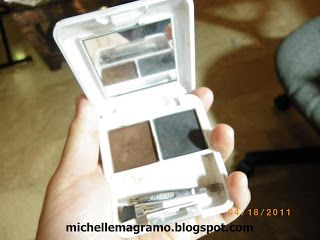 This is my NICHIDO Eyebrow Liner Duo Kit which was introduced to me by my cousin. The shades are coffee and black.
Here's the look after using the Nichido Eyebrow Liner Duo Kit.
Pros:
- Very pigmented.
- Quite affordable ( Php 238.00)
- Comes with a mini angled brush and mini tweezer.
- Can be found in the department stores in the Philippines (I don't know in other countries)
- With a mirror inside.
- Portable.
Cons:
- Minor fall outs can be seen upon applying. (I sometimes use this with a drop of water)
- I like the fact that it includes an applicator but i think it is too stiff for me.
- The colors are really extreme so I need to mix the two colors in order for me to match my eyebrows with the color of my hair. (But still not a fan of the combination)
Overall Rating: 6/10
Will I repurchase? I will try other brands first.
Micmic