Lately, I've been searching for a good whitening soap. I want to be fairer but I am afraid of taking in medicines and using harsh astringents so my last resort would be an effective whitening soap.
While browsing in facebook, I saw this online shop named 
Eshainessentials Beautyshop
. I saw lots of soaps being sold there so I decided to visit its
feedback album
. I saw positive feedbacks from previous buyers that's why I gave it a try. I purchased Extra Strength Whitening Scrap Soap.
The transaction with Shaine, the seller, went fast and smooth. She was so nice and accommodating. The soap cost me Php 180.00 plus Php 50.00 shipping fee. There was a delay on the part of the courier but I was never worried because Shaine never failed to update me. I am also into selling stuff online so I know that delays are possible.
Let's now move on to my brief review about the soap. It really has this good smell; makes me wanna eat it, haha! After 10 days of religiously using it on my face and body, I was impressed. It didn't dry my skin at all (no lotion was used during the 10 days of usage). It is not like other whitening soaps that will make your skin dry and flaky. It also made my skin rosy as if I applied a cheek tint. I still can't make a judgement on the whitening effect because I have only used it for 10 days. Maybe after a few months, I'll make another review.
By the way, here is a photo of the seller before and after using this soap.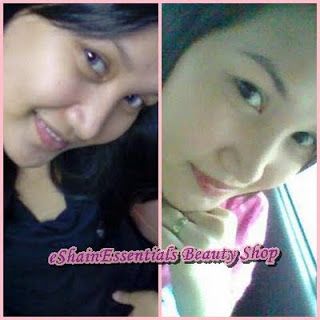 Will I repurchase? Yes. The seller is nice and so far, the product has been good to my skin. It is also affordable (180 pesos for a kilo of soap; would last up to months). Besides, I want to know if it will really whiten my skin. That means I have to continuously use this.
Will I recommend this? Yes, for those who do not have known allergies to soaps and for those who don't have sensitive skin. Otherwise, please consult a dermatologist first just to be safe. Based on my 10 day usage, this didn't cause me any rashes or itchiness.
Overall rating: 4/5
If in the future, made my skin fairer, I will give this 5/5 rating.
So what other brands of whitening products have you tried? Share it here. ^_^
Micmic