Sorry for this super late post. Weeks ago I went to Gateway mall and dropped by at Watsons. I bought several cheap finds.
 1. Sassy Nail Polish in Iced Mocha
- This is more on the lavender side with a touch of gold.
- Tried this upon purchasing and I was surprised that it did last long.
PHP 16.65
 2. Ariana Eyebrow and Facial Razor
- It serves its purpose.
- I used this for re-shaping my eyebrows.
PHP 138.50 (3 pc. pack)
 3. Maybelline 8 in 1 BB cream Miracle Skin Perfector (one shade fits all)
- It's a good base for makeup.
- It gives a light coverage with a light feeling on the skin.
- A bit too liquidy for me.
-  Has only one shade which is not good.
- I experienced some breakouts after using this. But since I am also trying out other new products, I didn't assume that this is the cause until I stopped using this and tried another brand of BB cream. My pimples dried a day after trying the other brand and no breakout since then. I guess this one isn't really perfect for my skin. I have read some good reviews about this though.
PHP 287.20 (20 or 30% off from the original price; sorry I forgot the original price)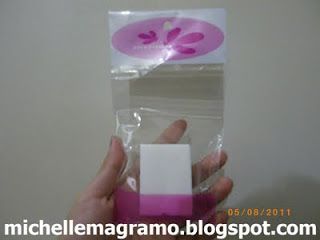 4. Nichido 2-pc Sponge
- Used for blending in my concealer.
- Washable.
PHP 40.00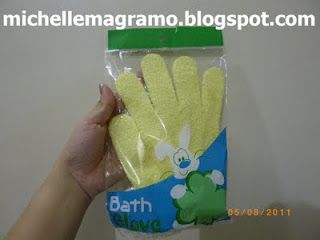 5. Glair Bath GlovesGlair,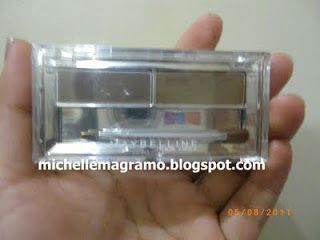 9. Maybelline Browdefinist
- Wax and powder duo.
- Perfect for a very natural looking eyebrows.
- I am not a fan of the brush included.
PHP 249.00 (on sale too but I forgot the original price)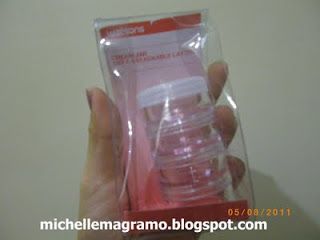 10. Watsons Cream Jar
- Perfect for cream, DIY eye primer and DIY lipgloss.
- I love the stackable design.
PHP 59.75
All are really affordable and useful.
Do you have any experience with these products? Share it here. ^_^
Micmic