I am not really into bags but a perfect HOT RED bag is a must for any girl's collection.
June 4, they delivered the items to our place. I was charged 20 pesos for the handling fee. Isn't that sooooo cheap? On the same day, I used the Patty Big Tote. I immediately fell in love with its color; stunning red color.
Here are some photos of me with my new babies.
Patty Big Tote in hot red
Php 420.00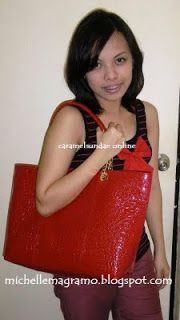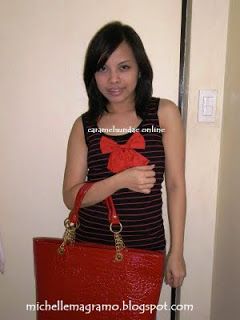 Large Party Wristlet in deep purple
Php 190.00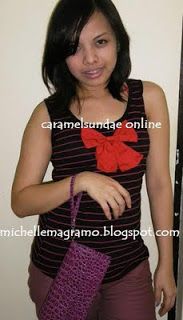 Since these are Marikina made, I am hoping that these will last for years. My only concern about the bag is that the gold color on the chains are being scraped off due to friction.
Based on the appearance, affordability, availability and the attitude of the seller towards her buyer, I will give an overall rating of 4/5.
(Off topic: If in case you're wondering why caramelsundaeonline is written on my photos, it's the name of my online shop in Facebook. These are the only copies I have left. I cannot remove the watermark so just ignore it.)
Micmic