Another haul? What the...! I know, I know. I should have included this in my previous hauls. Now, I promise to myself and to all of you as well that I will not be posting any haul unless I finish reviewing 5 products. I guess that's a good interval, eh?
It's been a long time since I last bought an item from Etude House. When I checked out their store in SM Masinag, I was enticed to buy. I wasn't really sure on what item to pick but there's this feeling inside me telling me to get something. I ended up getting these items.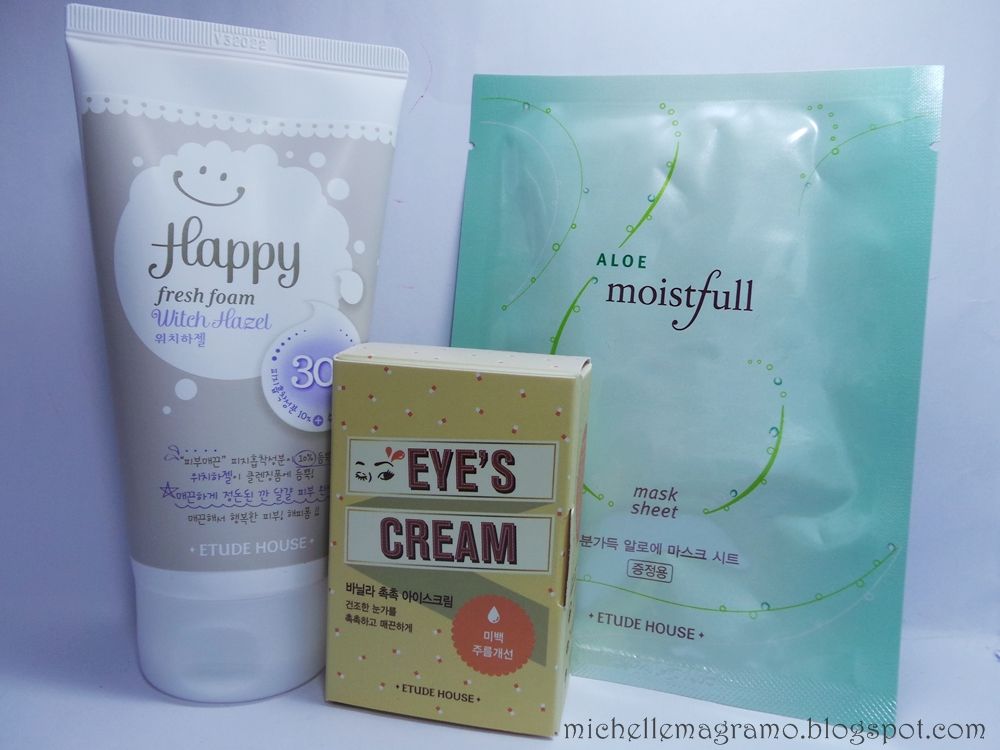 Happy Fresh Foam Witch Hazel - Php 228
Eye's Cream in Vanilla Moist - Php 428
Aloe Moistfull Mask Sheet - FREE
I bought the Eye's Cream because I want to pamper my skin even more by taking good care of my under eyes because I am starting to see some fine lines. But when I got home, I realized that I still have this 
Céleteque DermoScience Anti-Wrinkle Collagen Gel

. Yeah, another impulse purchase. This will wait a little longer in my storage before it will be put to use. 
The Happy Fresh Foam Witch Hazel was suggested by the SA to me. She told me that it is good in making the face less oily and moisturizing it at the same time. She also said that this will help me since I am having breakouts lately due to PMS. You have to smell this. One of the best facial wash in terms of smell.
Since my total was over Php 500, I get to bring home a free mask. The cashier asked me my skin type and I said I have a combination type of skin. She gave me the Aloe Moistfull Sheet Mask. It is a moisturizing mask and I am excited to try it. 
I am definitely going back to check out EH's lipsticks because of the very cute packaging. Haha! 
Follow me on instagram - michellemagramo
Follow me on Bloglovin and NetworkedBlogs (check on the sidebar).

God bless! ^_^