I think I know what you're thinking. You're probably thinking why I suddenly subscribed to

SaladBox

when I have already tried

BDJ Box

and

Sample

Room

. Well, read further to know why. But first, let me tell you that I purchased the SaladBox Starter Plus. My first box (December Box) arrived before December 2012 ended. I think that's how it goes for this one. They send boxes before the month ends, methinks.
Sign up now for a 3-month subscription.
Pay PhP1,500.00 via credit card, bank deposit, or Globe GCash.
Free shipping. Unsubscribe after the third box.
Click

here

to see other plans available. 
These are the items I saw upon opening.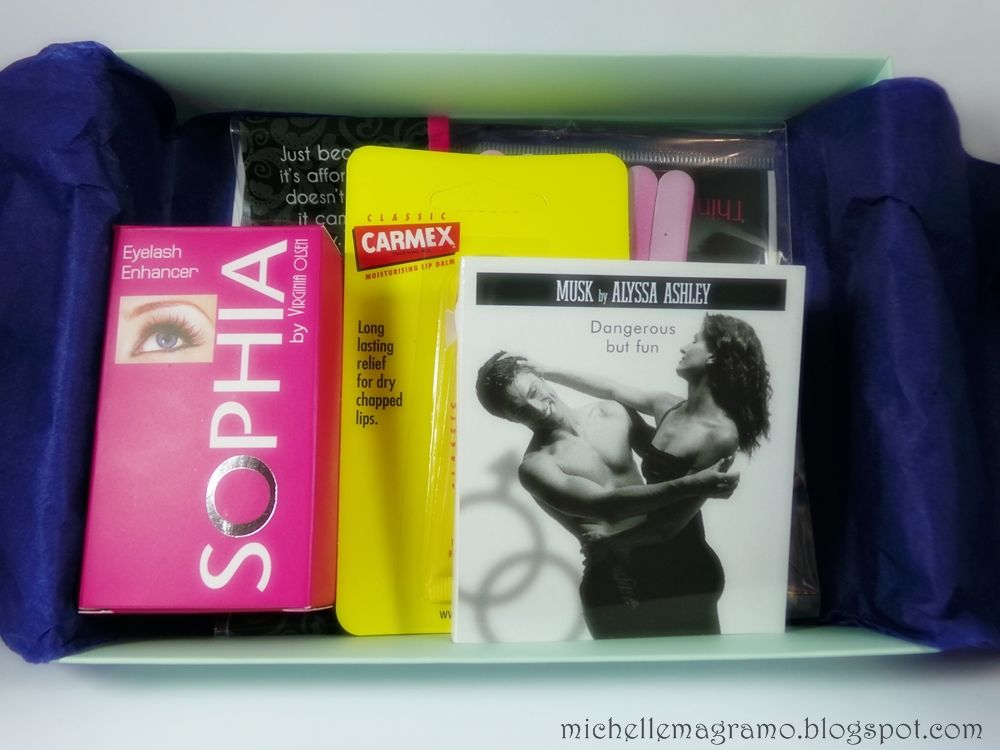 Here is a list of the products I received. To be quite honest, I only liked one thing inside my box and that's the main reason I subscribed to a Starter Plus to begin with.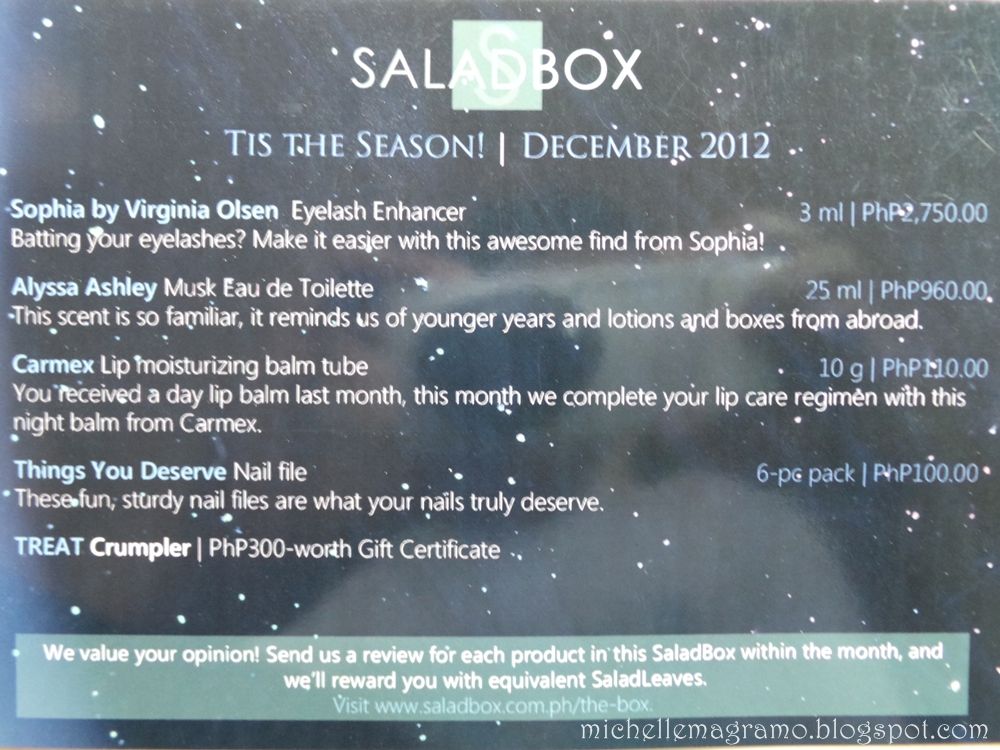 TADAAAA! Sophia Eyelash Enhancer by Virginia Olsen. This is the very reason why I subscribed. I have seen this raved by blogger friends claiming this is really effective so I really wanna try this out. I will be starting tomorrow and I will surely update you if it will work for me. *fingers crossed*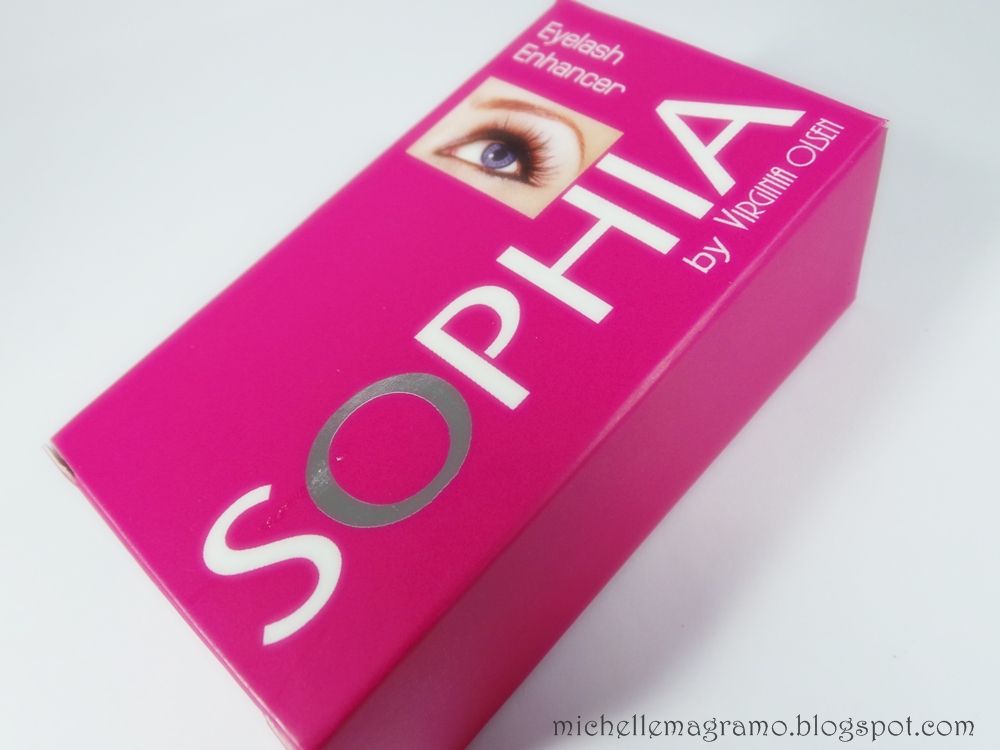 In my first BDJ box, I received a sample perfume. So, I was not surprised when I got another one with this box. This is the Musk Eu de Toilette by Alyssa Ashley. I have not tried sniffing this one yet so I cannot describe it now. 
Next is this Carmex Lip Balm. I like Carmex but I haven't tried this variant. Though I like Carmex, I was not impressed seeing this in my December Box. I don't know why but I think other stuff should be in here? Agree with me?
Things I deserve - Nail File. Really? Well, yea. I kind of needed a good nail file but I have tried this and this is no good compared to the cheap ones I normally buy. It folds every time I use it. :(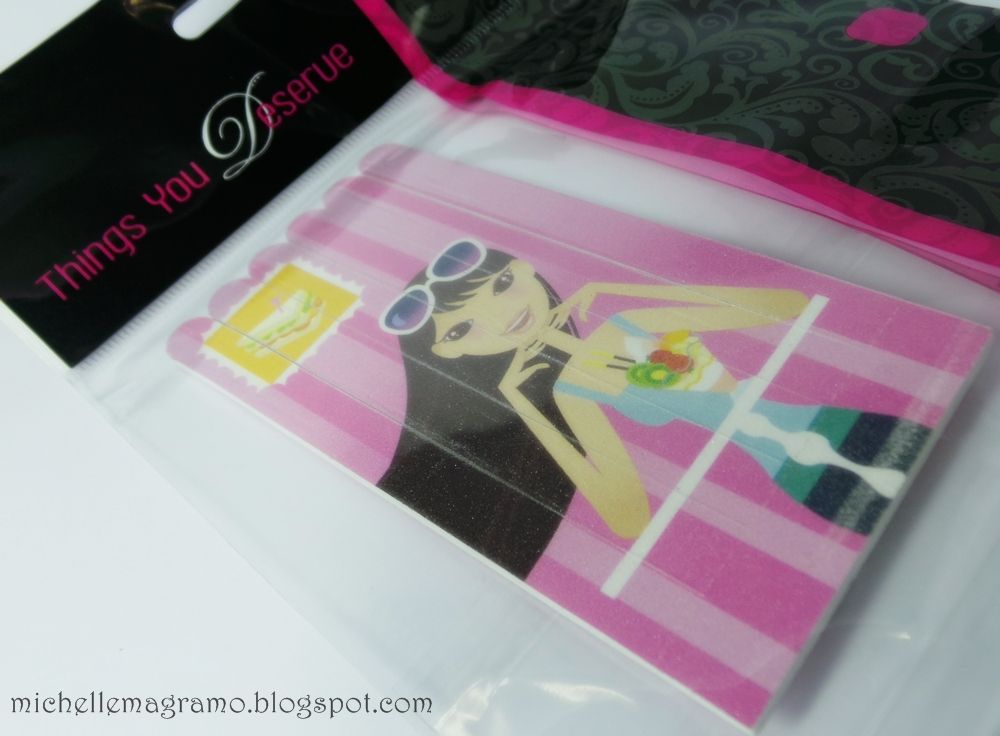 Lastly, the voucher, calling card and sticker.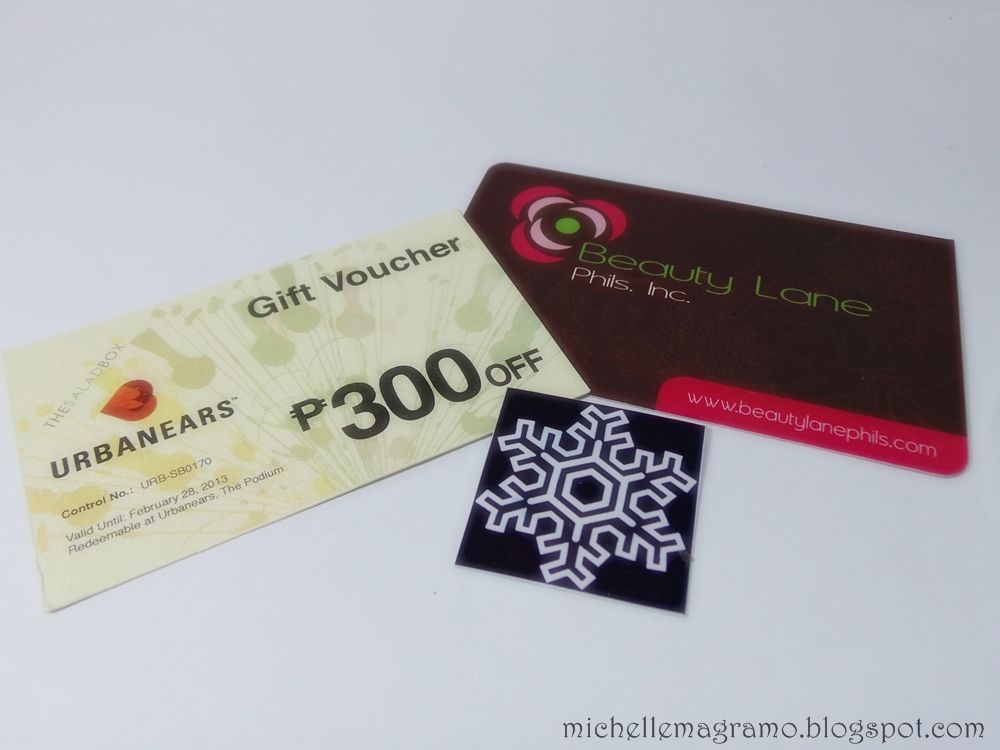 Overall, I don't like the December box but I don't necessarily hate it. I got what I have been wanting, the eyelash enhancer. I hope the January box will be better than this.
Follow me on instagram - michellemagramo
Follow me on Bloglovin and NetworkedBlogs (check on the sidebar).

God bless! ^_^