Have you seen my latest NOTD? If not, check here.
This post is the continuation of my NOTD post. Now, I will be talking about my makeup and outfit last January 31, 2013 when we celebrated my Papa's birthday.
Basically, I went for my all-time favorite makeup look; even-looking skin, defined brows and everything was left sweet and minimal.
1. Apply a face primer. ELF Mineral Infused Face Primer
2. Apply your favorite foundation. I preferred something that will last longer. Revlon Colorstay Whipped Creme Makeup in Buff
3. Set with a loose powder. 3w Clinic Natural Makeup Powder #23 (Palgantong powder)
4. Define you brows using a brow powder then set with a brow gel that is similar to the shade of your hair. Pinkies Collection Eyebrow Cake in EBC-03 and James Cooper Jazzy Collections Eyebrow Gel in Dark Brown
5. Define the brows further by tracing the bottom part with a pencil concealer. Nichido Minerals Spot Concealer in Neutral
7. Apply a pink blush. Beauty UK Blusher in

Candy Pink
8. Highlight the highpoints of your face. MeMeMe Beat the Blues

Moonbeam
9. Curl your lashes and apply tons of mascara. I used the one that has fibers for that add-on length and volume. TK's Lashes
10. Apply nude pink lip color. Revlon Just Bitten Kissable Balm Stain in Darling

Yes, you have read that right. I did not use an eyeshadow and eyeliner. This is my favorite makeup look. I want my eyes to always look subtle because people around me always tease me that I have a fierce looking eyes. So, to be more friendly-looking, I omitted those. 
Here's a before and after photo. See the transformation? Oh how I love makeup! Hahaha! :D
For my outfit of the day, I went for something girly and something that is also new to me. This is my first time to wear a jumpsuit and at first, I didn't like it but after I saw myself with the makeup on and with the whole outfit, I kinda like it already.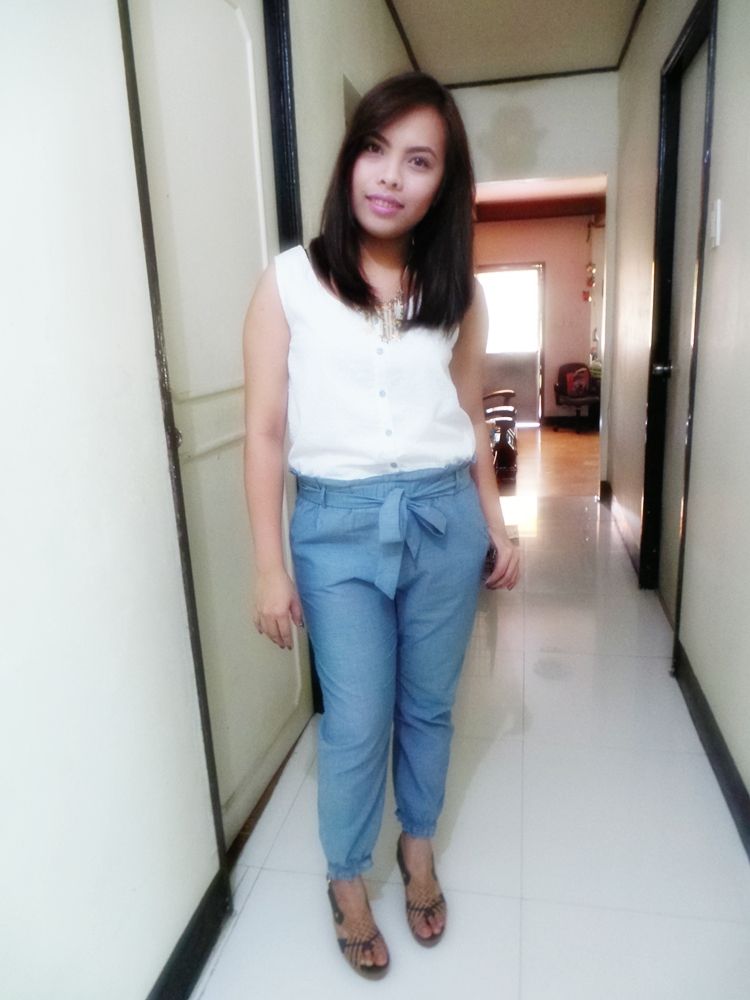 Jumpsuit - Cache Cache
Wedge - Payless
Necklace - Girl Shoppe
Sorry, I know I look awkward in the last photo. I am still not used to it. I know I'll do better next time. *fingers crossed* :)
Follow me on Bloglovin and NetworkedBlogs (check on the sidebar).

God bless! ^_^