It's already 1:20 in the morning here in the Philippines. I was supposed to do a product review now but I am already tired and as always, I want my mind to be fresh and free from stress while doing any product review. In that way, I know I am sharing my real thoughts about the products that I have tried.
If you've been reading my previous food post, you'll know that I am into eating healthier food nowadays. But, I must admit, I still add a bit of sin to my oh so heavenly food (like adding butter and chips).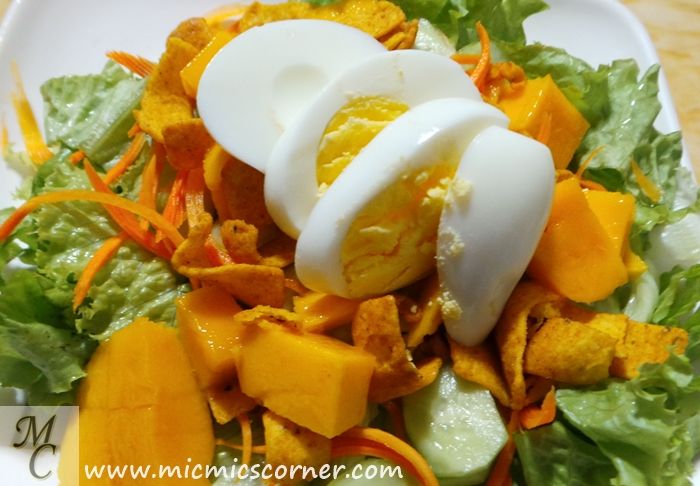 Now, I want to share with you my current favorite. This is a salad composed of lettuce, carrot, cucumber, ripe mango, hard boiled egg and corn chips.
Here in the Philippines, there is this corn chip called Chippy (the red one) and my family love adding that to our salad. My mom said, it adds a bit of saltiness to the salad which balances out the taste. 
I used to put thousand island dressing before but it has mayo so I guess, it has more calories. Now, what I use is honey vinaigrette that my mom bought from Pho Hoa (a Vietnamese restaurant here). You should try that out because it tastes so much better than any other dressing I have tried. 
So that's it. I think I have to end this post here. In case you'll try adding chips to your salad, let me know if you like it or not. ^_^