Because I was not satisfied with my previous boxes from a different subscription box, I decided to turn to GlamourBox and subscribe to their March box. Before I even receive my box, I saw some unboxing photos and blog posts already. There are mixed reactions towards this box. Seeing the photos made me think that I will dislike this myself. Read further to know my thoughts. :)
Let's start with the box itself. It is a very sturdy looking box. If I did not know anything about GlamourBox and if the name isn't written on the box, I will definitely think that a gadget is placed inside. The box is very thick and a tad heavier compared to SaladBox and BDJ box. Aside from that, this box arrived placed inside another box. I guess that's for safety purposes. Plus points for that.
Upon opening, I saw this really cute heart-shaped sticker with their logo. I find it very girly.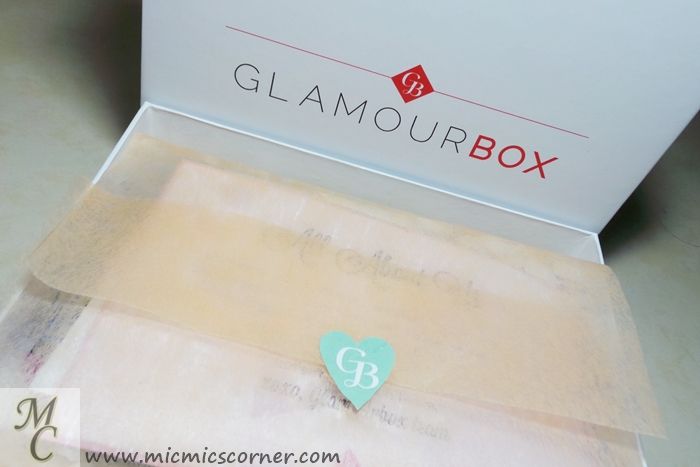 This month's theme is "All About Us" because it's International Women's month. The approach, for me,isvery holistic. It does not focus solely on the face or on makeup products but a collection of items that will help every woman feel more confident. 
Moving on, let me show you the items inside my March box. 
1. Eye of  Horus Natural Smokey Eye Pencil
Get that exotic kohl effect with this lusciously easy-to-apply eye pencil. Its unique formulation of Jojoba Wax and Mango Oil is 100% waterproof and glides o without tearing to give you an amazing goddess look. 
Full size 1.2 g / Php 960
My thoughts: With this alone, I already got more than what I paid for because I received the full size. But, I am not really into smokey eyes so I have mixed feelings about this. I am still going to make this work, I promise. :)
2. Pevonia Gentle exfoliating Cleanser
This gentle cleanser exfoliates dead cells and deep-cleanses to refine the skin's texture. It prevents clogged pores and blackhead formation, leaving it soft, smooth, clean and bright.
Full size 150 ml / Php 2,950
My thoughts: I am excited to try this. This smells really nice but I wish they gave a bigger size because 5ml will only last me few days.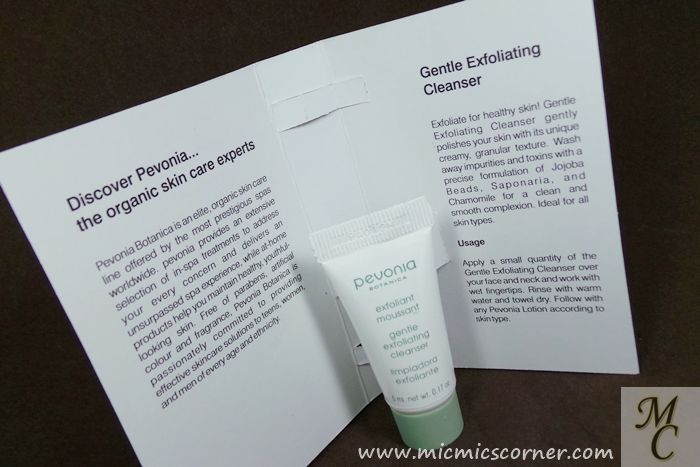 3. Avon Skin So Soft Glutathione Whitening Renewal Hand and Body Lotion
This whitening lotion lightens dark spots caused by aging and keeps dull skin at bay for fairer, glowing skin. See results in just a few days!
Full size 250 ml / Php 350
My thoughts: I don't get why they sent two sample sizes of this lotion. They could have added a different product instead. This smells really good as well. I guess this will be perfect after summer because I am pretty sure, my skin will get darker. Hoping that this will work since I have two 50 ml bottles.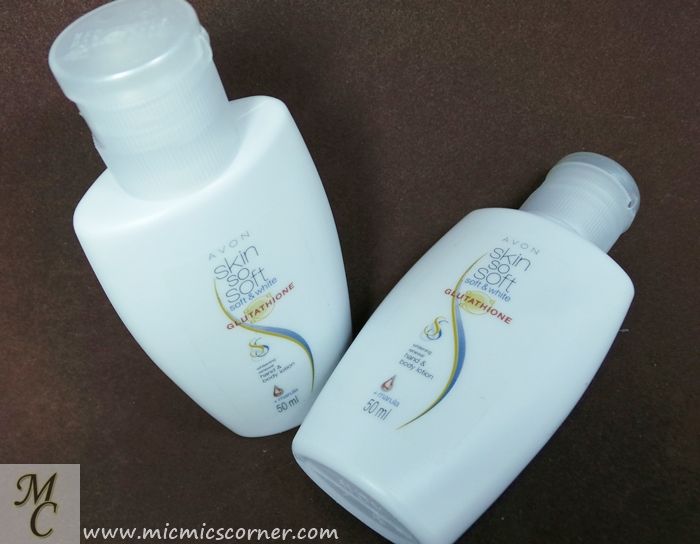 4. Heynature BB Creams (4 sachets in different variants)


Combining authentic oriental ingredients and advanced dermatological formula, Heynature selects the finest natural ingredients to develop a distinctive BB Cream series that guarantees nourishment to the skin for a flawless finish.
Full size 40 g / Php 1,300
Heynature Aqua Brightening Gel (1 sachet)
This moisturizing gel transforms into a pearl-like water droplets upon massaging the skin. It helps to boost up skin hydration level and effectively soothes the skin, resulting in full elasticity with a luminous glow.
Full size 80 g / Php 1,750
My thoughts: A 5 ml sample will be more sufficient than a sachet sample. How can we observe the total efficacy of this product if we'll only use it once or twice? Bu, yeah, I can still use this and post some swatches for my readers.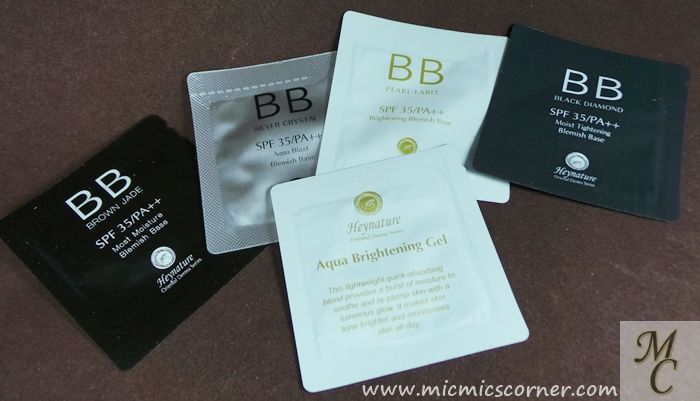 5. Yves Saint Laurent Saharienne
A pure object of the desire, Saharienne is the first fresh water splash fragrance ever created by the House of YSL. Its fusion of sparkling, mineral and solar flower notes is an uncommon concentrate of daring and sunshine, the hottest of all cool waters.
Full size 75 ml / Php 4,300
Ralph Lauren Big Pony 1
Confident and fearless, the sporty woman is ready to take on the world. This floral citrus scent features Grapefruit and Blue Lotus for a fragrance that evokes confidence and energy while awakening the senses.
Full size 75 ml/ Php 4,300
My thoughts: I love perfume samples. Yes, it can make or break my box because I am very sensitive to strong smelling perfumes. These two are just right for my taste. I am not good with describing scents but I have tried Big Pony 1 yesterday when I went to Mall of Asia. I commuted all the way from Antipolo and true enough, it gave me that extra confident despite the hot weather and all the sweating. 
I also received some

vouchers from Sure Slim and Travalo

which I don't know if I can use it or not. I am still undecided. Would you like me to give these away? Comment below.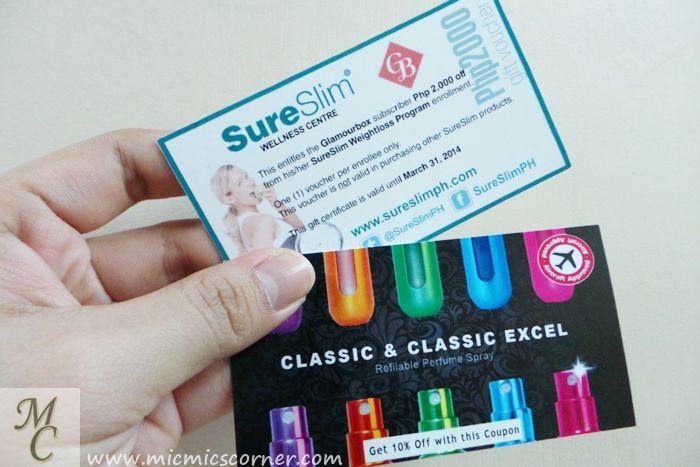 So, if I'll sum everything up, my box costs more than Php 2,500 (vouchers and Heynature products not yet included).
Overall, I like the items but I think their previous boxes are way better than this one. I will subscribe again hoping to receive better products in the future. 
Check out GlamourBox and subscribe to get your own box next month.
God bless!