I have tried Chamomile hot tea and it has this refreshing taste to it. But on my feminine wash? It should give me that fresh feeling as well, right? 
I am very sensitive down there. Harsh feminine wash will definitely make me feel a slight itch or dryness on my sensitive area. So, as soon as I emptied my old wash, I decided to try this Natural Feminine Wash from Human Heart Nature. It has two variants, Chamomile Cool (I think this has the cooling effect) and the Chamomile Fresh (this is what I use now). I only purchased the small one (50ml) because I want to try it out first and see if it can keep up with my expectations. If it's good, I'll purchase the big one.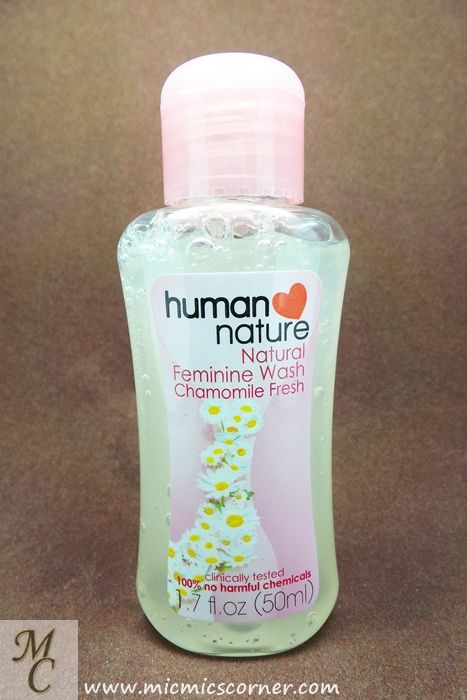 Product description:
Every woman deserves the peace of mind that comes from knowing she uses only the safest and gentlest care for her most intimate area.
Switch to nature's gentle touch with our 
pH balanced, clinically tested
feminine wash. It has soothing 
aloe vera
 and
chamomile
, cleansing agents from 
coconut
, as well as natural preservatives from
rice
 and 
anise
 for a fresher, cleaner, and more confident you.
Did you know: 
Many chemical feminine washes contain sodium lauryl sulfate (SLS) and sodium laureth sulfate (SLES). According to the Danish Institute of Public Health, SLS damages the skin proteins and disrupts the skin barrier allowing ready penetration of carcinogens. So don't risk it and go for the natural clean! (Source)



Has calming and relaxing properties




Soothes irritated skin



Anti-bacterial and anti-inflammatory properties (Source)


As for the consistency, it's a tad thicker than other feminine wash I have tried. 
What I like:
- Simple packaging with easy-grip bottle. The small one is very easy to bring along during out of town travels. 
- Ingredients, storage instructions and expiry date are written at the back of the bottle.
- 98.66% natural. You wouldn't want harsh chemicals touching your genitals, would you?
- It has a very very mild, fresh scent to it that goes away after rinsing. Not that I smelled my private part down there. I tried smelling my hands after using this. LOL!
- It lathers really well.
- I did not feel any irritations and itchiness. It provides that gentle cleansing down there.
Where to purchase?
Check Human Heart Nature's website. Purchase directly from them or find a store/dealer near your place. You'll see everything on their site.
Price: 
Check them now because these items are on sale. 
Ratings:
Packaging/Appearance: 4.5/5
Scent: 5/5
Texture: 5/5
Effectiveness/Performance: 5/5
Availability: 5/5
Affordability: 5/5
OVERALL: 4.9/5
Overall, this is the best feminine wash I have tried so far. I am definitely getting the bigger one. Bye bye old feminine wash! :P
If you are sensitive down there like me, you may try this product but be sure to consult with your OB-Gyn first. Switching drastically may result to further irritations. 
Are you into natural products? What's one natural product you have and can't live without? Share it below. I would love to know more natural products. :)