Were you following me on Instagram? Feeling celebrity lang 'no? But seriously, if you've been following me in the past weeks, you would probably know that I've used an expired moisturizer. Yes, my Neutrogena Hydroboost Water Gel did expire on me. My bad, because I didn't actually looked at the date before buying it. I was really upset when I found out about it but bloggers are really helpful because, as I was reading some blog posts from my blogger-friends, Aya and Genzel, I saw this moisturizer they are currently loving. I immediately told myself that it looked very similar to my previous moisturizer so I might as well give it a try.
The product I am talking about is the Aqua Moisturizing Cream from iWhite Korea. This is my current day and night moisturizer and I loving every bit of it. It has been a staple in my skin care routine. I bought this at a department store near my place.
So, what it this brand called

iWhite

and what's the hype all about?
iWhite is a whitening skin care product formulated in Korea. It specializes not only in lightening the skin tone, but also in improving the overall texture of the skin through its moisturizing and rejuvenating natural plant extracts refined through Bio-Nanotechnology.
iWhite has several products targeting all skincare needs; like moisturizing facial wash, skin-clearing facial mask, dirt-removing nose pack, revitalizing and soothing moisturizer, facial cream with sunscreen, and whitening body soap which are all available in the Philippines at an affordable price. (
source
)
Things I would like to highlight:
- lightening the skin tone
- improving overall texture
- available in the Philippines
Sounds interesting, right? Everything a Filipina, like me, would like to have in my skin care product.
Product description, Directions, Ingredients, Manufacturing and Expiry dates, and Place where it is made
Packaging (sealed squeeze-type tube)
Before giving my thoughts, let me show you first how this product works. This is where the magic happens. =)
Product on the back of my hand
Blended halfway (looked creamy at first)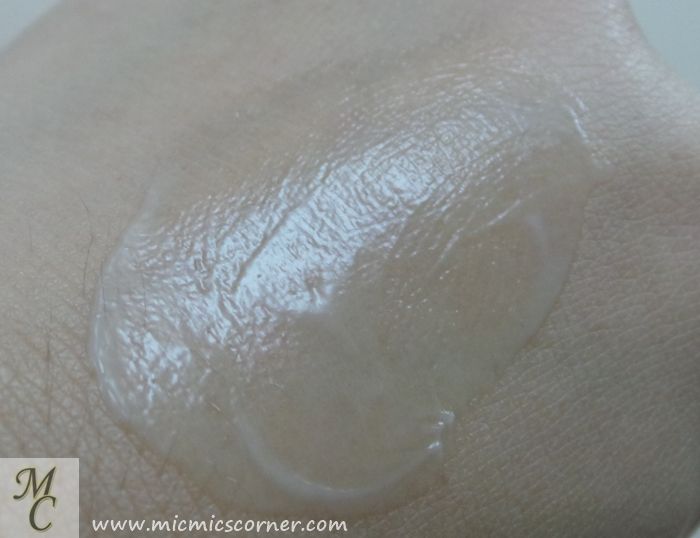 Still blending (see the tiny droplets of water forming?)
Fully blended on my skin (my skin looked so hydrated and radiant)
What I like:


- Simple but very convenient and hygienic packaging. The seal sealed the deal. :)
- Complete details at the back of the packaging.
- I love the scent. Fresh and clean scent!
- A pea-size is enough to hydrate my entire face and another for my neck.
- The transformation makes the application really fun, haha!
- REALLY MOISTURIZING! No more dry patches on my cheeks. 
- Water based. No more greasy feeling and oiliness all over. 
- Didn't cause my skin to break out.
- Locally available.
- AFFORDABLE
What I don't like:


- None
Where to purchase?


Check Watsons or your local drugstrore, supermarket or department stores. Check 

iWhite Korea's facebook page

for more information.
Price:


Php 169 (50g)
Php 20 (6g sachet)
Ratings:
Packaging/Appearance: 4/5
Scent: 5/5
Texture: 5/5
Effectiveness/Performance: 5/5
Availability: 5/5
Affordability: 5/5
OVERALL: 4.8/5
Overall, I am impressed with how the product fared me. If I were to choose between this and the Neutrogena Hydroboost Water Gel, I will definitely choose this, the Aqua Moisturizing Cream. Imagine having a very effective moisturizer that does not hurt our pocket. Amazing, I must say! Now, I can't wait to try out their other products.
What's your current moisturizer? Share it below. =)