Have I been complaining too much already about the weather here in the Philippines? I hope not. But seriously, it's really hot in here. Nakakatamad gumamit ng makeup! I feel like my makeup is going to melt right after application because of this scorching weather.
If you have read my
Beautyholic Manila haul
, you would have also read that I was given the chance to try out this
Ben Nye Neutral Set Colorless Face Powder.
The seller gave this to me for review purposes. It's just in time that I share my review. Is this a good setting powder? Will this prevent melting of my foundation/bb cream all throughout the day? Read further.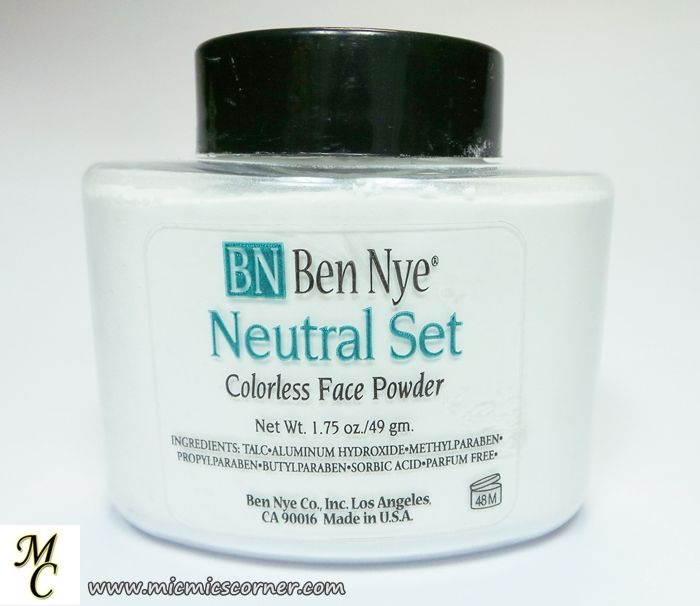 I tried but I can't find product description for this item online. If you happen to know where I can get it, kindly inform me. Thank you! :)
Side by side with my Ben Nye Banana Luxury Powder which is in big jar (85 gm).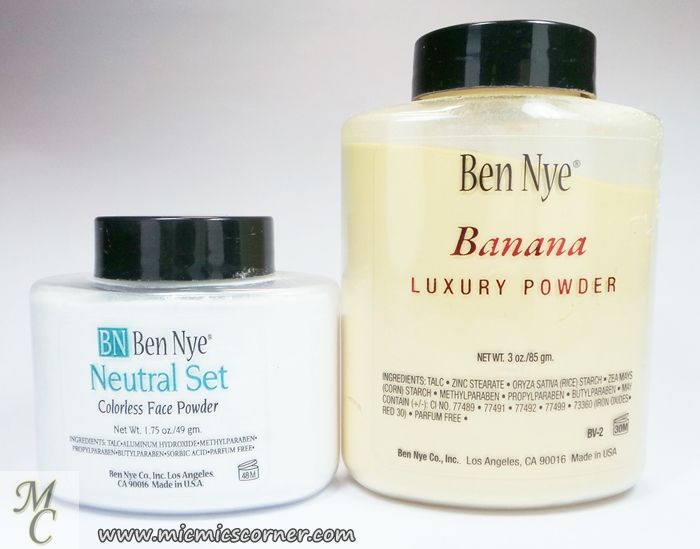 I don't like the packaging at all. It's messy to use and doesn't look pretty or girly. It's just a basic jar with sifter on top (that isn't sealed, btw). The holes are too big that it expels a lot of product at once. May I suggest, and I know a lot of people have suggested this already, to transfer a small amount of product to a smaller jar with sifter but will smaller holes. If you can't find any, just put a tape to cover some holes. I know it won't look good but at least, wastage isn't a problem anymore.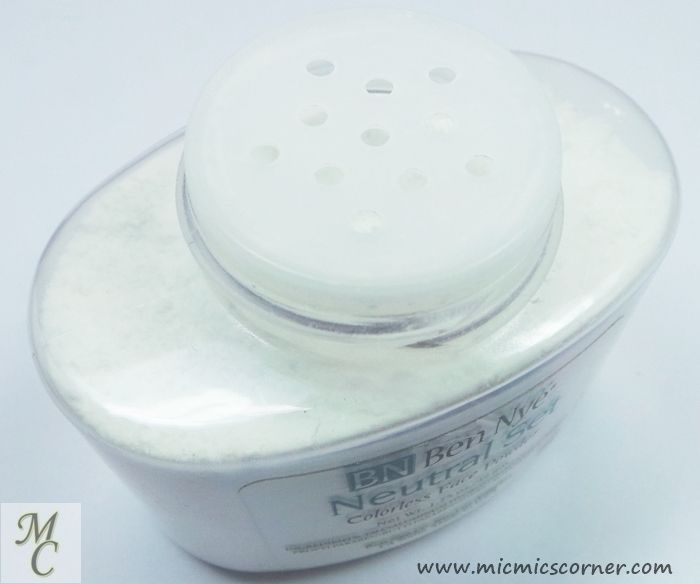 With one tap (of course, while it is in upside-down position), this is the amount I was able to get. But, if you're going to bring this and will be placed in your bag, you won't be needing to tap it anymore. Most likely, product is already sitting on the lid area waiting to be freed. Haha!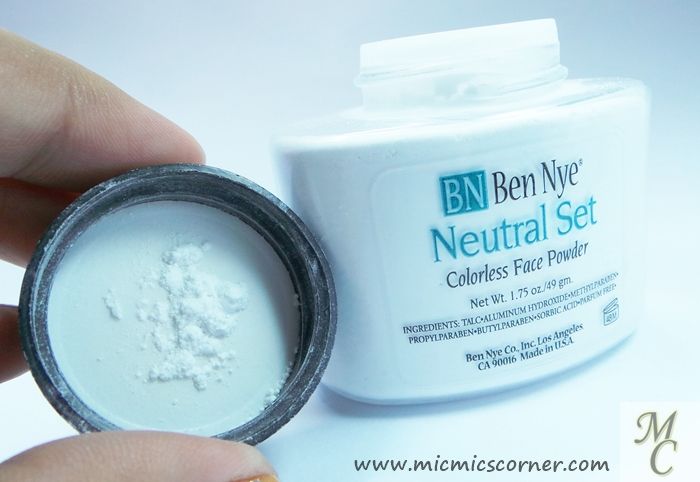 Product is finely milled that I did not feel any large granules being rubbed on my face. It gives that silky finish once applied.
Although it should appear colorless, I still find it slightly white when blended. Quite a good thing though because, it brightens my face without looking too white/pale. As shown in the photo below, the area with Ben Nye Neutral Set Colorless Face Powder appeared brighter.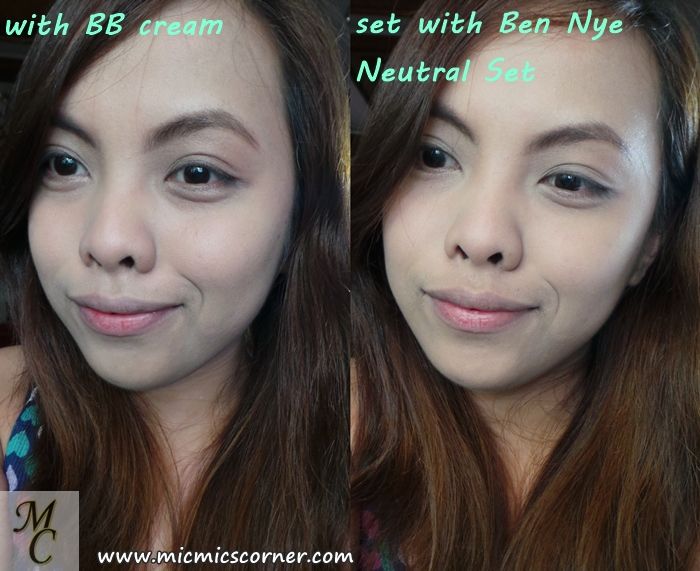 Whenever I use this, I apply little amount at a time. If I think my face isn't matte enough, I add more. But, be very careful because when too much is used, it can give you white cast which is a no no especially in flash photography.
Photo taken with flash.
Here's how the product transformed my face. I used
Encara BB cream
on the first photo. It has a slightly dewy finish so I topped it with
Ben Nye Neutral Set Colorless Face Powder
(second photo). And, instantly, my face looked matte and oh so soft to touch. After 5 hours (third photo), bb cream on some areas are still in tact but already melted on the T-zone area. Who to blame? The powder or the weather? I have used this for 12 hours without retouching but it's because I stayed the whole day inside an air-conditioned room. This time, I only had electric fan with me. It can last up to 4 hours on a very hot weather. My skin is combination of oily and dry.
1st - with Encara BB Cream
2nd - Set with Ben Nye Neutral Set
3rd - After 5 hours
What I like:
- Super smooth to touch.
- Odorless.
- It gives an instant brightening to the face but does not wash me out.
- I was told that my skin looked smoother (makinis) when I had this on.
- Sets makeup and makes it last for more or less 4 hours (in a hot weather) and whole day in a very cold weather.
- Affordable because you pay Php 450 for 49 gm of product. I am telling you, it will last you months.
Neutral:
- I think a version with SPF would be nice.
What I don't like:
- The packaging can be and should be improved. Please, Ben Nye. I don't like wasting even a tiny bit of this good product.
- Item isn't sealed. I guess all Ben Nye powders are like that.
- It contains parabens.
- Can give a little white cast in flash photography. Use a little amount only.
- Only available online. I think this is quite hard to find here in the Philippines because it's always sold out.
Where to purchase?
Beautyholic Manila
Price: 
Php 450 (1.75 oz/49gm)
Ratings:
Packaging/Appearance: 2.5/5
Scent: 5/5
Texture: 5/5
Effectiveness/Performance: 4/5
Availability: 3.5/5
Affordability: 5/5
OVERALL: 4/5
For me, this product is worth having given the affordable price and the amount of product you'll be getting. I don't mind reapplying this mid of the day because, let's admit it, it's really hot here. Whether we like it or not, makeup reapplication is mandatory now. I am just glad I was able to try this. This is now my current favorite setting powder.
Have you tried this as well? Share your stories below.
Update: I will also be reviewing the Ben Nye Banana Luxury Powder soon. I hope you can also check that out.
God bless!