I went through all my makeups as well as my tools the other day and I found out that there are A LOT of items I haven't done a review yet. I have been buying a lot lately and seeing my stash, I felt a little guilty. I really don't know how I can finish all of the products I have. So, for me to at least make a good use of them, I decided to do a review on each item I have.
If there is one makeup brush I can't live without, it would be a flat top brush. Ever since I owned one, I tend to neglect some brushes like foundation brush, powder brush and blush brush.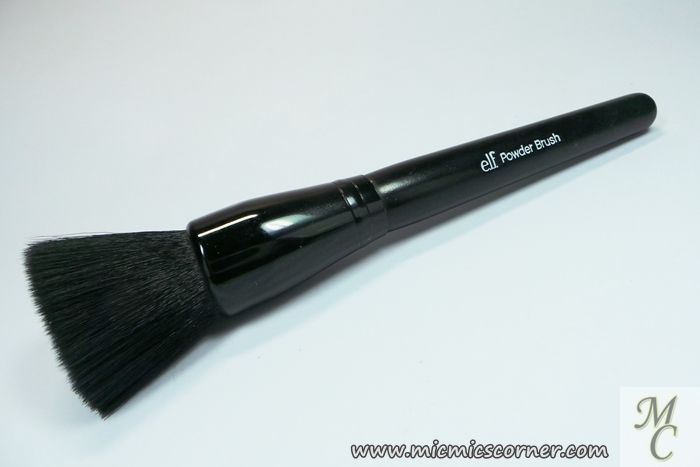 The very first flat top brush I bought for myself is the one from E.L.F. which I got last February of 2012. See my mini haul
here
.
ELF Studio Powder Brush
This new anti bacterial, synthetic haired Taklon brush is softer and more absorbent and can be used with wet or dry products. Be a professional makeup artist and create a flawless look with this e.l.f. studio brush!
-Creates a professional sculpted look
-Full coverage color
-Use for powder or blush for perfect contouring
Dip the brush into powder and then tap off excess. Start near the hairline and work inward as to not over apply color.
Where to purchase?
Watsons and in leading department stores nationwide / Online shops that sells E.L.F. items
Price:
Php 249.75
As stated earlier, it has a flat top which makes buffing of liquid, cream and even powder products really easy. During the time when I still don't have my
Sigma kabuki brushes
, this wass my HG brush for face makeup routine. Of course, it has changed when Sigma came into the picture. Well, that's a different story. :P
This brush is quite dense that's why I use it for liquid and cream products. But, I make sure the products only reach the tip of this brush because it has the tendency to absorb it, most especially liquid products. Also, drying takes much time.
What I love about this brush is its look. It looks so classy with its black bristles, ferrule and handle. Another plus factor is its label on the handle. Of course, you may use your brushes depending on your preferences but for some who is just starting out with makeup application, labels will be very useful.
For over a year, it served me well until the other day when I washed it. It started shedding like there's no tomorrow. For a year, it did not shed, not even a single strand. But, since I use it really often, I wash it often as well. And when I wash my brushes, I have the tendency to be stubborn just so I can remove all traces of makeup. I guess, that's one factor why it is shedding now.
Watch this
video
to see how this brush functions.
What I like: 
- Sleek looking.
- Bristles are very soft and did not irritate my skin.
- No weird smell after washing.
Neutral:
- Although it started shedding days ago, I still love this brush. 1 year is enough for me already. But, of course, I would love it much more if it didn't shed at all.
- Drying isn't as quick as 1,2,3. It takes time (24 hours or more), depending on where you place it for drying.
- Absorbs liquid products so be careful. Products should only reach the tips of the bristles.
Ratings:
Packaging/Appearance: 5/5
Effectiveness/Performance: 4/5
Availability: 5/5
Affordability: 5/5
OVERALL: 4.75/5
I recommend this to those who are just starting out with being a makeup enthusiast. You may but I don't recommend getting a brush set yet. You should settle first with the ones you ONLY need. To be honest, I tend to use the brushes that I bought individually more often than those in set. Maybe it's because I know I got them because I need them for a specific purpose. If you are going to use this as a multi-function brush, clean it every after use.
I love this brush to bits. I will repurchase, soon. Yes, it did shed and I still have other brushes to use. But, since it was able to function the way I wanted it to and also, it's affordable, owning anew one won't hurt. During lazy days, I know  can trust this brush.
Are you going to get one? Share your thoughts below.
God bless! ^_^