I am feeling a bit productive today so, here's another product review. ^_^


I want to share with you my experience on my current serum which I got from
Wishtrend
weeks ago. This was given to me for review purposes. It is the
OST Original Pure Vitamin C20 Serum
. Since I started using serums, I can't get enough of them. I love using them because I see very visible effects on my skin.
Product Information:
+ Includes pure Vitamin-C 20%
+ Whitening /Recovering trouble scars
+ Removing blackheads
+ Ranked the best selling item in Singapore No.1 commerce. (2012)


INGREDIENTS 1 : Water, Ascorbic Acid, Alcohol, Sodium Lactate, Butylene Glycol, Glucose, PEG-60 Hydrogenated Castor Oil, Sodium Hyaluronate, Bis-PEG-18 Methyl Ether Dimethyl Silane, Methylparaben, Diethoxyethyl Succinate, Phenoxyethanol


INGREDIENTS 2 : Ammonium Acryloyldimethyltaurate/VP Copolymer, Xanthan Gum, PEG-180, Gluconolactone, Camellia Sinensis Leaf Extract, Beta-Glucan, Rosa Davurica Bud Extract, Citrus Aurantium Dulcis (Orange) Oil, Zinc PCA, Panthenol, Niacinamide


INGREDIENTS 3 : Carthamus Tinctorius (Safflower) Flower Extract, Glycerin, Tocopheryl Acetate, Lecithin, Caprylic/Capric Triglyceride, Ubiquinone, Diisopropyl Adipate


*Photos without my watermark and above mentioned product information and ingredients are all from
Wishtrend
.
Where to purchase?
Wishtrend
Price:
USD24.99
Now, onto my review and I'll begin with the packaging. It came with a very sturdy box assuring the safety of the product.The serum itself is sealed in a glass bottle and a dropper is included in the package.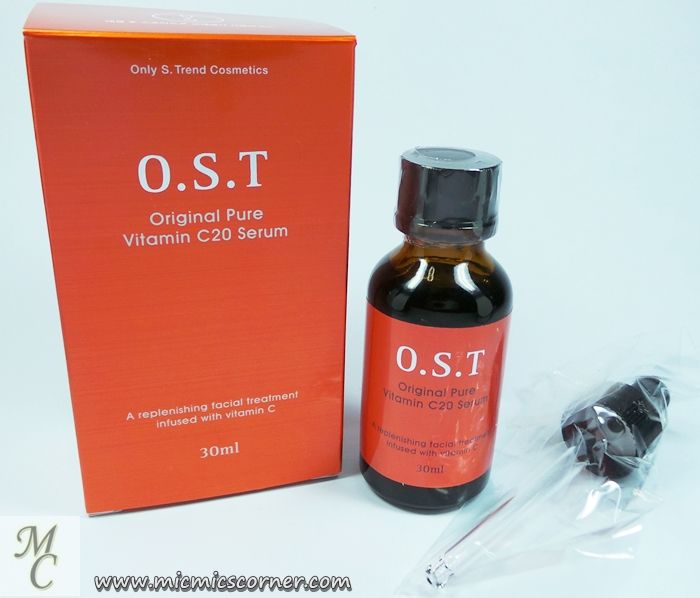 Aside from the writings on the front part of the box and bottle, everything is written in Korean (not that I know how to read it but it looks Korean to me). So before using the product, I checked their website for ingredients and how to use instructions. It has manufacturing and expiry dates written on the box.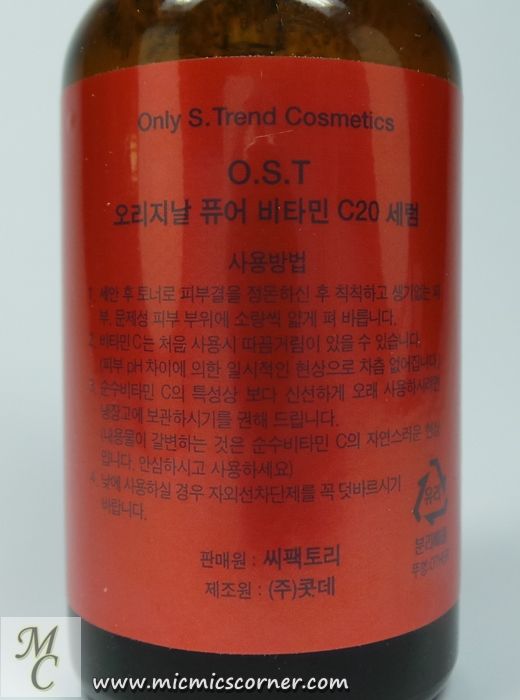 Application isn't a hassle. Though it doesn't come with a pump, it has a very decent dropper that helps in controlling the amount of product to apply on the face. It makes it hygienic, too. Just don't let the tip of the dropper touch our palm or finger pads.
The consistency of the product is runny but with a bit of thickness to it. The color is slightly yellowish but is transparent. Though it feels sticky when first applied, after a minute or so, you can feel that it is being absorbed by the skin. It is best used with or after toner and before moisturizer (as stated above). I prefer water-based moisturizer to be used with this. Based on the photo below, you can see that my skin absorbed the serum really well. Few drops (2-3) is enough for the entire face.
Now, for the proof that it is effective, see the my before and after photos below.
My nose area became clearer and it looked and felt smoother after 1 week of using this serum. My pimple scars lightened. Redness on my cheeks became less visible. So far, I have not seen any pore tightening effect. well, my pores are stubborn when the weather it hot. They have the tendency to be more visible. I have yet to see other effects in the coming days as I continue on using this serum. I promise to update this post after emptying the bottle.
What I like:
- Sturdy box. Item arrived safe and without any damages.
- Manufacturing and expiry dates were provided. Just be sure to keep track when you throw away the box.
- The dropper makes the application controlled. No wastage.
- The scent is very citrus-y. As if you are really rubbing an orange to your face.
- Though it feels sticky at first, you won't feel any heaviness on your face the entire day you have this on. Also, it does not aggravate or enhance skin oiliness.
- Made my skin smoother and softer.
- Lightened some dark spots and redness on my face.
- Did not cause further breakouts.
What I don't like:
- Since the bottle is made out of glass, it is prone to breakage and is not travel friendly.
- No English translation on the packaging itself.
- Feels gooey on the face when used alone.
- A bit expensive plus you have to pay for the shipping but it can be dealt with. Plus, WT offers free shipping in some circumstances.
Ratings:
Packaging/Appearance: 3.5/5
Scent: 5/5
Texture/Consistency: 4/5
Effectiveness: 4.5/5
Availability: 3.5/5
Affordability: 4/5
Overall rating: 4/5
So far, my skin is loving this serum. I will go on and use this until I finish it up. I am also thinking of repurchasing once I have some funds.
God bless! ^_^