Good day! The heat is really killing me right now. It's really hard to work well when you are sweating like a pig and your AC can't do anything about it. So, I might as well do a product review. Let's proceed, shall we?
As you may know, I've had my hair bleached months ago. Read it
here
. Since then, my hair is always in a "bad-hair-day" situation. I have tried a couple of hair conditioners and treatments but still, my hair is a pain to manage. When I was in Royal Duty Free last holy week (see haul
here
), I saw this
Pantene Pro-V All Day Smooth Miracle Water
and at that time, I was thinking that this will be the solution to my unmanageable hair. Why, you asked? Because I saw the word miracle. Hahaha! Yes, my hair needs some miracle. Is this a hit or a miss? Read further to know the answer.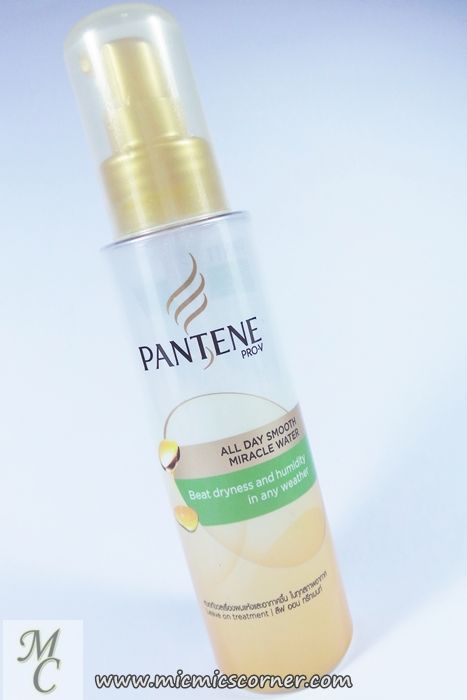 All day smooth hair in any weather - beat dryness and humidity. Ultra light finish. 
Directions: Apply 1-2 pumps onto palm, and rub the products with fingers and hands. Spread evenly onto towel dried or dry hair. Do not rinse off. When first using, push several times for product to come out.
Ingredients: Water,Dimethicone, Mineral Oil,, Betaine, Acrylamide/Sodium Acryloyldimethyltaurate Copolymer, Benzyl Alcohol, C13-14 Isoparaffin, Fragrance, Laureth-7, Panthenol, Panthenyl Ethyl Ether, Methylisothiazolinone, Silk Extract, Simmondsia Chinensis (Jojoba) Seed Oil.
Where to purchase: Royal Duty Free Subic. Check out leading department stores and supermarkets as well.
(Source: Written on the bottle)
Price: Php 236.56 (may vary because I bought this in Duty Free; tax difference, I think)
Packaging - one of those products that has a nice pump.
I think this is the batch code / Manufacturing date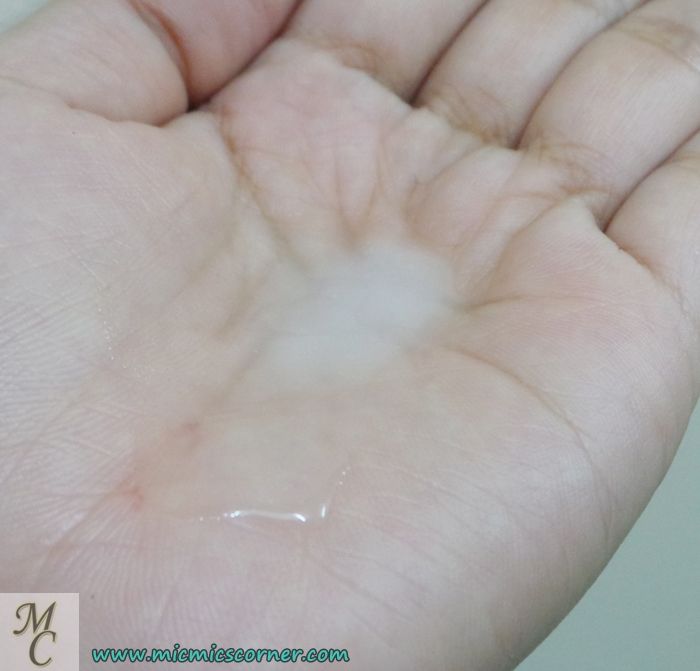 Consistency - slightly milky that kind of melts and forms into water-like appearance.
Before and After using Pantene Pro-V All Day Smooth Miracle Water
What I like:
- Packaging is decent. It has a pump that is easy to control and dispenses product nicely.
- Has complete list of ingredients and also gives directions on how to use.
- Has a very nice scent. Makes me feel like I just washed my hair with a very nice scented shampoo. This may be off to some though.
- Helps in detangling my hair.
-Not greasy nor sticky.
- Locally available.
What I don't like:
- 1-2 pumps isn't enough for my hair. I need 5 or more, seriously.
- Yes, it does hydrate my hair upon application because it turns into liquid but it does not last really long. After 2 hours, my hair is starting to go back to being dry and dull.
- Reapplication is always a must with this product.
- I like that it's very light on the hair but I think it's too thin that's why effect is not long lasting. (yeah, water nga pala sya!)
- No expiry date.
- Quite pricey for something that needs to be reapplied over and over again all throughout the day.
Ratings:
Packaging/Appearance: 5/5
Scent: 4/5
Texture/Consistency: 3.5/5
Effectiveness: 1/5
Availability: 5/5
Affordability: 3/5
Overall rating: 3.5/5
I will not repurchase and the only thing I love about this is the scent. Other than that, it's either average or below average. No miracle. :(
Micmic