Finally, a new product review! I've had the draft of this review in my laptop for quite some time now and I am really happy that I can now post it and share it with you. I am actually quite busy now as I am taking care of our family's small business but since there's an available wi-fi here (thank God!), I might as well make use of it. Good thing I was able to bring my laptop with me.
As stated in my Must Haves post, I am so obsessed with flirty looking lashes this summer. Every time I go out, I see to it that I have my lashes curled and that I use a really good mascara. What I'm loving lately is the Krave Minerale Vegie-Lash. If you want to know why, please continue reading.
[caption id="" align="aligncenter" width="560"]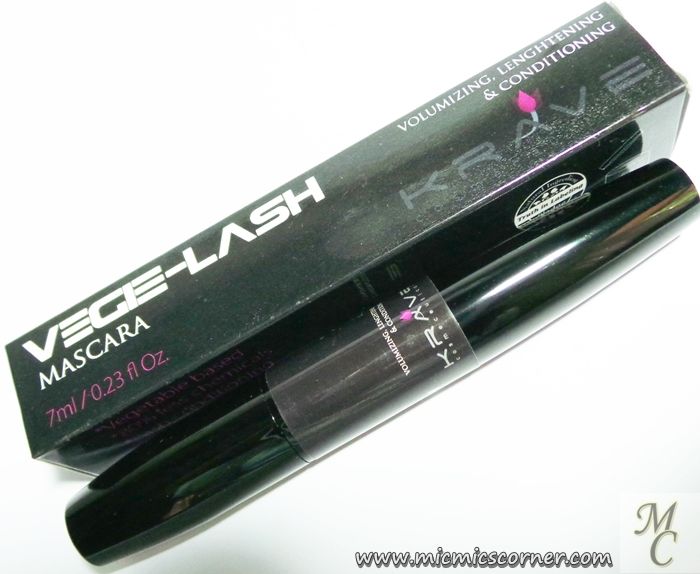 Volumizing, Lengthening and Conditioning[/caption]
PRODUCT INFORMATION
VEGIE-LASH Mascara (high quality silicone bristles)
Volumizing, Legthening, Conditioning
*Vegetable based*80% less chemicals*Lash conditioning*Smudge proof7 ml / 0.23 fl Oz.Ingredients:Dionic water, Glycerine, Beeswax, Microcrystalline wax, Sorbitan Monostearate, Hydroxyethyl Cellulose, Propyl Paraben,Iron Oxide Black
Description:
Made with high quality silicone brush & precision bristles that perfectly coats the lashes. Achieve all lash styles from long curled effect,medium enhanced up to full length & full volume.
Price: Php 599
Purchase at: Check distributors here.
Will last up to 6 months.
Credits to Krave Minerale's Facebook page for the product information.
Here are the four (4) product claims  aside from saying that it volumizes and lengthens.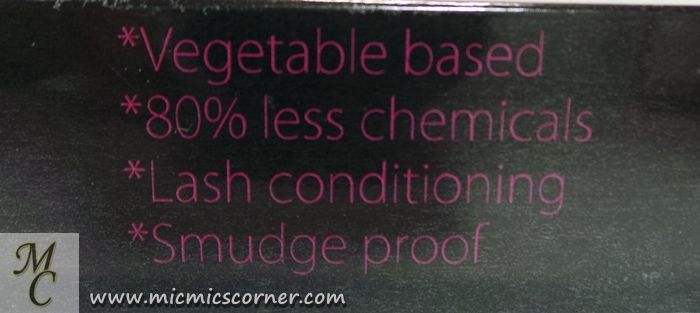 INGREDIENTS AND BRUSH DESCRIPTION
To those who are a bit concerned about ingredients, this product has parabens.

MASCARA BRUSH
I like the silicone brush as it bends a little as you maneuver it during application. The brush structure coats my lashes really well. The downside is that it is too big that I normally have a hard time applying mascara on the lashes near the inner corners and on the bottom lashes.
Here's how the product transformed my lashes. As you can see, it evidently lengthened my lashes with just one coat. I normally go out with just one coat of this because it gives me that naturally long looking lashes.
[caption id="" align="aligncenter" width="576"]

Left: Curled bare lashes
Right: With one coat of
Vegie-lash
[/caption]
[caption id="" align="aligncenter" width="576"]

Left: Curled bare lashes
Right: With one coat of
Vegie-lash
[/caption]
Since it's really black and the consistency is quite thick (but not dry), it also helped adding volume to my lashes.
[caption id="" align="aligncenter" width="600"]
Left: Bare lashes
Right: With 2 coats of
Vegie-lash
[/caption]
For the
longevity
, this performs really well, too. It holds the curls of my lashes all throughout the day although I noticed some lashes sticking together after couple of hours wearing the mascara. But still, the lashes are curled up and still look decent. I also did not notice and smudging and transferring of mascara to my lids.
[caption id="" align="aligncenter" width="640"]

Left: After applying 2 coats of
Vegie-lash
Right: After 7 hours[/caption]
Taking it off is quite a challenge for me. I either use my
Avon's makeup remover or Celeteque's Cleansing Oil
. This mascara is a bit stubborn to those two products I mentioned. It can be removed but it takes a longer time as compared to my other mascaras. What I notice when I don't use any makeup remover and proceed with washing my face with soap and water, this mascara goes off and is removed but in chunks. No panda eyes. You can really see and feel small chunks of mascara as you go and gently wash your face. I should be extra careful though because it may go beyond the inner rims of my eyes and eventually, enter my eyes. Happy to say, no irritations were felt.
What I like:


Packaging is basic and simple. Black, classy and sturdy looking.


80% less chemicals.


Unscented.


Consistency is thick but not dry so it is able to hold the curls of my lashes but it does not make it look and feel brittle. It feels natural even on second coat.


Holds the curls for a long period of time (tested for 7 hours).


Did not cause any irritations.


Available locally and even in other countries. Check their website for availability.


What I don't like:


I find it a tad bit hard to remove even with makeup removers that I own. I just use water and soap and it gets removed but in chunks.


Contains parabens.


The wand/brush is really big for my liking. Though it coats my lashes nicely, it's hard to use on the inner corners.


Lashes tend to stick to each other after hours of wearing the mascara.


Quite expensive for a local brand mascara.


Though available locally, you can only get it at their website or through official distributors.


Ratings:
Packaging/Appearance: 3.5/5
Scent: 5/5
Texture/Consistency: 5/5
Effectiveness: 4/5
Availability: 3.5/5
Affordability: 4/5
Overall rating: 4/5
This product is my current go to mascara. So far, it the best I have tried. What is your current favorite mascara and why? Please let me know. I would love to try out other brands as well. Comment below.
God bless! ^_^
Micmic