Good day, everyone. It's been more than a week since I became quite busy with life outside the cyber world. I tell you, it is quite a challenge for me to keep updating my blog despite the busy schedule. But I am just glad that I can still find time to do product reviews.
I am not an OC type of person when it comes to facial cleansers. As long as a product can remove all the dirt on my face and does not break me out, I thought that was fine. But when I started blogging, I realized that there are other factors to consider like scent, consistency and other added benefits (if there are any).
Today's review will be about
Neutrogena Deep Clean Revitalizing Pink Grapefruit Ultra Foam Cleanser
. Whoa! That's a mouthful! Haha! Anyway, it was given to me last Christmas by my sister in law and it is only this month that I was able to use it on a daily basis.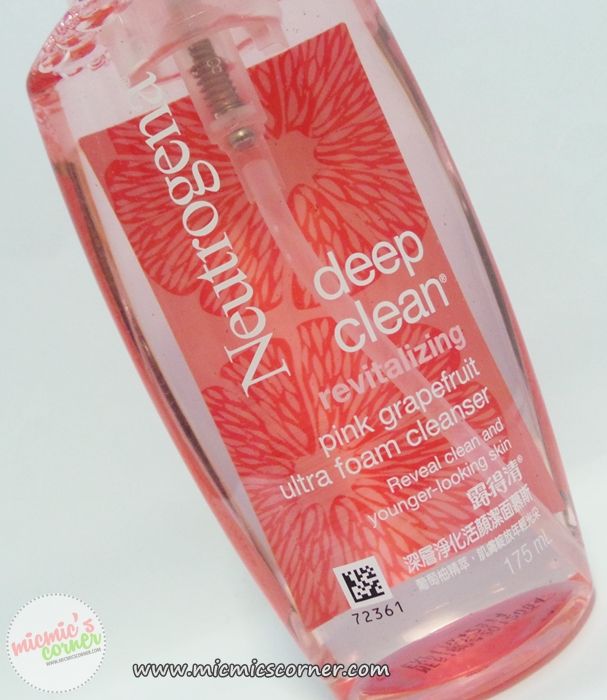 PRODUCT DESCRIPTION:
Neutrogena Deep Clean Revitalizing Pink Grapefruit Ultra Foam Cleanser cleans deep down into pores with a self-dispensing luxurious foam.
- Effectively removes up to 99% of oil, dirt and impurities.
- Contains pink grapefruit, helps eliminate dead skin cells for younger-looking and healthy skin.



Dermatologist tested




Oil-free




Alcohol-free




Non-comedogenic.



Usage:
Wet face and squeeze cleanser into hands. Apply to face and massage gently. Rinse thoroughly.
Ingredients:
Water, Butylene Glycol, Sodium Laureth Sulfate, Glycerin, Polysorbate 20, Di-PPG-2-Myreth-10-Adipate, Cocamidopropyl Betaine, PEG-80 Sorbitan Laurate, PEG-7-glyceryl, Cocoate, Phenoxyethanol, Decyl Glucoside, CocamidoPropylamine Oxide, Fragrance, PEG-150 Distearate, Methylparaben, Tetrasodium EDTA, Propylparaben, Citric Acid, Ethylparaben, Dipotassium Glycyrrhizate, Methylisothiazolinone, Tocopheryl Acetate, Citrus Grandis(Grapefruit) Fruit Extract, Magnesium Aspartate, Propylene Glycol, Zink Gluconate, Copper Gluconate
Price:
Php 307.50
Where to purchase:Watsons and in all leading department stores
The Pump
The Foam
What I like:


Cute pink see through bottle. =P


It has a pump which makes dispensing so much easier. And the pump is still working after weeks of using it. Great job, Neutrogena!


Manufacturing and expiry dates are printed at the bottom part of the bottle (sorry, forgot to capture that).


Complete list of ingredients are given at the back.


Since it's transparent, you can tell how much product is left.


2 full pumps are enough to cleanse my entire face.


Rinsing is a breeze because the cleanser isn't too thick.


It did not dry my skin at all.


No breakouts in the course of using this.


Locally available.


Removes makeup quite well compared to other cleansers. Of course, makeup removers and toners are still part of my routine.


Affordable considering the sturdy packaging and the performance of the product.


What I don't like:


The scent is too fruity for my liking. Don't get me wrong. It's not really that strong and it does not last really long but I am not really a fan of fruity scents.


It contains parabens.


Ratings:
Packaging/Appearance: 5/5
Scent: 3.5/5
Texture/Consistency: 5/5
Effectiveness: 4/5
Availability: 4/5
Affordability: 4/5
Overall rating: 4.25/5
I am easy to please when it comes to cleansers. As long as it leaves my face feeling clean and fresh and I did not experience any irritations, I am cool with it. I like this cleanser and I am definitely checking out other variants as well.
Have you tried this Neutrogena Deep Clean Revitalizing Pink Grapefruit Ultra Foam Cleanser? How was it?Thank you for reading my post again. God bless! ^_^
Micmic