Good day, everyone. I am now at home because I'm sick. I recently got a pedicure wound. Well, I was the one who insisted to have a pedicure so I can't blame anyone. It's swollen and I can't stand walking or standing for hours. I am actually taking medications right now and just waiting 'til I can walk well again. In the meantime, I think I should make use of this time to blog.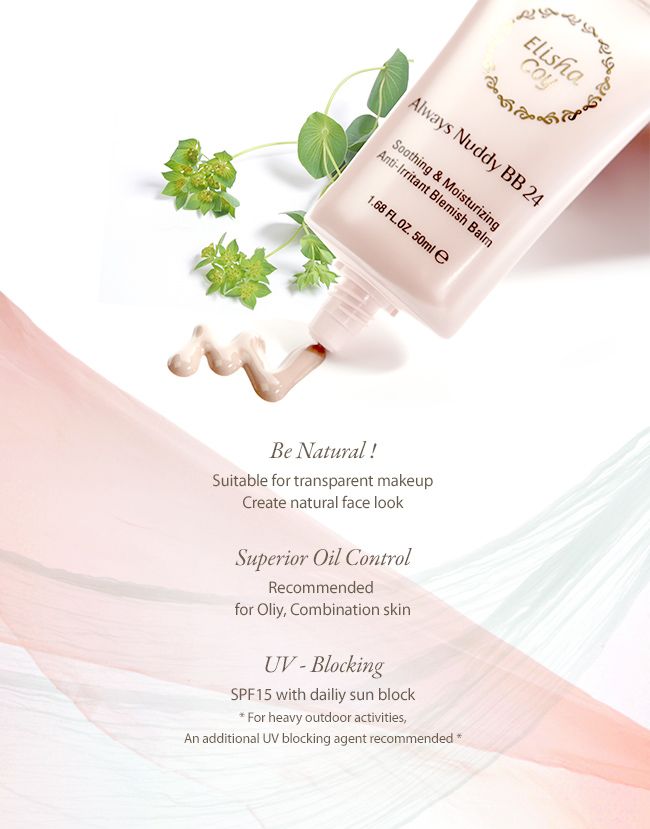 As you may know, I received quite a few stuff from
Wishtrend
to out. Check haul
here
. As a certified bb cream user, ElishaCoy Always Nuddy BB 24 caught my eye and just right after opening the package, I knew I had to try it on.
Product Information:
ElishaCoy Always Nuddy BB 24
Suitable for transparent make up
Creates natural face look
Brand : Elishacoy
Volume : 50ml (for full size)
All Skin Types
Recommended for Oliy, Combination Skin
Made in Korea
Price: USD17.30
Where to purchase: Wishtrend
(First 2 photos and product information's source)
  What I received is a sachet version of this so this is just a first impression review (as stated on the title). With this, I was able to use the product for three (3) consecutive days. I did not experience any untoward effects on my skin.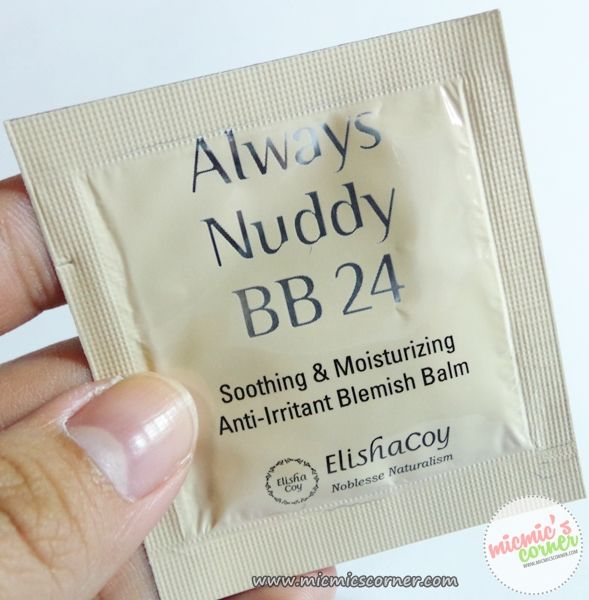 Additional product information:
Swatches:
[caption id="" align="aligncenter" width="600"]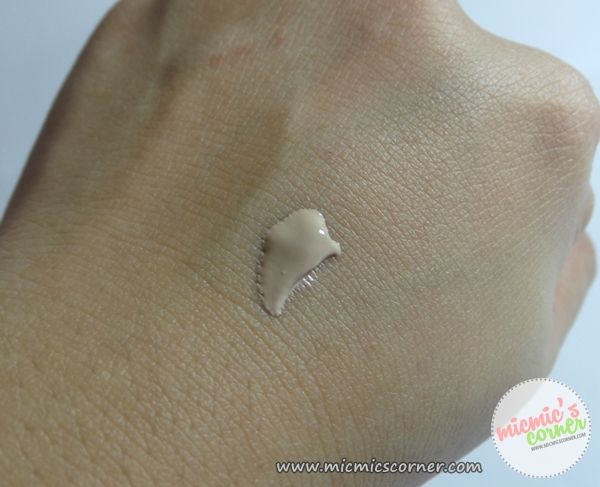 The product is a bit on the grayish side (like most of the BB creams I have tried).[/caption]
[caption id="" align="aligncenter" width="600"]
When blended, it still gives a grayish effect but it obviously lightened my skin.[/caption]
 In action:
I love how it evened out my skin without making it look cakey. If you will see closely, I have some dark spots on the my cheek and I also have a slightly dark under eye. It was able to brighten up those areas.
[caption id="" align="aligncenter" width="588"]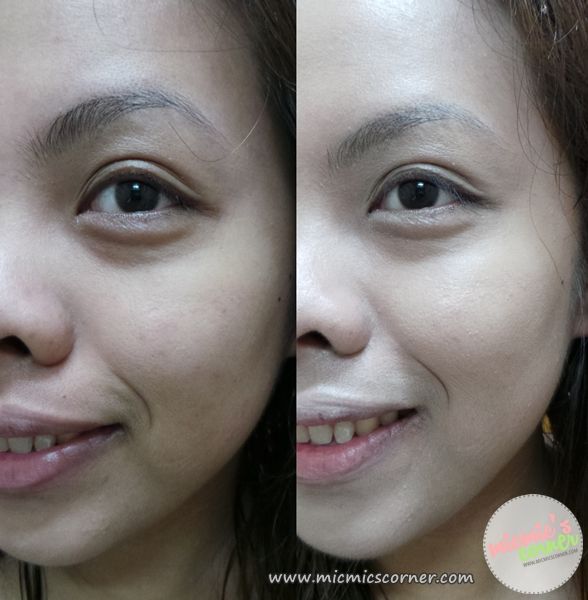 Left: bare face
Right: with one layer of ElishaCoy Always Nuddy BB 24[/caption]
Here, I set it with my Ben Nye Neutral Set Colorless Face Powder and just did my everyday makeup routine. I purposely omitted foundation and concealer for this look because I want to test the coverage as well as the staying powder. I just had to use a powder on top because I like it when my face is matte. to me, it looks clean and fresh. :P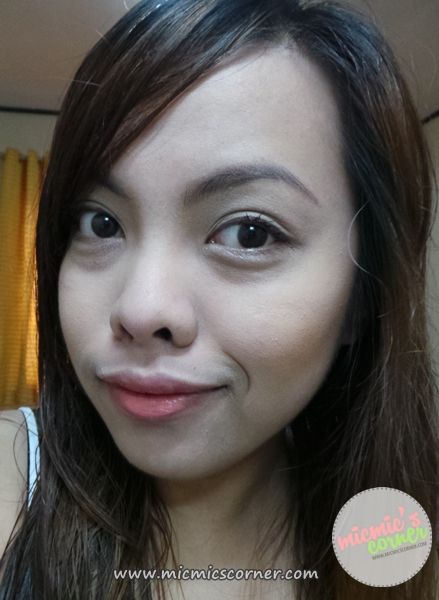 As for flash photography, this BB cream does reflect light so I will not recommend it if you'll be taking photos that uses flash.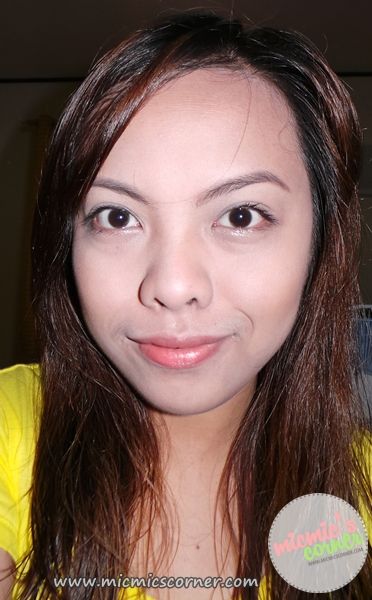 After 7 hours, here's how I look. The only thing I've used for touch up is my tinted lip balm.  Makeup on other parts of the face are still in tact albeit a bit oily on the nose area.
What I like:



Texture is in between runny and creamy. I was able to blend it nicely by using my fingers. I love that it does not dry very quick hence even application was achieved.


It was able to cover my imperfections without looking like a ghost. Just NATURAL looking.


In three days of using the product, no irritations were experienced.


Lasts pretty long on my face. The next time I use this, all I'll be needing is a blotting paper/sheet.


It has SPF 15 which helps skin from the damaging properties of the sun.


What I don't like:


I think it only comes in one shade.


White cast on flash photography which is actually expected since it has SPF.


Although it was able to cover my imperfections, I don't think it can cover those sever ones since I think it gives up to medium coverage only.


Not locally available.


Full size is quite expensive.


Ratings:
Packaging/Appearance: NA
Scent: 4/5
Texture/Consistency: 5/5
Coverage: 4/5
Lasting power: 4/5
Availability: 3.5/5
Affordability: 3.5/5
Overall rating: 4/5
I would love to own a full size of ElishaCoy Always Nuddy BB 24 since it was able to perform really well when I tested it. I just wish they will be more accessible to people like me who lives here in the Philippines. Also, more shade selections can be added for this product to cater all skin tones.
Thanks for reading, my lovelies. See you on my next one. God bless! :)

Micmic