I love reading blog posts about food. I have to commend these two beauty bloggers (
Genzel
and
Eyah
) because everytime they blog about food, they always make me want to eat those food they talk about. Even if you just talk a look at their photos, you can definitely say that those are really mouth-watering. What more if you read how they describe the food? Haha! I have done few blog posts about food before but I know I need to improve more. Reading their posts made me realize that I miss sharing with you some of the food I eat. This is not to brag but merely to appreciate the goodness of life with regards to food.
I, together with my mom and sister, visited
Famous Belgian Waffles in SM Masinag
to have a quick snack. I ordered
Strawberry Creamcheese
waffle sandwich. My mom ordered Banana Hazelnut and Banana Chocolate for my sister.
Menu
[caption id="" align="aligncenter" width="606"]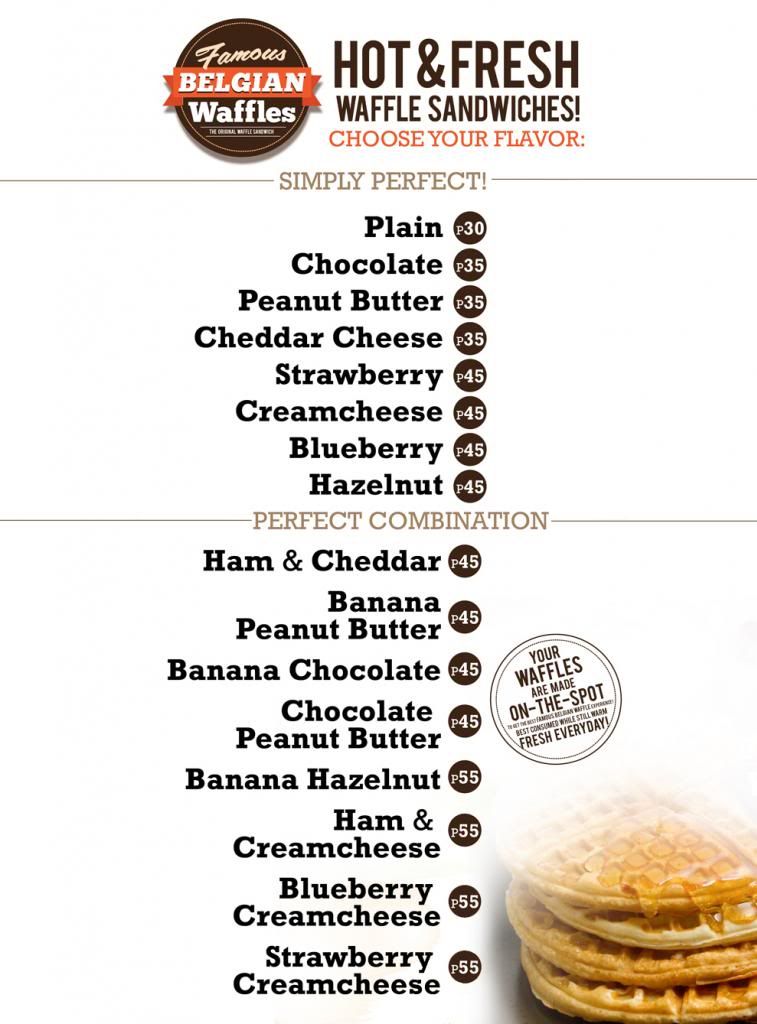 Photo credit to http://www.famousbelgianwaffles.net/[/caption]
Here's a first look on my
Strawberry Creamcheese
waffle sandwich. After ordering, they will prepare your waffle. You are assured that your food is freshly cooked; hot and quite toasted. One thing we all should take into consideration in buying stuff that we will ingest. I love it when my waffle is a bit crunchy.
It is placed inside a white small paper bag making it easier for us to carry it and eat it at the same time.
I am not into fruits. Any fruity flavor, I don't like. As for the cheese, I love it. When combined, it balances each other. The cheese is sour and salty at the same time, the strawberry spread is sweet with a slight sourness to it. Surprisingly, I was pleased with the combination. At first, I thought, all I'll be tasting is the cheese but I was wrong. I tasted the strawberry right after my first bite. the taste is very refreshing and
di nakakaumay
. And, for the price of Php55, the serving is just right. But don't expect to get full because this isn't meant to be a major meal.
One thing though is that this doesn't taste as good when it is cold already. Once, my dad brought this as
pasalubong
and it's not freshly cooked already.
It was soft and I didn't like it at all. So be sure you eat this when it is still hot or at least warm.
I will definitely go back and try other flavors. I will do another post showing more photos on how the store actually look like. If they will allow me, I will also show some photos on how they make each waffle. Not that I don't know it but I just want to share with you my experiences with food.
I would like to apologize if the photos don't look pleasing to you. I used my phone in taking these photos because I left my camera at home. Nonetheless, the waffle sandwich I tried is good, I assure you of that. If you are into fruits, you will definitely dig this. :)
Famous Belgian Waffles (The Original Waffle Sandwich)
SM Masinag Ground Floor (near Watsons)
Micmic
Disclaimer: Not a sponsored post.