So I have shown you my outfit and our lunch last June 12, Independence Day. Now, it's about time I show you what we had for dinner. From Trinoma, we went back to Gateway before heading home. Normally, we would go to either Pho Hoa or Bon Chon whenever we're in Cubao but this time it's different
.
Although I've already eaten in Teriyaki Boy before, the taste of their food didn't really linger on my taste buds that much. I don't know the reason why. Maybe we didn't get lucky with our orders back then or their food way back just didn't taste awesome for me to remember. But I wanted to try it out again and also, for le bf to have a glimpse of how Teriyaki Boy's food would taste. So we ordered...
Since our lunch is quite heavy already, we settled for light meals only. My boyfriend ordered his favorite
Miso Soup (Php 54)
. Normally, he would love it and I would hate it. This time, it's the other way around. He didn't like TB's Miso Soup because to him, it lacks flavor. To me, it's different. I find the soup mild enough to cater to people like me who is not fond of eating miso based soups but want to give it a try. The taste didn't push me away.
Since were in a Japanese restaurant, a sushi should be included in our meal. We ordered
California Roll (Php 139)
and I am telling you, it is one of the best I have tried. The burst of flavors inside my mouth is superb. Everything is balanced, not one is overpowering the other. Plus, for it to taste good (personal preference), the mango should be sweet. I have tasted some before and they were sour and that turned me off.
I love tempura but have gotten tired of eating shrimp tempura already. Maybe after a few months I'll be willing to eat those again but for now, I want something different. I ordered
Cream Dory Tempura (Php 139)
because I have this thing for Cream Dory lately. If there's one fish I'll never get tired of eating, that would be it. As they say, "
hindi malansa".
I love how the flavour of the tempura is milder than that of the shrimp but was pumped up when dipped into its tempura sauce.
Among the ramens I have tried, this
Gyuniku Ramen (Php 232 | Large)
is different. Instead of serving it with Tamago, it was served with a fresh egg on top that will get cooked on the heat of the soup. We mixed it with the soup and we were delighted by the outcome; flavourful soup. The beef is tender and tasted good as well but since I've eated a lot of meat in the afternoon, I let the bf eat the beef. The noodles are al dente! Cooked to perfection. Love, love, love the noodles.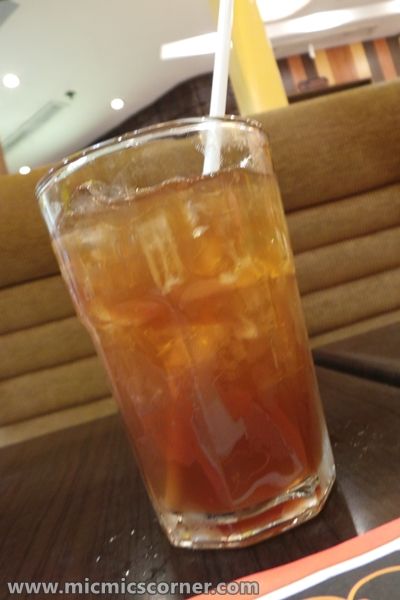 For our drinks, we decided to order the bottomless Iced Tea (Php 72). Honestly, I didn't like it. If you know the taste of those powdered Icea Tea in the market, that's how it tasted. Well, it's bottomless and it is cheap so this is actually expected. My fault, I guess. I just don't know if they have freshly brewed Icea Tea. If there is, that would be a better choice.
As for the service, we were greeted upon entering. We were 2
nd
in the waiting list and since we wanted to sit on the couch, we became 3
rd
on the list. Serving time is average, not too slow nor too fast. As for the look of the place, I wasn't able to take a photo since the area is quite full at that time. Just to give you an idea, on the sides there were couches and in the middle part, there were tables with the usual black foamed chair. I didn't enjoy the place as much as I want to because, as I've said, the place is quite full.
Overall, what I enjoyed were the food that were served. My tummy got happy again.
Micmic