Hello, my virtual friends. How are you? School has started here in the Philippines since it's June again. I am hoping to find time and be able to do a new Youtube video. I want to create a very wearable look for school. Haha, I'm a guru wannabe. :-P
Speaking of June, I want to show you the items that I got for the last 15 days. This is a collective haul post.
First, here are the items that I bought for my nails. I am not really into expensive nail polishes but, every once in a while, I find myself staring at those nice shade selections. Also, ever since I read Eyah's review on
Sally Hansen Contonuous Treatment Hardening
, I wanted to own one. I have very brittle nails and a nail hardener from a local brand didn't work. But since Sally Hansen is not available here, I opted for the
Calcium Gel Fortifier from China Glaze
. Those two nail polishes,
Noisette from Max Factor
and
Rev'd Up from Color Club
, are my newest favorites. Lovely colors, indeed.
[caption id="" align="aligncenter" width="600"]
Max Factor Glossfinity Nail Lacquer in 145 Noisette | Php 225
China Glaze Calcium Gel Fortifier | Php 550
Color Club Nail Lacquer in 810 Rev'd Up | Php 310 (less 30%)[/caption]
After getting stuff for my nails, I saw
In2it's
counter and I asked the SA if they have the
Waterproof Eyebrow Colour
because I've read so much nice things about it in the blogosphere. I normally don't see it being displayed so all this time, I thought it's always out of stock. Good thing I asked.
[caption id="" align="aligncenter" width="600"]
In2It Waterproof Eyebrow Colour in ER 01 Eyebrowns | Php 299.75[/caption]
I also want to share with you my recent purchases from
Sample Room
. Eversince SR has been launched, I always see to it that I check them for updates on new products to try out. They do not only have sample sizes, full sized ones are also available. You use your points then pay for the delivery charge. Really a heaven sent especially to bloggers like me. I paid Php 130 (delivery charge) for these items.
[caption id="" align="aligncenter" width="600"]
Moringa-O2 Malunggay Herbal Soap 60g | Php 49.75
Moringa-O2 Malunggay Herbal Facial Toner 100ml | Php 89.75
Zenutrients Tea Tree Deo Lotion Spray 50ml | Php 249.95[/caption]
Of course,
Watsons
is a must stop for every woman (even girls) out there. I got myself 2
iWhite Korea
products. I've already tried the soap and I love it, hence, the repurchase. AS for the whitening pack, I've seen some raves and I know I should try it as well.
[caption id="" align="aligncenter" width="600"]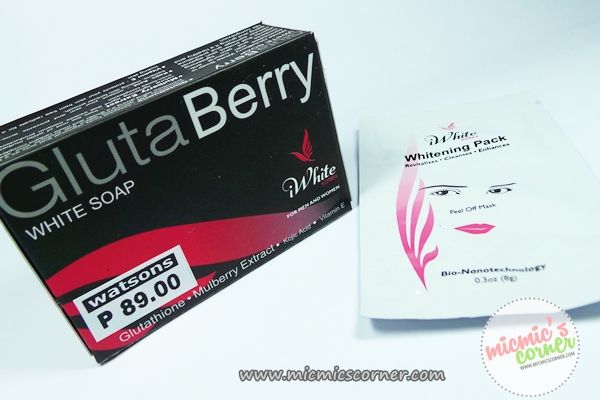 Gluta Berry Soap | Php 89
Whitening Pack in sachet | Php 22[/caption]
Last but not the least, 2 accessories that I will be showcasing on my
OOTD posts
in the future.
[caption id="" align="aligncenter" width="600"]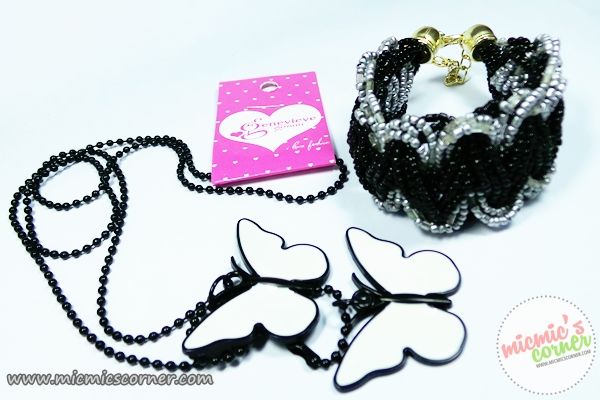 Butterfly Necklace from Genevieve Gozum | Php 99.95
Beaded Bracelet from random tiangge | Php 100[/caption]
I also bought new tops but since I don't have a photo of them yet, I decided I'll be doing a different quick post for that.
That's it for my haul for the first part of June 2013. We'll see if I'll have another one for the latter part of the month. God bless, everyone! :)
Micmic