If there's one thing I really miss, it would be me being a kid, almost free as a bird. When we were kids, all we ever worry are our toys and our playmates. Our nature of being playful are always justified simply because we're kids. Oh, if only I can turn back time.
Last Independence Day here in the Philippines, my boyfriend and I went to Timezone in Trinoma. I think it's just in time with the celebration. Of course, we still value what 'Independence Day' really means but, since almost everyday all we do is work, we felt the need to be free at least for one day. So, the kids in us were unleashed.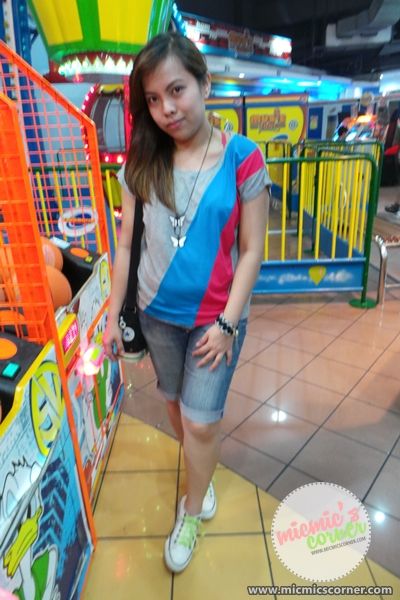 As for my outfit, as always, I wore something really comfy. Laid back but more on the colorful side. I'd say this is the most appropriate outfit I have in trying to mimic my old outfits when I was still younger. Sorry for the bulging tummy though. I told you (in my previous posts), I'm fat and getting fatter and fatter each day.
[caption id="" align="aligncenter" width="473"]
Top - Grab a Tee
Necklace - Genevieve Gozum[/caption]
I love this color-blocked top from
Grab a Tee
. I bought this few weeks ago at more or less 300 pesos. Getting comfy, durable and fashionable clothes under Php 500, I find super steal already. Wore my newly bought butterfly necklace from
Genevieve Gozum 
which also reminded me of freedom because of the wings.
[caption id="" align="aligncenter" width="600"]
Beaded bracelet - tiangge[/caption]
Since my theme for accessories that day is black and white, I also wore this beaded bracelet that I got from a random 
tiangge
near my place. It's actually silver and black but it's the closest I have so 
pagbigyan. 
[caption id="" align="aligncenter" width="600"]
Sneakers - Converse[/caption]
Converse Chuck Taylor
sneakers will always have a special place in my heart. I own 3 pairs only but I love them to bits. They never go out of style.
Hinding hindi maluluma kahit madumi na. 
This pair I'm wearing is a gift from my mom years back. This actually has some prints on it but it got erased over a number of use. My sister told me before that this is a limited edition pair but now, I am not sure if it was a joke or not. Hahaha! I don't really care. It's my favorite no matter what. :P
Here's my lovey doing his thing. Hahaha! Uhm, baby, that ain't a real rifle you're holding. Loosen up a bit. :P
Micmic