Hello, ladies and gents. Oh, how time flies! It's already July! If only I can go back to being 16 y.o., I'll definitely do that. But I can't. I am turning 27 this 22
nd
. I feel so old already. Anyways, I have been seeing a lot of different deals whenever I visit a mall (Clearance Sale, Back to School Promo, Rainy Day Sale, etc) and I am thinking of buying some stuff as a gift to myself. :P
But, it is not only in the malls that we see bargains and discounts. You can now also shop online without hurting much your pocket. All you have to do is find a great deal that will suit your needs. As for me, being a beauty blogger, I am delighted to see affordable products online that I know I can share with you in the future and one site here in the web where I see such products is
Lazada
.
Lazada
is an online shopping site that features a wide range of selection for products that will cater to almost all individuals. As you can see on the left part of the photo above, you can browse per category. It makes shopping so much easier as you don't need to go through all the items one by one. With just one click, you will be redirected to a specific category. On the bottom part, you will see other deals they offer like the Mid-Year Blowout and Visa Deals. Since the items that I want does not fall on those deals, I decided to go to the
Makeup section
under
Health and Beauty
category
.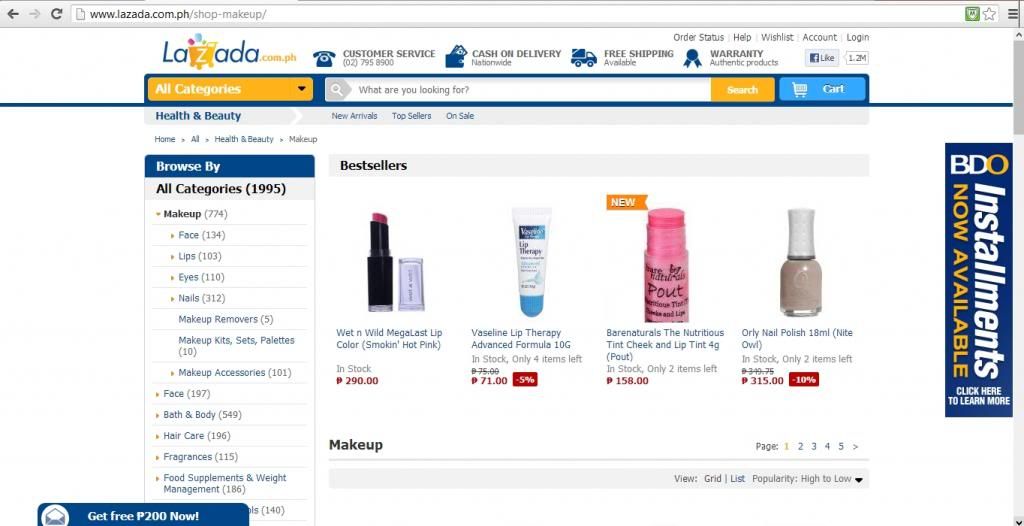 I saw a number of products on sale in this category and below are my top picks. There are a lot of items you can check out but these are just the ones that really caught my eyes.
I am loving nail polishes lately.
Orly
is one of the brands I salute for having a great selection of colors. Also, their polishes are DBP, Toluene and Formaldehyde free. The shade
Purple Crush
is something I know I can use and will definitely make me feel perky.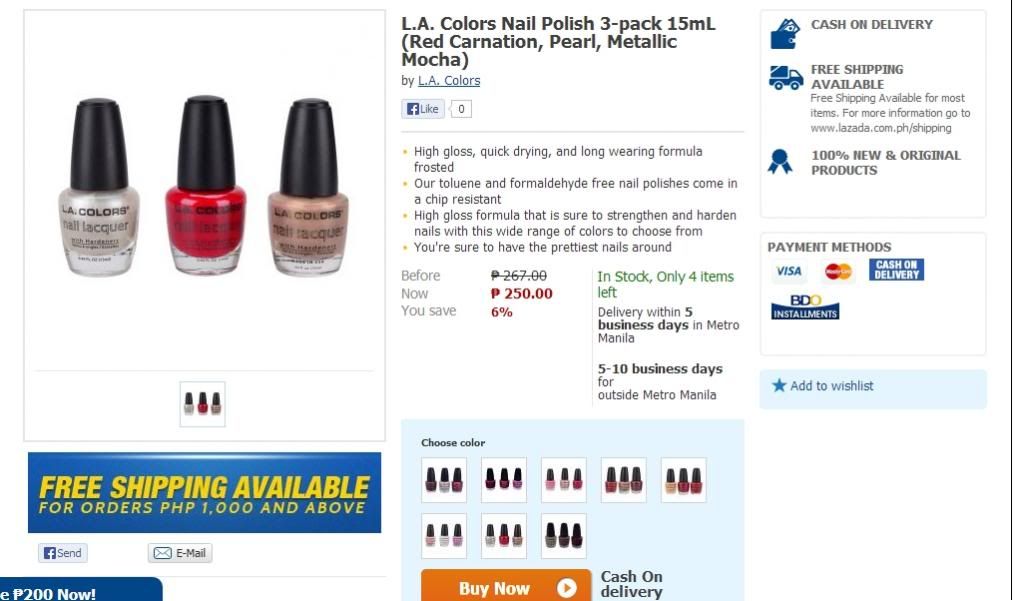 LA Colors
is another US brand that I have tested and the quality is also good. It is more affordable and also Toluene and Formaldehyde free. These set of 3 is a great deal already for 250 pesos. The colors I chose are
Red Carnation, Pearl, Metallic Mocha
.
I am also a makeup junkie. And, a lip tint will always be a part of my stash. I heard that this
Liole Blooming Pop Cherry tint
can be dupe for Benefit's Benetint so I would love to try this out.
When it comes to eye makeup, I am more partial to using neutrals and a mascara lover. I don't really like wearing falsies so I am always in the look for good mascaras. I saw this
set
 from
L.A. Colors
and I got intrigued by its very affordable price. Really interesting, eh!
So those are my picks on
Lazada's great deals
. I hope to see more items at a low price from their site. How about you? What items from their website would you like to try?
Micmic