Let me start by apologizing because I will be bombarding you in the coming days with few blog posts that are meant to be posted few days or weeks ago. It's really hard to work/be a good daughter and sister and blog at the same time. Kindly bear with me, please. Nevertheless, I'll try to make every post worth your time.
I want to show you what my nails look few days back, before I even did my Despicable Me nails. This brand, Color Club, is quite new to me and since the nail polishes they have were on sale at that time (less 30%), I got myself a bottle. The original price was Php 310 and I paid Php 217 only. The maker is Forsythe Cosmetics and they are based in New York so I think the price is reasonable already. Here's a little information about them:
Founded in 1979, the Forsythe Cosmetic Group is a New York-based cosmetic company widely regarded worldwide as a pioneer within the professional beauty industry, having earned a reputation for creating innovative, trendsetting products upon which industry standards are built.
A global brand with products represented in more than 95 coun tries, Forsythe was one of the first companies to recognize and address the needs of the professional nail salon, a new phenomenon at the time. Aspiring to fill a void within the cosmetic marketplace, the company began producing high-quality nail lacquers formulated exclusively for professional nail technicians. Rather quickly, the Forsythe name became synonymous with excellent, performance-proven products available in a diverse range of eye-catching shades. Forsythe is renowned for its exceptionally safe products - all nail colors are vegan, Formaldehyde, Toluene, DBP and paraben-free - and made in New York, NY with the best raw materials. Naturally, our made in the USA products are not tested on animals.
Today, more than three decades later, the Forsythe Cosmetic Group remains a vanguard in the beauty business by constantly introducing new concepts and elevating industry standards. The company's ability to do this is based upon its behind-the-scenes team of talented professionals, ranging from in-house chemists and research and development personnel to industry leaders in marketing, branding and art direction. Giving it a distinct advantage over competitors, Forsythe manufactures every product it offers, a practice that ensures superior color-matching quality control and the ability to respond quickly to consumer demands for the latest and most exciting trends in nail color, nail treatments and lip color. (source: http://www.cosmeticgroup.com/about.php)
My eyes got glued when I saw this shade, Rev'd Up. It's a metallic purple with tiny flecks of silver in it. I am into these shades lately. I find the really elegant and striking at the same time.
Ingredients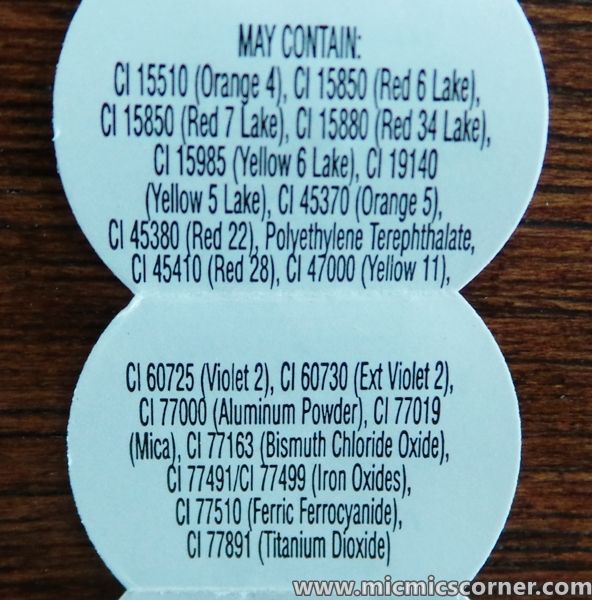 Also, I find myself looking for DBP, Toluene and Formaldehyde free nail lacquers. Yes, there will come a time that I will still use those that still contain those stuff but it's never bad to be safe sometimes.
Since this is on the frosted side with tiny glitters, I thought of doing ombre on my hands. To me, they are easy to ise for that purpose. Well, this color made my hands look darker, unfortunately, so doing ombre is a good kick. I get to use the same nail polish and not make my hands appear darker. I just used the brush that it came with. Let me know if you want me to show you how I did this. Maybe I can film a demo for that.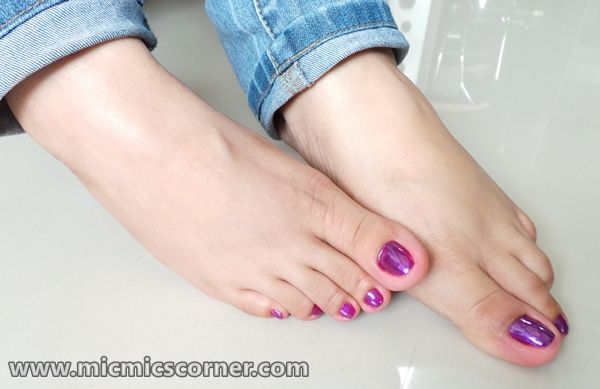 To make you see what the color looks like when used two generous coats on my nails, here's a photo of my ugly feet. Don't judge, okay? Haha! It took me several shots to achieve a decent looking photo.
That's it for my nails featuring Color Clubin Rev'd Up. Thank you for reading this post and feel free to comment below. God bless! :)
Micmic