I am about to edit a new video but let me share first a lovely experience my family and I enjoyed when we visited one of Nuat Thai's newest branch which is the one located at 56-58 Madison st. Mandaluyong. I will just show you a glimpse of what we encountered there.
Upon arriving, we were greeted by this simple but accommodating waiting area. Their reception area is really refreshing to look at with all the plants displayed. As we entered, the smell is really awesome; I think it's minty with a hint of lavender (I am just guessing here). It was inviting and calming. Then, we were given slippers to wear.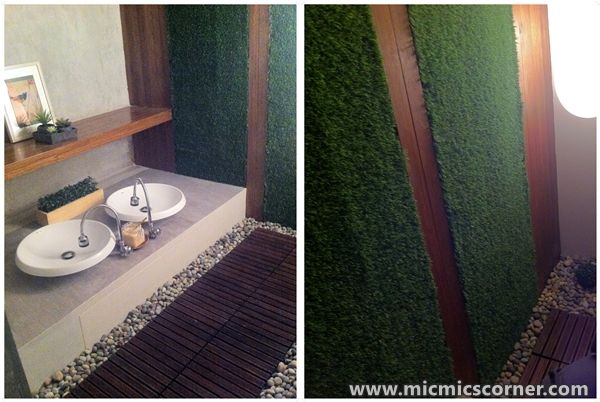 We were escorted to the foot wash area. Of all the Nuat Thais I've been to, this branch has the nicest foot wash area. Not too spacious but really cute with all the details like the pebbles and the wall with faux wall vine. The water was warm and the scrub helped get rid of the dirt before the massage.
[caption id="" align="aligncenter" width="600"]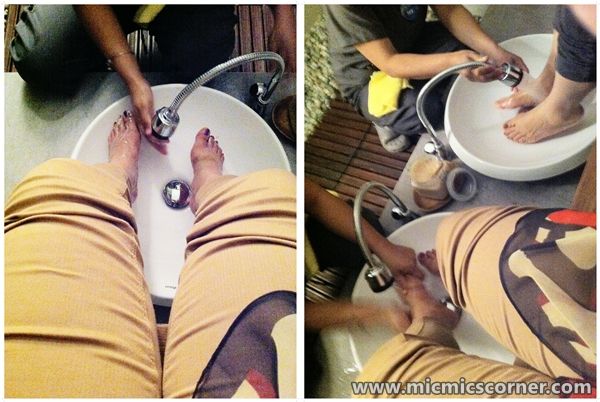 My momma and I during the foot wash time.[/caption]
Now for our room, my sister and I were placed in two rooms with a curtain as divider and mattresses on the floor. I love that this room has light and the pillow looks different but sooooo comfy I wanna take it home. This is just a basic massage room, nothing fancy except for the pillow.
This is my lower half body showcasing their quite big shorts. So hiphop, eh? Haha!
[caption id="" align="aligncenter" width="600"]

Me and my sister[/caption]
We had 1 1/2 hours of Swedish massage. I fell asleep. My masseuse is really great and I got relaxed all throughout (sorry I forgot her name). I will not go through all the details of the massage since I know most of you know what it is already. Whet sets them apart? Well, their therapists are really good. Pressure I asked for is just right and she was consistent from beginning 'til we finish. Swabe ang hagod. Hindi masakit pero ramdam kong guminhawa ang pakiramdam ko.
After the massage, I went to their washroom. It has fake vines on the wall. It's a pretty basic restroom but filled with all the stuff that I needed like tissue and hand soap. Outside, a cup of tea or a glass of water with a hot towel is waiting.
I enjoyed my massage. One of the best! But since Pioneer is far from my place, Nuat Thai Libis is still our favorite branch.
That's it for my short update. <3
Micmic
Disclaimer: Not a sponsored post.