Here's another product review from the brand
iWhite Korea
. I have used their
Aqua Moisturizing Cream
and their
Whitening Pack
and I am impressed with the effects especially with the moisturizer as it truly delivers without hurting my pocket. This time, I'd like to share with you my thoughts on their
Facial Cream
which I've been using for over a month now.
Product Description:
A natural facial cream that gives you 3 benefits as a whitening product, as a sunblock/dual UV protection, and as a non-comedogenic make-up base for a complete day time skin protection.
Price: Php 169 for 65ml tube and Php 20 for 10ml sachet
Benefits:


Whitening


Dual UV Protection


Makeup


Active Ingredients:
Mulberry


Contains arbutin which inhibits melanin production.


A better natural alternative to hydroquinone, and also the most potent and most gentle substitute for it


Soothing even in high concentrations


Reduces uneven skin tone and appearance of dark spots


Helps in cell regeneration


Panax Ginseng


Reduces wrinkles and refines skin


Promotes skin regeneration


Helps in collagen production and cell regeneration


Helps removes scars


Aloe Vera


Protects your skin from sunburns, inflammation, redness, itching, and other allergies


Acts as a natural moisturizer; hydrates the skin with the non greasy feel


Has salicylic acid and vitamins C and E


Soothes the skin making it firm, smooth and glowing


Remarkable capacity to remove stretch marks and blemishes


Titanium Dioxide


Provides sun screen protection


Used as a whitening agent


Vitamin A (Retinol / Beta-Carotene)


Extensively used to treat acne and stretchmarks


Strong antioxidant ad fights free radicals


Slows down aging


Vitamin C (L-Ascorbic Acid)


Together with vitamin E, C is responsible for collagen production to repair and protect skin from damage and aging


Lightens skin and prevents wrinkling


Vitamin E (Alpha-Tocopherol)


Protects and repairs skin thus improving overall skin texture


Protects from sunburns


Speeds up cell regeneration


Gives skin elasticity


Helps in scar healing and prevention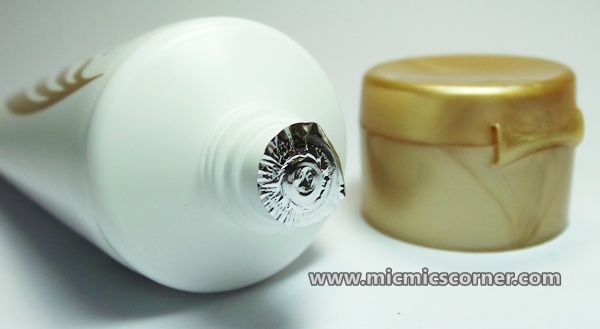 Just like their Aqua Moisturizing Cream, this came in a sealed tube; assuring us with product's excellent quality and also it makes usage really easy.
Another plus point is the manufacturing and expiry date at the back. In that way, we'll always have something to check in case we are wondering if it's expired already or not.
Here's a before and after photo of the back om my hand. See how it makes the right part brighter and more even toned?
How to use:
Step 1: Wash face using iWhite Moisturizing Facial WashStep 2: After applying your favourite iWhite Aqua Moisturizing Cream, dab pea size amounts of iWhite Facial Cream on the nose, cheeks, and forehead. Step 3: Spread the cream consistently all over the face for a fairer and evenly toned skin. For best results, use morning or as needed with other iWhite skincare products.
[caption id="" align="aligncenter" width="570"]
Left - artificial lighting
Right - natural lighting[/caption]
In this photo, I already set it with a translucent powder and also did my makeup for that day. See how it made my face look brighter without looking too white. I did not use any concealer or foundation for this photo.
What I like:



Packaging is simple yet very easy to use.



The smell of the product is really great which is the same as their other products.


Helps even out skin tone.


Makes a good base as it is slightly sticky making makeup adhere more.


Stays pretty long on the face. I only need touch ups on powder.


It isn't that reflective on flash photography although it highlights some areas.


I this this helped my other skin care products lighten some dark spots on my cheeks.


No irritations observed.


It has SPF 15 to help my skin from harmful effects of the sun.


Affordable.


Locally available.


What I don't like:


Can become patchy if not blended quickly.


Ratings:



Packaging: 4/5



Scent: 5/5


Texture: 4/5


Effectiveness: 4/5


Affordability: 5/5


Availability: 5/5


Overall rating: 4.5/5
I am pretty satisfied with how this works as a base for my makeup. As you can see from the photos above, it helped me achieve a flawless skin in an instant. Also, the scent is just nice; quite addicting, too (in a good way, don't worry). Though I don't have alarming dark spots, I noticed some small dark spots lightened while using this. I think it was also able to help maintain my skin's current skin tone. I love this product as it can also work on it's own. You may skip foundation and concealer and just top it with your powder.
Visit
iWhite Korea'
s Facebook
page
.
Micmic
Disclaimer:
Product provided by the company for review purposes. All product information are provided by company but all opinions are my own.