It is rainy season already here in the Philippines but I still find the weather a bit hot at times. Also, I now go to the gym and sweating is inevitable. A good deo spray is a must in my stash. I don't want to be smelling odd in front of other people.
One good deo spray I've been loving lately is
Zenutrients Tea Tree Deo Lotion Spray
. I got this from
Sample Room
(view my haul
here
).
Product Description:Zenutrients Tea Tree Deo Lotion SprayNeutralize body odor and provide effective, long-lasting deodorant protection while leaving skin cool with nature's antiseptic: Tea Tree Oil. This ingredient is a natural anti-bacterial and anti-fungal oil, so it's used for the treatment of odor, dandruff and acne as well. Spray onto underarms after cleansing; let it cool and dry a bit before dressing. This deodorant spray is safe to use for pregnant women. If you suffer from excessive sweat on hands and feet, it can be used on those areas as well. Do not apply to broken skin. If rash or irritation develops, discontinue use.Variants:1. Tea Tree2. Tea Tree & Rosemary3. Tea Tree, Lemon & ChamomileFull size and Price:Deo Spray:1. 50ml: P249.952. 100ml: P275.00Roll-on:1. 50ml: 249.95Available at:For online – can buy online either by emailing their orders directly to zen.essentials@gmail.comBoutiques:3/F Lucky Chinatown Mall (near Mary Grace)3/F Robinson's Galleria (near Bayo)2/F Virra Mall Greenhills (near Palmistry & cel phone area)1/F Festival MallLandmark MakatiLandmark TrinomaSocial Media:Facebook : https://www.facebook.com/zenutrientsTwitter: https://twitter.com/ZenutrientsInstagram: zenutrientsWebsite: www.zenutrients.com.ph
(Credits to 
Sample Room
for all the information)
I tried searching for the ingredients but I didn't find any. Also, my sample didn't came with manufacturing or expiry dates.
Comparing to other deo products, this one is in spray form but a little different though. What it will dispense is a lotion (duh Mic, it's a deo lotion). I had to spray it then spread the product on to my armpits to be sure that it is well distributed.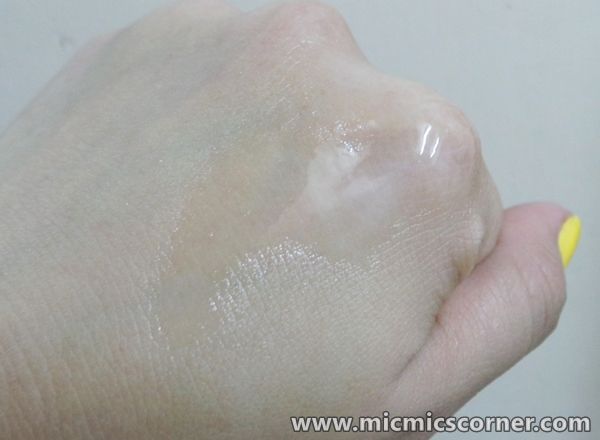 Consistency is thin, lotion-like. A bit milky in my opinion. But this dries in a minute or so with a mild cooling sensation felt.
What I like:


Consistency is not sticky, lotion-like and milky in appearance.


Dries quickly.


Upon drying, cooling sensation was felt.


Scent is very pleasant; minty and clean.


Has tea tree that is known to help fight against bacteria.


Protects my UA from unpleasant smell the whole day.


Unlike other deodorants, this did not darken my UA.


What I don't like:


Basic packaging. I find it a bit flimsy.


It sprays on one spot only so spreading the product is a must.


I know it's naturally made but I would want to see the ingredients written.


No manufacturing and expiry dates.


A bit pricey compared to other deo sprays.


Although it is available locally, areas where we can purchase this is quite limited.


Ratings:


Packaging: 3.5/5


Scent: 5/5


Texture: 5/5


Effectiveness: 5/5


Affordability: 3.5/5


Availability: 3/5


Overall rating: 4/5
Yes, the packaging is not something I would rave about but I can let that pass knowing that this product really works. It is so amazing to the point that I forgot I have other deo in my stash. I will definitely repurchase.
MicmicDisclaimer:
 Product purchased thru Sample Room. Reviews are based on my personal experience with the product.