eCommerce opportunities for brick-and-mortar businesses across five Southeast Asian countries with Lazada's Marketplace platform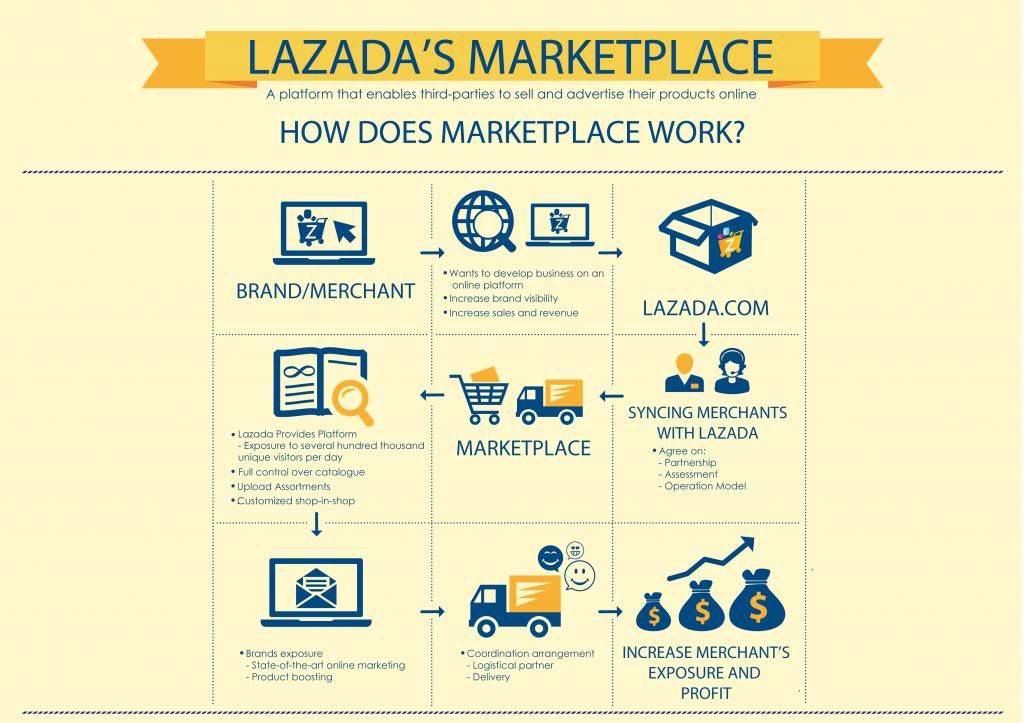 Singapore, August 13, 2013 – Lazada has officially launched its Marketplace platform in all its markets – an online platform for third-party sellers who aspire to be visible on the region's most popular online shopping mall.Lazada is operating a multi-category online shopping mall with almost two hundred thousand products listed and is now offering a platform enabling merchants, both online and offline, to sell their products on http://www.lazada.com.ph or any other Lazada's web store in Vietnam, Indonesia, Thailand or Malaysia. Lazada's Marketplace sets new standards in the industry by providing customized support for logistical arrangements, state-of-the-art online marketing initiatives and a tailored shop-in-shop visible to its huge visitor base.The Marketplace solution allows SME's, big brands, distributers and retailers to open an online shop without the need for significant upfront capital expenditures and is thus lowering the risk for those merchants. Furthermore, it can help its partners to gain a competitive advantage as it provides access to Lazada's massive community of fans and customers across the region. According to social-network analytic website Social Bakers, Lazada is one of the most liked pages on Facebook with almost 5 million Facebook fans and an average of 8,000 new "like" every day.Maximilian Bittner, CEO of Lazada said "the number of partnership requests we received made us realize the massive demand and we are glad to provide this opportunity to all merchants in the region". Bittner continued: "we started to develop our Marketplace platform in late 2012 as it fits perfectly with our goal to continuously expand our product offering and service level to our customers and partners". Bittner also believes the platform has the powerful "side-effect" of developing an online ecosystem which will create business opportunities supporting economic growth and job creation in SouthEast Asia.
The Marketplace operation is sophisticated but user friendly, eliminating the micromanagement and hassle of updating and keeping track of individual transactions. Merchants are able to build their catalogue, update inventory, and create new listings in their virtual shop via a store management tool synchronized with Lazada's back-end IT system. Lazada also allocates a dedicated account manager to merchants who will educate on eCommerce best-practices and advice on further growth potential.\
One of the early adapters to join Lazada's Marketplace was Pineapple Computers in Malaysia, a well-established electronic retailer. Dato Mark Lim, founder and Managing Director of Pineapple Computer said, "we faced aggressive competition from larger players as well as high operating costs, limiting our ability to expand the business, even though our prices were competitive. With Lazada's Marketplace, its capable workforce, logistic management and delivery system we have grown the business by 38% and have now a visibility to hundreds of thousands of Malaysians that were inaccessible to us previously. Pineapple has entered a new frontier." Lazada's Marketplace has also caught the attention of major players such as Philips Electronics, the market leader in several small appliance categories. Ms. Siriwan Nitkitjatorn, General Manager of Consumer Lifestyle Sector at Philips in Thailand said, "Philips will partner with Lazada to make our innovations even more easily accessible to consumers allowing them to enjoy our products wherever they are". Recognizing the strong growth potential in eRetailing and the convenience it brings to consumers, she pointed out, "Philips has always designed their products around the needs of the customers and nowadays the ability to use an online distribution channel is part of those needs."To join Lazada's marketplace, you may contact merchantpartnerships@lazada.com.ph
About LAZADA
LAZADA (www.lazada.co.id, www.lazada.com.my, www.lazada.com.ph, www.lazada.co.th, www.lazada.vn) is Southeast Asia's fastest growing online shopping mall, with operations in Indonesia, Malaysia, Philippines, Thailand and Vietnam. LAZADA is pioneering eCommerce across some of the fastest growing countries in the world by offering a fast, secure and convenient online shopping experience with a broad product offering in categories ranging from consumer electronics to household goods, toys and sports equipment. LAZADA is always striving to offer its customers the best possible offering – including multiple payment options, free returns and extensive customer service and warranty commitments.Lazada's Marketplace is an online platform allowing retailers of any range to sell via its web store. Every retailer has the liberty to manage its product, inventories and information given to the customers whilst Lazada ensures logistic, shipment, marketing and processes the transactions.
For media inquiries, please contact:
Raizah Dipatuan
Offline Marketing Head, Lazada Philippines

Tel : ++63 917 637 88 34

Email : s.dipatuan@lazada.com.ph
Micmic
Disclaimer: Content sent for PR purposes. Not a sponsored post.