As you may all know, I am a Sample Room patronizer. Every now and then, I try to check them for new samples. Though I am not yet a VIP member, I was still able to bag some nice products. One of which is the Vitamin E Lipsticks from Colour Collection, a product of Tupperware Brand Philippines.
I was able to get 2 out of 3 shades (variants) available at Sample Room. I got Red Wine (Satin) and Kissmark (Matte). If ever they'll restock on Pinkish Nude (Sheer), I'll definitely get that.
Product Description
Keep your lips healthy and kissable with Colour Collection's Vitamin E Lipsticks, a range of lipsticks that are formulated with Vitamin E, making your lips still look moisturized and supple even long after the color wears off. It also has sunscreen that protects your lips from the harmful UV rays of the sun.Tupperware Brands' premier cosmetic line presents these specially enriched glam lipsticks with Vitamin E -- widely known for its capability to speed up cell regeneration and retain natural moisture content of the skin.By helping you maintain smooth, sensuous and vibrant lips, Colour Collection's Vitamin E Lipstick puts the glamorous finishing touch to your look with over 15 passionate shades and 3 types of finishes – matte, satin and sheer.Full size: 4gPrice: PHP 330Available at: Tupperware Brands Branch Listings
SOURCE:
Sample Room
Information from the boxes (Red Wine and Kissmark)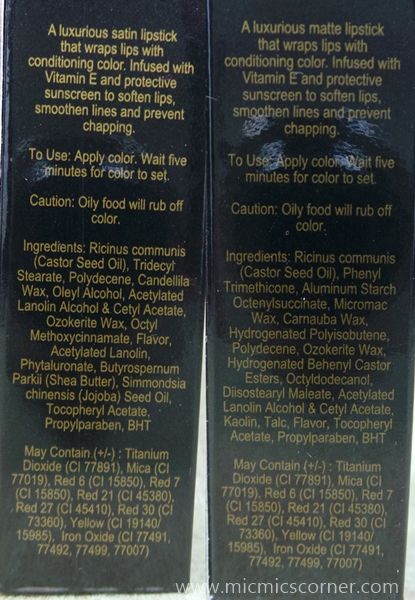 Manufacturing dates 
Swatches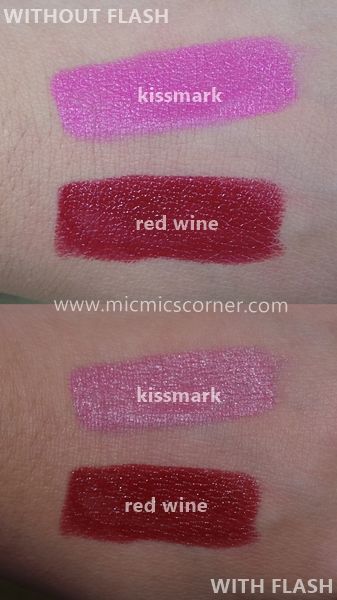 Packaging wise, the lipsticks came with their respective boxes with details printed on it (description, shade name, ingredients, the brand who made it and manufacturing dates). It would be better if expiry dates are also given but since it's not there, I will just follow what I read from Bobbi Brown's Makeup Manual book that lipsticks last up to 12 to 18 months. The shiny, black, plastic tube with gold detailing made the appearance basic but classy. I love how sturdy the packaging feels as well as the retracting mechanism. Colour Collection's logo and shade names are also written on the top and bottom part of the tubes.
These have very faint lipstick scent to it. At first, I thought it does not have any but when I tried smelling it again, there is actually something but nothing bothersome.
Let's now go on to each lipstick and see how it fared me when I used them.
Red Wine
 This is the first one that I decided to get because I adore red lipsticks with a dark tone to it. I'd say it matches my morena skin perfectly. I super love the brown tone to its redness. I feel like this is something I can wear because to be honest, I normally find it hard to pull off red lips. The satin finish is also good for my dry lips. It made my lips look and feel smoother and suppler. This one is really moisturizing and lasting power is superb for a satin finish lipstick. It lasted for 6 hours on me without retouching. It transfers and it fades a bit but since it's red, it does stain my lips which I find good.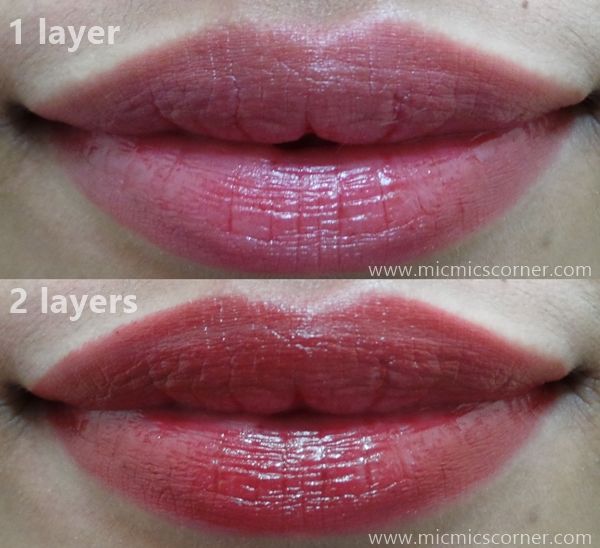 With one, thin layer, I can definitely rock this during daytime as it looks really natural, as if my lips were naturally reddish. With two layers, it instantly became a shade appropriate for nighttime.
Kissmark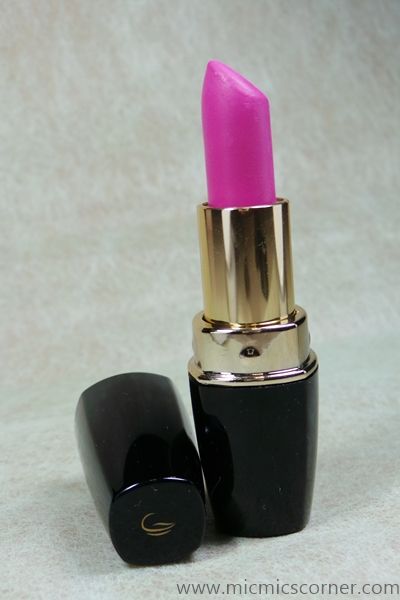 Since I regained my points again, I went ahead and got this baby for me. For everyday, pink lipsticks are my kind of thing lately. I think I look youthful with pink lipstick on. This one is a Barbie pink with its blue tone to it. It is not loud nor too pale to make me look washed out. It is the kind of pink that is, I guess, safe for girls like me that is on the morena side. It adds freshness to my look when I wear this. Since yesterday, I just can't stop using this. This one is matte but unlike other matte lipsticks, this does not dry out further my lips nor does it emphasize my dry lips. It easily glided on my lips and I still felt some moisturizing effects when I had this on. Same as the Red Wine, this transfers, too but very minimal. It stays pretty long as well, about 4-5 hours on me without eating. When I eat, it fades leaving a slight trace of pink shade but becomes uneven so reapplication is needed after eating.
One or two layers, I still like it. This is now my current favorite pink lipstick.
What I like:


Classy packaging.


Ingredients and manufacturing dates are given.


No foul scent.


Both glided smoothly on my lips.


Very pigmented.


My lips felt moisturized even without lip balm underneath.


Has Vitamin E and UV protection.


Lasting power is nice.


Available in 15 shades.


Affordable.


Available locally.


What I don't like:



You need to find a branch near you to purchase this.



It transfers to my cup when I drink. (blot with a tissue paper)


No expiry dates


Ratings:


Packaging: 4.5/5


Scent: 5/5


Texture: 5/5


Effectiveness: 5/5


Affordability: 4.5/5


Availability: 4/5


Overall rating: 4.7/5
FOTDs
Red Wine for that elegant look. It never goes out of style; classic and timeless.
[caption id="" align="aligncenter" width="597"]
Products Used:
Revlon Colorstay Whipped Foundation in Buff
Avon Ideal Oil Control Pressed Powder in Natural
Hayan Retractable Eyebrow Pencil in Dark Brown
In2it Waterprood Brow Powder
Urban Decay Primer Potion
Urban Decay Naked Palette
FS Cosmetics 2 Way Cake in Rajah
Beauty UK Blusher in Candy Pink
Colour Collection Vitamin E Lipstick in Red Wine (satin)[/caption]
Kissmark
for a fresh look with very minimal makeup. Unleash that youthful look just by using a nice pink lip color.
[caption id="" align="aligncenter" width="600"]
Products Used:
Encara BB Cream
Ben Nye Neutral Set Colorless Face Powder
In2It Waterproof Eyebrow Powder
The Body Shop Cheek Tint
Colour Collection Vitamin E Lipstick in Kissmark (matte)[/caption]
Micmic
Disclaimer:
 Product purchased thru Sample Room. Reviews are based on my personal experience with the product.