My skin care routine changes from time to time it's because I have a lot to try out. Last month, I was able to use a day and night fluid (moisturizers) from the brand
Human Heart Nature. 
Let me first share my thoughts on their
100% Natural Moisturizing Day Fluid 
which I used for the last 2 weeks of last month up to first week of this month. I realized I haven't blogged about my experience so I might as well do it now.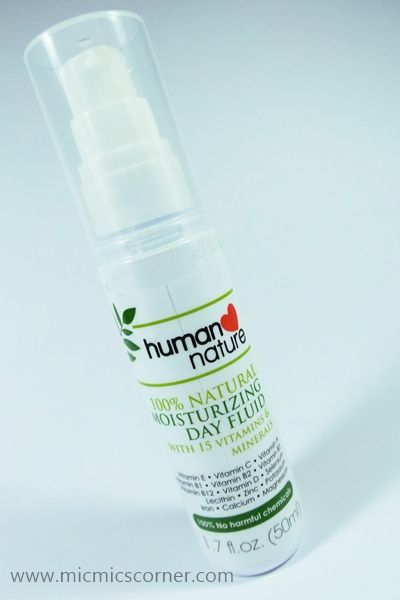 Product Information:
How many vitamins are there in your current moisturizer? Just one? Our 100% Natural Moisturizing Day Fluid has 15 vitamins and minerals that give your skin the nutrient-boost it needs to start the day looking fabulous!Plus you get an extra dose of Vitamin E, nature's richest antioxidant, to help reduce the risk of sun damage.15 reasons to switch from your chemical moisturizer: Vitamin E • Vitamin C • Vitamin A • Vitamin B1 • Vitamin B2 • Vitamin B5 • Vitamin B12 • Vitamin D • Selenium • Lecithin • Magnesium • Calcium • Potassium • Iron • ZincDid you know: Most chemical moisturizers contain petroleum by-product ingredients like silicone, dimethicone, and other products ending in "-one" to make the skin's surface feel soft, smooth and silky. Known as feel modifiers, these ingredients sit in a layer on top of your skin keeping the moisture in but at the same time, clogging your pores and trapping in sebum, dirt and bacteria, thus causing breakouts and allergic reactions. It's like applying a layer of plastic wrap on your face and not allowing your skin to breathe!According to the Environmental Working Group (www.ewg.org), there is insufficient toxicity data to know if dimethicone and silicones are safe for use in cosmetics and other personal care products. Who wants to be a guinea pig? In Human Nature, we err on the side of caution and avoid them. Ingredients:
water, dicapryl ether (vegetable derived), caprylic/capric triglyceride (coconut derived), glycerin, glyceryl stearate, isostearyl hydroxystearate (vegetable derived), stearyl alcohol, Persea americana (avocado) seed oil, Helianthus annuus (sunflower) seed oil, Aloe barbadensis (aloe vera) leaf juice, tocopherol acetate (vitamin E), tapioca starch, xanthan gum, glyceryl caprylate (coconut oil, palm oil and glycerin derived), fragrance (all natural), anisic acid (anise seed derived), farnesol and linaloolPrice:

50ml - Php 149.75
100ml - 249.75
Source: 
http://humanheartnature.com.ph/
Product came sealed and it has a decent pump that dispenses the product nicely, no spills. One pump is enough for my face and neck area.
Expiry date printed at the back of the bottle which I find really useful.
The consistency is quite thin compared to other moisturizers I have tried. Spreading it is quite a breeze for me. One thing I don't find pleasing though is the scent. It smells like mayonnaise to me.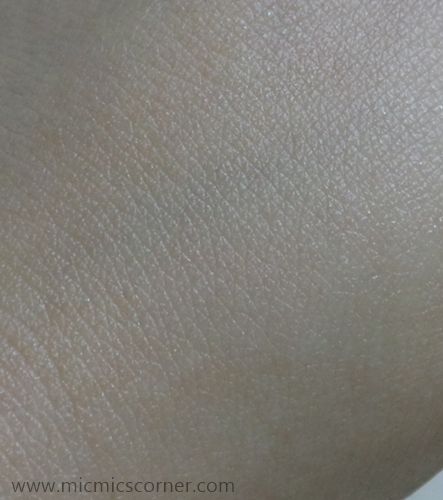 My skin felt really moisturized after it has been fully absorbed. I get sweaty after applying this though. I had to blot sweat few minutes after applying it. Then after that, my skin goes back to being normal; moisturized.
What I like:


Sealed when it arrived.


Expiry date printed at the back.


Has a complete list of ingredients which are ALL NATURAL.


With lots of vitamins and minerals that will definitely benefit the skin.


Has a decent pump.


Spreads easily.


Moisturizes the face really well.


No breakouts experienced.


Skin felt supple and smooth.


Affordable.


Locally available.


What I don't like:


They can do more on the packaging.


Smells like mayonnaise.


I get a bit sweaty after applying this.


There are times that I get oilier on the T-zone area.


Ratings:


Packaging: 4/5


Texture: 5/5


Scent: 2/5


Effectiveness: 4/5


Affordability: 5/5


Availability: 5/5


Overall rating: 4/5
If it wasn't for the smell and the times when I get oilier than normal, this is a nice moisturizer with SPF. I love the fact that it is 100% natural. I just hope they do something with the packaging, scent and formulation so that I won't get oily.
Visit Human Heart Nature's
website
to see more products.
Micmic
Disclaimer: Product purchased by my own money and review based on my personal experience with it.