Hello! I am back with another review. I am not a pro with eyebrows but I am quite an OC with mine. I always see to it that I define them before I leave our house. If you're going to ask my boyfriend, he would know that. I devote most of my time allotted for makeup to my brows. I believe that having neatly defined brows make a GREAT difference than using a super great foundation.
I am now going to review a current favorite which is the
In2it Waterproof Eyebrow Colour in ER 01 Eyebrowns 
which I know have been raved by other beauty bloggers out there.
Since this is the first time I'll be reviewing a product from In2it, let me first give you a background about the brand.
In2it started 12 years ago when a group of like-minded artists and designers began developing cosmetic products for fun. The objective was to develop cosmetic formulations of high quality, at prices that were widely affordable for friends and exclusive customers. The order books quickly grew and in year 2000 the products became available under the brandname In2it through selective department stores. The In2it brand is owned by Asia Pacific Cosmetics Corporation (APCC), Hong Kong, which remains a private company.Nowadays, In2it is available in well over a thousand stores, but still remains true to the original idea of offering high quality formulations, at affordable prices and continues to develop ideas with artists and designers. The brand is particularly famed for eyeliners, eye colour and blush. In2it products are formulated for Asian skin using ingredients and technology from Japan and Europe. All products are manufactured to international safety standards and are registered and approved by the relevant Government Health Departments.
Source: 
http://www.in2itcosmetics.com/web/about%20us_home.html
 (Click the link to know where to purchase this product)
Product Information: 
Waterproof and long lasting eye brow colour in a three shade selection. Intense colour and easy to blend. Soft and smooth with the moisturiser vitamin E. Easy to apply with the nylon hair brush applicator and mirror compact.Weight: 3.5gPrice: Php 299.75
Source: 
http://www.in2itcosmetics.com/web/product_ER.html
Ingredients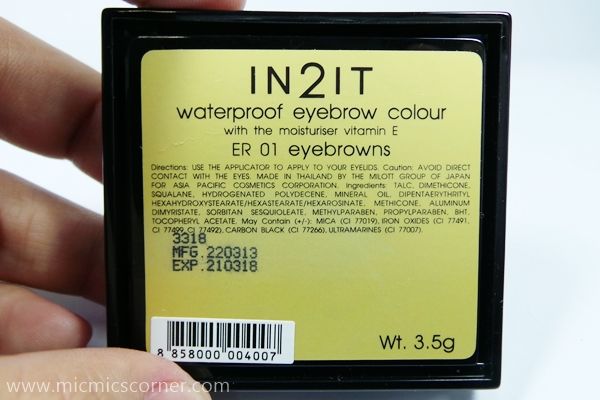 Packaging is really simple. Black with clear flip cover showcasing the three shades inside. Though it feels cheap because of the plastic packaging, it still feels sturdy. Also, I fell in love with the flower detailing printed. To me, black speaks of elegance and the flowers added a girly touch to it. Product is so handy it can even fit my palm. I normally bring this when I go out of town because it can easily fit inside my makeup bag.
Upon opening, you will see a small mirror but very useful for touch ups. Even if it's so tiny, I can still see my brows using this mirror.
I also like that it came with three shades giving me more options and room for different intensity. These are also versatile as I also use them as eye shadow and contour powder. The shades aren't chalky and does not give fall outs.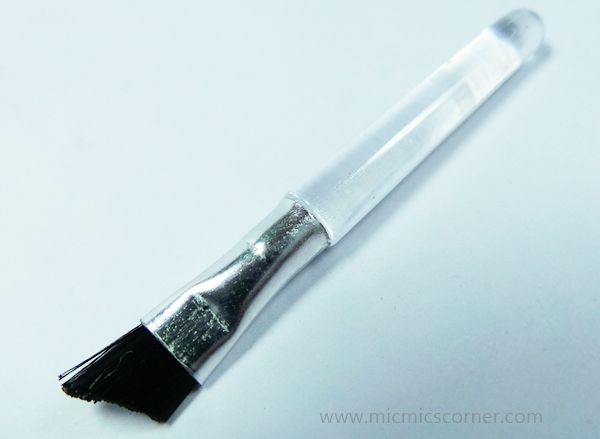 It came with a nylon applicator that I normally use when I'm in a rush. It helps me achieve a naturally filled in brows. If I want my brows to be more defined, I use an angled liner brush and a spoolie.
Swatches
Water Test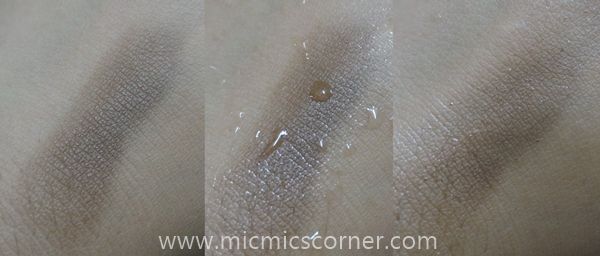 I tried rubbing it off after placing it under running water. It faded a bit but some parts remained in tact.
[caption id="" align="aligncenter" width="600"]

Left: After application
Right: After 8 hours[/caption]
What I like:


Cute design on the packaging.


Has a mirror.


Applicator is quite useful.


Ingredients, manufacture and expiry dates are given.


Very pigmented.


Color combination is great to those who have light and dark hair.


Though it faded, it still performed really well even after getting wet.


Lasts for more than 8 hours without touch ups.


A little goes a long way. This will last me for more than a year, I think.


Multifunctional.


Affordable.


Available locally.


What I don't like:


The applicator can get a little flimsy at times.


Ratings:


Packaging: 4.5/5


Texture: 5/5


Effectiveness: 5/5


Lasting Power: 5/5


Affordability: 4/5


Availability: 5/5


Overall rating: 4.75/5
I am in love with this product. I tend to get this more than my other brow products. For better adherence to my brows, I sometimes use pencil first then use this on top. I know I will repurchase but not anytime soon. This small palette will last me months or even years.
Micmic