I hope you were able to read my
Birthday Haul
for this year. I have showed you there that I purchased a box from
GlamourBox
but I did not showcase the items there yet. Why? Because I wanted to do a separate post for that. And here it is, the list and photos of the products that came with my
Special Edition Avon GlamourBox
. I know I'm a little too late on doing this unboxing post. A lot of bloggers have already shared theirs but I still wanna do mine, please bear with me. :)
Same with my previous box from them, this came protected with another box aside from its own box. That's what I love the most about them, they want the subscribers to receive the box in excellent condition.
Tadaaaa! Their first
Special Edition
box courtesy of
Avon Philippines
. Their box is the most sophisticated beauty box I've seen here in the Philippines.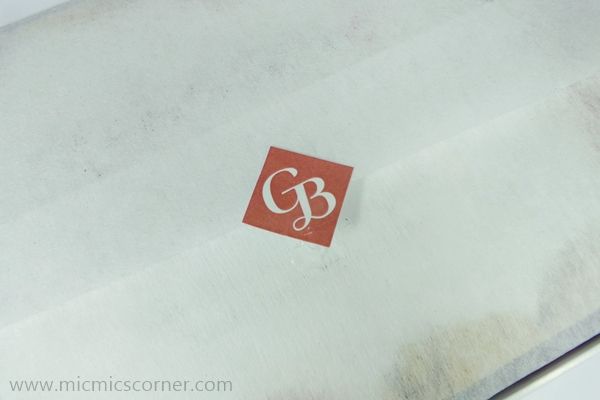 Upon opening, this welcomed me adding a little surprise factor, their sticker seal with
GlamourBox
logo.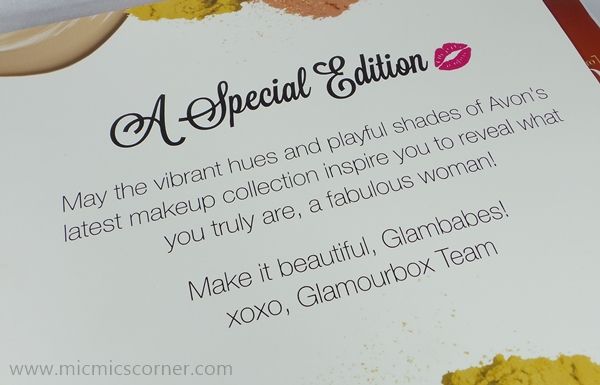 I am so ready to be fabulous and beautiful,
GlamourBox
and
Avon
! Thanks for coming up with a box like this.
Yehey! My goodies! Woot woot! I just can't take off the smile on my face when I saw these babies!
Here are the items that I got:
[caption id="" align="aligncenter" width="600"]
True Color Eye Shadow Quad in Purple Pop (full size 5.6g) | Php 449[/caption]
Open your eyes to intense colors. This quad contains a gorgeous range of expressive shades designed with every skin tone in mind. Goes on easy as 1-2-3-4 for gorgeous looks you'll love. 
Not that excited with this one because I have other eye shadow palettes that has purple colors and to be honest, I am more into neutrals but I will still give this a try.
[caption id="" align="aligncenter" width="307"]
Supershock Max Waterproof Mascara in Black (full size 10g) | Php 420[/caption]
This waterproof mascara delivers up to 15x volume with its breakthrough helix brush. Its weightless, lash-building formula has plumping fibers and proteins for a maximum "wow".
I've heard mascaras from Avon are good so I am looking forward to trying this one real soon.
[caption id="" align="aligncenter" width="485"]
Skin Goodness Moisturizing BB Cream SPF20/PA++ in Nude (full size 18g) | Php 399[/caption]
This nourishing BB Cream has moisture essence which nurtures the skin for a healthy glow. Enriched with Vitamins A, C & E, it is suitable for sensitive skin.
Another BB cream for me, hooray!
[caption id="" align="aligncenter" width="600"]
Ideal Luminous Blush in Peach (full size6.23g) | Php 370[/caption]
This silky-smooth blush has a naturally luminous finish that lasts for hours. Its buildable skin-enhancing shades go from soft and sheer to a perfect pop of radiant color. 
I love this! I have tried this already and I am impressed! It gave my skin a healthy glow.
[caption id="" align="aligncenter" width="300"]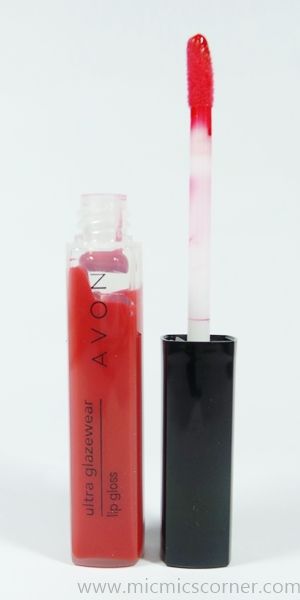 Ultra Glazewear Lip Gloss in Fiery Red (full size 6.5ml) | Php 299[/caption]
Glide on a visible burst of brilliant shine totally drenched in rich color! This lip gloss moisturizes lips for an ultra soft feel without feeling sticky.
I don't know if this will look good on me as I have full lips. Glossy red isn't my thing. But, who knows, right?
[caption id="" align="aligncenter" width="398"]
Ultra Color Lipstick SPF15 in Hibiscus (full size 3.5g) | Php 379[/caption]
The vivid, luminous, stay-true color of this lipstick feels so luscious on lips, you may never switch. It also conditions and moisturizes for an exquisite soft, supple feel.
How cute is that color? Pink lipsticks catch my attention really quickly. :)
[caption id="" align="aligncenter" width="600"]
Ultra Moisture Rich Moisture Seduction Lipstick in Red Kiss (2-pcs sample)[/caption]
This moisture-infused lipstick has the lushest color that you've ever known! Ribbons of rich moisturizers intertwine with a seductively smooth color for a sensuous surge of deep hydration.
It was written that I should be getting of this and the other is Ultra Color Rich Mega Impact Lipstick SPF15 in Charged Cherry (sample), but instead, I received two Red Kiss. I don't know why, maybe they ran out of the Charged Cherry one.
[caption id="" align="aligncenter" width="600"]
Anew Vitale Day Cream SPF25 (full size 15g) | Php 399[/caption]
This moisturizer delivers a burst of Pro-Energy complex to help strengthen skin's structure. It energizes the skin, fills in fine lines & improves skin clarity  in just three days.
I have a ton of day cream to try out and this is one of my top picks to try out. I've heard so much about Anew being really effective.
[caption id="" align="aligncenter" width="600"]
Anew Genics Treatment Concentrate (sample)
Anew Genics Cream (sample)[/caption]
This serum minimizes the visible signs of aging, wrinkles, dullness, age spots, discoloration, and loss of firmness. Its patented YouthGen Technology stimulates Youth Gene activity and helps reclaim up to 10 years of visible youth.This luxurious textured cream minimizes the visible signs of aging with its patented YouthGen Technology.
[caption id="" align="aligncenter" width="600"]
Anew Genics Eye Cream (sample)[/caption]
This rich eye cream formulated with YouthGen Technology helps minimize the visible signs of agingaround the eyes.
So those are the items I received in my Special Edition Avon GlamourBox. I am thrilled with all the items I received. That's a whopping Php 2715 worth of products if I were to sum up all the prices of the full sized ones. It's really worth getting.
I will review these items, soon. :)
Micmic