Hello, everyone. It's really cold right now. I have low tolerance to cold weather and it makes my joints hurt and my hands become stiff. Typing is a challenge for me .
Anyway, I drafted my post about this few days back but I accidentally deleted the files in my flash drive so I had to re-do it. Good thing my photos are still intact. So finally, I'm going to review one of the products
Hayan Korea
sent me. This is the
Real Black Liquid Eye Liner
the
waterproof
type.
[caption id="" align="aligncenter" width="600"]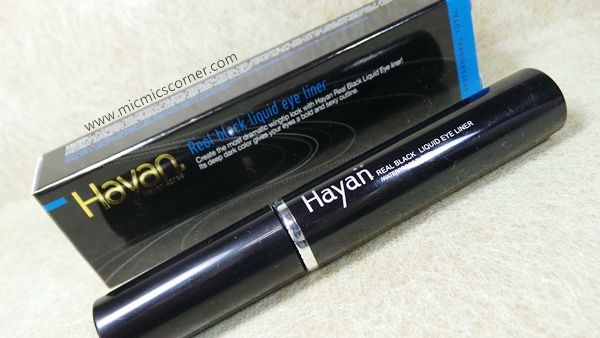 Hayan Korea Real Black Liquid Eye Liner (Waterproof)
Php 390 (Introductory price Php 185) | 5g 
Purchase at any
Hayan Korea
store (see list below)[/caption]


Hayan Starmall EDSA


Hayan SM Sta Mesa


Hayan SM Southmall


Hayan SM Sta.Rosa


Hayan SM San Lazaro


Hayan SM San Pablo


Hayan SM Rosario


Hayan Victory Mall Caloocan


Hayan Maunlad 2 Mall Bulacan


 Hayan Ortigas


Hayan Angeles Nepo Mall


Hayan Naga City


Hayan Quezon Povince


Hayan Caloocan


Hayan SM Masinag


Hayan Victory Mall Antipolo


Hayan Starmall Alabang


Hayan Angeles Jumdo Jenra Mall


Hayan Dau Jumdo Jenra Mall


Product Information



Create the most dramatic wingtip look with

Hayan Real Black Liquid Eyeliner!




Its deep dark color gives your eyes a bold and sexy outline.




Using smooth and gentle strokes, it goes on quick and lasts all day.




It is easy to apply even for first-timers, so any woman can experience attractive eyes.




It delivers dense color to help enhance and define your eyes for a mysterious and dramatic look.



Instructions on how to use
Tip
Dab a small amount of powder over eyelids after applying base make-up to blot out excess oil. This will help the eyeliner stay put for a long time.
Some warnings
Content and Shelf Life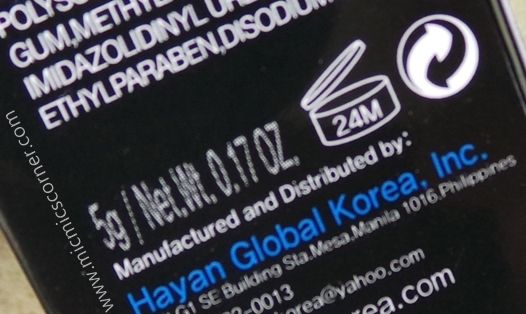 Packaging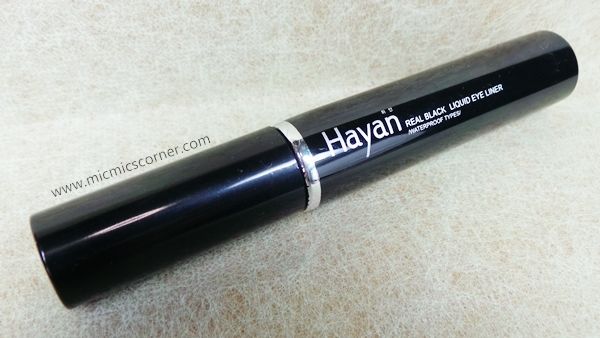 It is housed in a sleek, long, black tube with a glossy finish. It looks like a mascara packaging to me but it feels very sturdy.
The long handle makes it easier for beginners (like me) to have a nice grip on it. What concerns me is long tube that connects the brush and the handle itself. To some, it may be tricky to apply.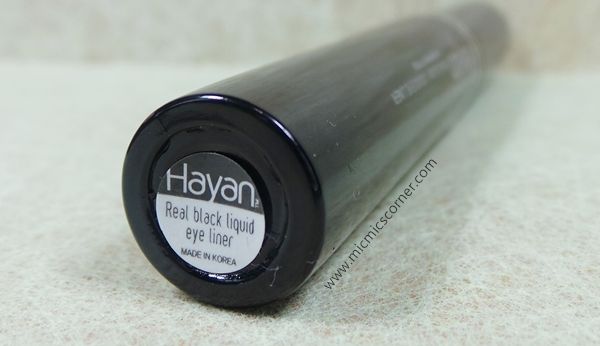 My favorite feature of this is the very thin and pointed brush that is soft and easy to use especially when you want a very defined can eye effect.
Left is a photo of the liner when wet the on the right, it's dry. As you can see, it gives a slight glossy finish which may look really unnatural. You may set it with a matte black eye shadow to cancel the glossy effect.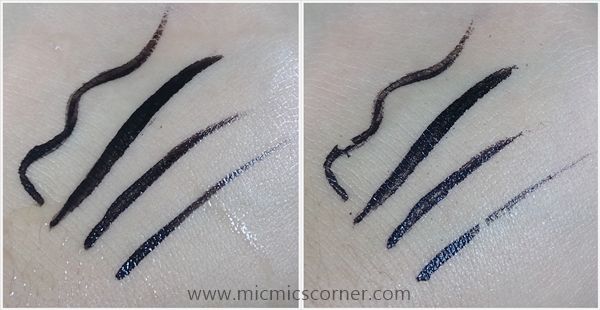 This claims to be waterproof so I needed to test it out. And yes, it is. It doesn't smudge nor bleed when exposed to water but when you try to rub it off when wet, it will come of forming film like. It does not give me that panda eyes when washing it off because it is easy to remove.
In the photo above, you will see how thin a line it can create. That's actually what I love about it. It can give me that barely there eye liner but does enhance my eyes or it can also be used to give me thick eye liner, and I can also flick it for a defined wing.

My very first perfect winged eye liner! I'm so proud of my self, haha! Left photo is right after I applied it and right photo is taken after 8 hours. As you can see, my liner is still visible. Some parts faded, the shiny effect also disappeared and it is not as black as it is when applied but still, it did a great job in staying on my lids for 8 hours.
One thing I disliked though is after letting it dry, I curled my lashes. Some parts of my liner got removed. Nothing major though. It can be helped with a little retouch. :)
What I like:


Though the packaging is quite bulky, I did not have a hard time using it.


I did not find an expiration date but shelf life is printed so that's okay.


The brush is LOVE! PERFECT!


It is really pigmented.


No smell.


Stays for 8 hours on my lids.


No irritations felt.


Easy to remove.


Affordable.


Locally available.


What I don't like:


It's takes time to dry.


It's a bit glossy. Matte would be better but this one can pass.


It comes off when you rub it once it gets wet.


It gets removed every time I curl my lashes after the liner has dried.


Ratings:


Packaging: 4/5


Texture: 4/5


Effectiveness: 4/5


Availability: 4/5


Affordability: 4/5


Overall Rating: 4/5
This is the very first liquid eye liner that I fell in love with. I love the pigmentation, the longevity and the price. I have to repurchase before it gets back to its original price. How about you, what's your current favorite eyeliner?
Micmic
Disclaimer: Product provided for review purposes. Review was done based on my personal experience with the product and is unbiased.