As promised, here's my review on
Hayan Korea's Slim Lipstick
. I have been using this the past days and it is the first ever red lipstick that didn't shock my mom when she saw me wearing it. Normally, she would tell me that I look like I have really huge lips whenever I use red lipsticks but with this one, it's different. She told me that this shade compliments my skin tone really well.
[caption id="" align="aligncenter" width="600"]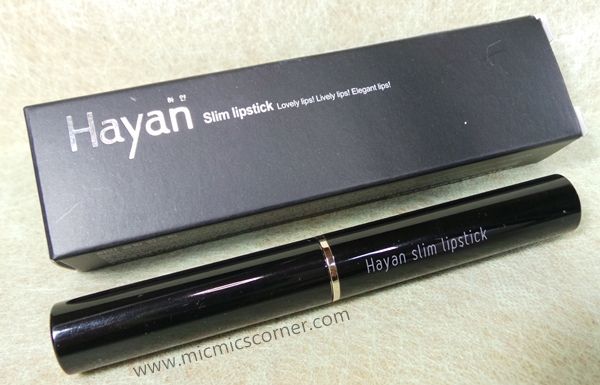 Hayan Slim Lipstick
Php 450 (Introductory price Php 250) | 1.4g
Purchase at any
Hayan Korea
store (see list below)[/caption]
Branches nationwide:


Hayan Starmall EDSA


Hayan SM Sta Mesa


Hayan SM Southmall


Hayan SM Sta.Rosa


Hayan SM San Lazaro


Hayan SM San Pablo


Hayan SM Rosario


Hayan Victory Mall Caloocan


Hayan Maunlad 2 Mall Bulacan


Hayan Ortigas


Hayan Angeles Nepo Mall


Hayan Naga City


Hayan Quezon Povince


Hayan Caloocan


Hayan SM Masinag


Hayan Victory Mall Antipolo


Hayan Starmall Alabang


Hayan Angeles Jumdo Jenra Mall


Hayan Dau Jumdo Jenra Mall


Product Information

Lovely lips! Lively lips! Elegant lips!
Give beautiful color to your lips~
Hayan Slim Lipstick renders vivid colors to your lips.
Ingredients
Content / Weight
Some Warnings, Tips and Expiration

Guide on How to Use
[caption id="" align="aligncenter" width="480"]
Photo courtesy of https://www.facebook.com/hayankorea[/caption]
Here are the shades available. Gorgeous colors, right?
Packaging
The packaging is made out of black, glossy plastic with a touch of gold. It is really slim so it is travel friendly. I also like that though it is plastic, you won't feel it being cheap. It is sturdy and it looks classy.
The bullet is also slim but I had to be extra careful because it is quite thin it would break easily but it did not! :)
Swatches (swatched lightly)
[caption id="" align="aligncenter" width="600"]
Left - once
Middle - twice
Right - thrice[/caption]
It has blue and pink tone to it, not totally red which I think helps me look a little fairer. Also, this shade did not make my teeth look yellow-ish.
[caption id="" align="aligncenter" width="600"]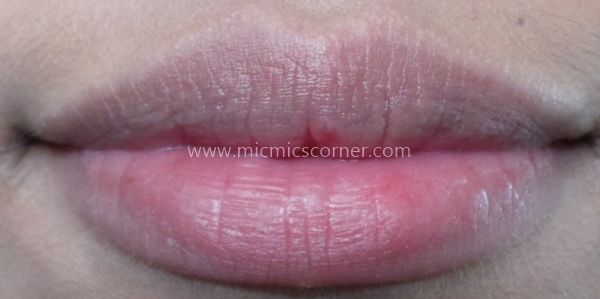 Bare lips[/caption]
[caption id="" align="aligncenter" width="600"]
With generous coating of
Hayan Korea Slim LIpstick
in
No. L210
[/caption]
What I like:



I love its black colored packaging.



Comes in 10 shades.


Since it is slim, it is easier to apply especially on the edges of the lips.


Pigmented but you can still see through the lipstick.


Glides on smoothly.


Not drying because of its satin finish.


Did not bleed on me.


Stains the lips.


Long lasting up to 4 hours (with eating and drinking). It leaves a subtle stain.


Affordable with their introductory price.


Available locally.


What I don't like:


Has a waxy smell to it.



The original price is quite expensive for me.



You can only purchase this at those branches stated above.


Ratings:


Packaging: 4.5



Texture: 4/5


Scent: 4/5


Effectiveness: 4/5


Availability: 4/5


Affordability: 4/5


Overall Rating: 4/5
This is one of my most favorite lipsticks lately because it is handy and has a good color payoff. I love that it stains my lips so I don't worry even if I eat. It makes my lips look naturally red-ish after eating. I have dry lips but this did not aggravate that. I can definitely wear this day or nighttime by adjusting its intensity on my lips. I will try other colors as well.
Disclaimer: Product provided for review purposes. Review was done based on my personal experience with the product and is unbiased.
Micmic