More than two weeks ago (a week after me getting sick), le boyfriend and I decided to eat out. He told me that this is what I deserve after being sick. Then, I realized I told him I'll be bringing him to this place called
Tamagoya Noodle House
because I know he loves Ramen more than I do. So, we went there.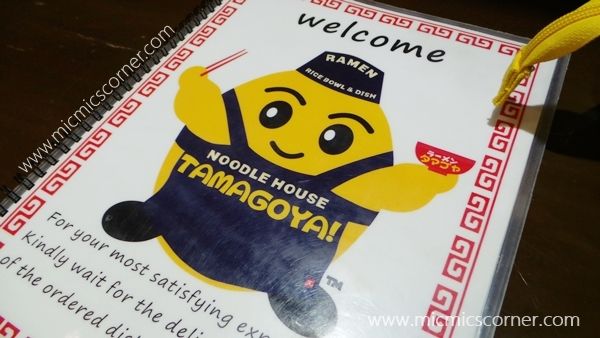 This is my second time to visit this place. The first was with my parents and my sister. A friend of my parents actually recommended the place and so we finally had the time to pay a visit (though my family isn't really into Ramen).
Here's a hint of the view outside. I only took a photo of a part of the outside area because I'm not too sure if the place is safe if a went backwards further with my camera. Well, basically, it is a 2-storey restaurant that looks huge outside but wait til you see the space inside. Oh, hello there, le bf.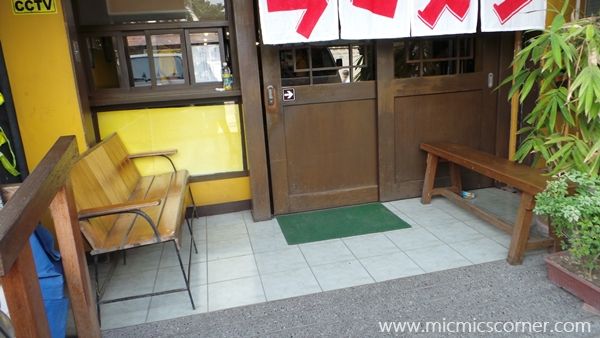 On my second visit, I was shocked to see that the waiting area outside is quite packed of people waiting to be seated inside. Good thing there are two vacant seats for us sowe were able to go in first. In the photo, you can see 2 benches but there are 2 more (no photo).
Here's what the first floor looked like. The space is a bit smaller than I expected. If you walk further, you will see the entrance to their huge kitchen. Sorry for the blurry photo. I accidentally adjusted the camera settings.
Here's a glimpse on their menu. They also have other stuff there aside from the ones posted here. Aside from the very affordable rate, I also noticed that some food are only served at a specific period of time.
Let me share with you first the foods I tasted when I was with my family.
[caption id="" align="aligncenter" width="600"]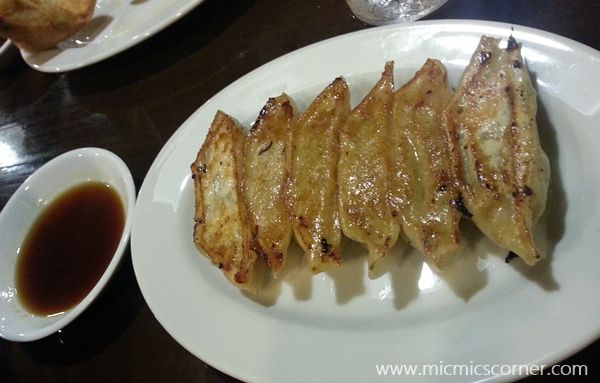 Yaki-Gyoza
| Php 98
Original pan-fried dumpling[/caption]
I like this! I will forever be a Gyoza lover. I love the flavor inside compared to those ordinary dumplings. Gyoza has this distinct taste that separates them from the other ones.
[caption id="" align="aligncenter" width="600"]
Age-Gyoza
| Php 118
Origina deep fried dumpling[/caption]
I only get to eat one piece of this during our first visit. My family liked this sooooo much. Well, I like it too. A good variation to the usual pan-fried Gyoza.
[caption id="" align="aligncenter" width="600"]
Gomoku-Nanban Ramen
| Php 198
Noodles with hot & spicy mixed vegetable & seafood[/caption]
This is really a complete meal in a bowl. Noodles, seafood and vegetables in a spicy thick broth. The spiciness blended well with the seafood flavor. If only I had not eaten anything before this, I could finish one bowl.
[caption id="" align="aligncenter" width="600"]
Katsu-don
| Php 158
Pork cutlet rice bowl[/caption]
This is actually my sister's order. I tasted it and it was okay. Nothing too special for me. If it was a bit flavorful, I would've asked for more than one bite.
The first visit was satisfying so I promised my boyfriend to bring him there. Great food + affordable prices? He would love that! So here are the foods we ordered.
Age-gyoza again! Since the first encounter with this was great, I had to let him taste it. But this looked different from the first one. To me, it is not as crispy and it seemed under-cooked (only the wrapper). I still tasted the nice flavor of gyoza though. Compare it to the photo above to see a difference.
[caption id="" align="aligncenter" width="600"]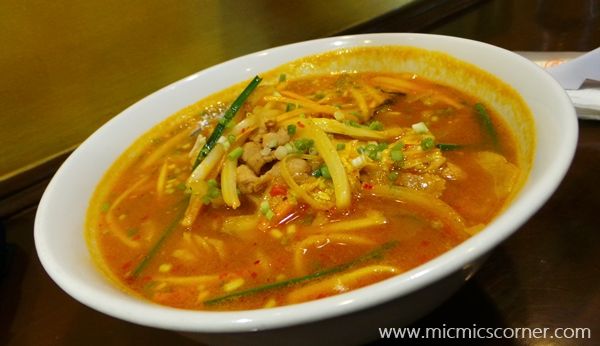 Stamina Ramen
| Php 168
Noodles with chili miso paste base soup[/caption]
This is le bf's order. I tasted it and IT IS SO DELICIOUS! You may think that it will taste super spicy because of its look but no, the spiciness is just enough. I can vividly remember that I tasted garlic and onions with this dish which is a plus for me. Gotta love those ingredients! I will definitely go back for this!
[caption id="" align="aligncenter" width="600"]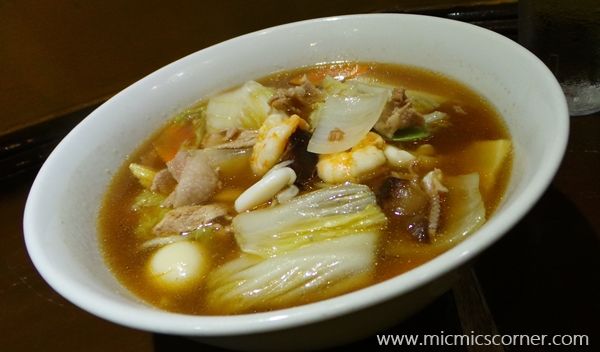 Gomoku Ramen
| Php 178
Noodles with mixed vegetable and seafood[/caption]
I was able to try the spicy version of this on my first visit so I decided to try this one also. Too bad, I didn't like it that much. The noodles are cooked really well as well as the vegetables and seafood. But the soup tasted a bit odd for me and for my bf. Maybe it is because we saw a slice of bamboo shoot which I don't like. But it is not that bad. It's just that I have tried Gomoku Ramen from other Japanese restaurant so there's something for me to compare on.
The noodles are cooked perfectly. Aldente! The vegetables are fresh and not overcooked.
After eating, you will be asked to walk to the cashier and pay for your food. The service crew here are one of the nicest. They have their own way of greeting their customers. Another good thing is that they don't accept tips. KUDOS!
Overall, my two visits on that place were both a success. I will definitely go back for the
Stamina Ramen
and
Yaki-gyoza.
I will also check if the Age gyoza have improved already.
Here are some information about Tamagoya Noodle House:
Address: 2 Hon. B. Soliven Ave, Antipolo City
Phone:(02) 861 8631
Hours:
| | |
| --- | --- |
| | 11:00 am – 2:00 pm, 5:00–9:00 pm |
| | |
| | 11:00 am – 2:00 pm, 5:00–9:00 pm |
| | 11:00 am – 2:00 pm, 5:00–9:00 pm |
| | 11:00 am – 2:00 pm, 5:00–9:00 pm |
| | 11:00 am – 2:00 pm, 5:00–9:00 pm |
| | 11:00 am – 2:00 pm, 5:00–9:00 pm |