My hands aren't at their best right now. They are dry and they just look too dull at the moment. Therefore, I can't wear colorful nail polishes and worse, I can't sport funky nail arts. My hands just wont cooperate and though the designs are nice and all, I think they will look good if my hands weren't dry.
My hands are currently exposed to a lot of household chores; laundry, washing the dishes, and a lot more. Just the fact that it is exposed to detergents, justifies the claim that they are really dry. Add to that the veins that you can definitely see; bulging and looking all tensed from work.
So why am I actually telling you those stuff? Well, that's the very reason why I decided to go neutral on my nails again. I am a forever fan of anything brown and neutral nail polishes because it can instantly make my hands look nice and clean. This time, I used this nail polish from
Girlstuff
in the shade
Macchiato
.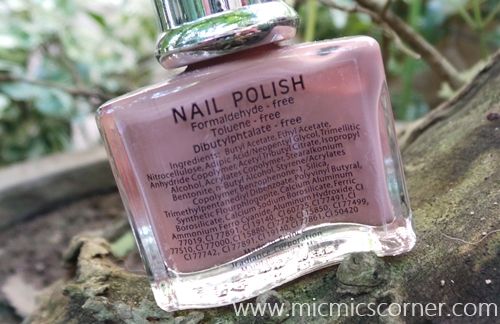 I love the fact that this brand created nail polishes that are safe because it
does not contain Formaldehyde, Toluene and Dibutylphtalate
. Also, the scent of this particular polish isn't too strong. At first, you can smell the normal scent of a nail polish but it goes off and there's a hint of scent that I can't figure out when it is but I like it.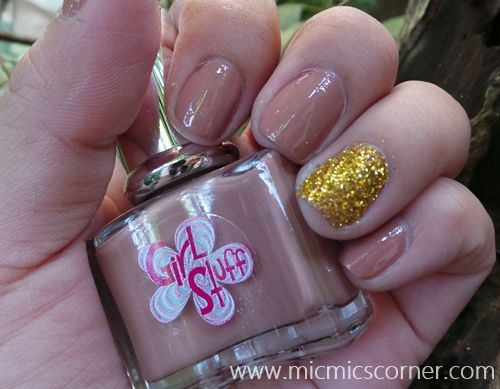 Since I have short nails, Macchiato is a perfect shade. To glam it up a bit, I added gold glitters on the nail of my ring finger. Le bf didn't like it but I love it! Well, that's a normal reaction coming from a guy. Haha!
This nail polish also have manufacture and expiry dates printed on the bottom of the bottle. Shade name is printed on the side but mine faded already so no photo is posted.
I used a clear polish from Girlstuff as well as my base and top coat. It enhanced the color by making it shiny. As for the staying power, I can't really give you idea on that since I do a lot of chores that causes chipping.
The bottles look really cute. See the shape? You can stack them like this. :)
Here's the finished look of my nails. Simple with a hint of glamour. I like it. I hope you like it, too.
Micmic