It's been two weeks since I last reviewed a product. Also, I think I've only reviewed only one blush on my blog. Haha, bad blogger. Chos! Just kidding. Anyway, I will be reviewing a blusher that I received from
Wishtrend
last month. Oh, I will be post my haul for last month within this week, I promise.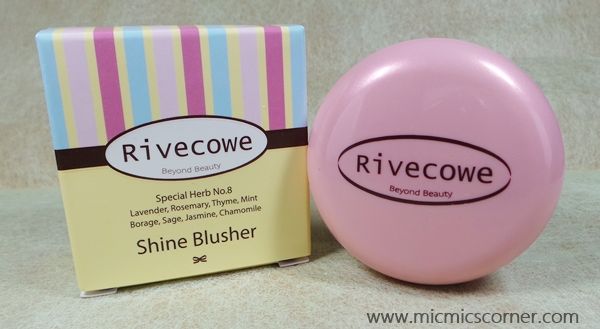 So this is
Rivecowe Shine Blusher.
I honestly don't know how to pronounce the brand name. Poor me.
It is intriguing to me that this product has 8 herbs in it. It says it can calm and smooth the skin. To be honest, I didn't feel any calming effect but the product is indeed smooth when applied on the cheeks. It is not powdery nor chalky.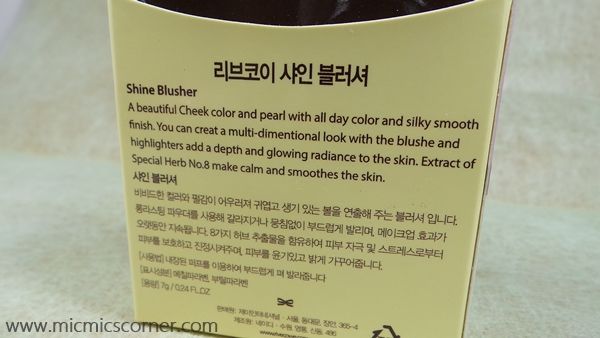 All day color and silky smooth finish? Who wouldn't want that? Most of the time, I forget my blush at home and I don't reapply that much so this is something I know I'll be needing.
Here are some information found on
Wishtrend's website
.
Shine Blusher (3color)
Quick Overview:


Finish your makeup with
long lasting bright glowing blusher !

The mixture of vivid color and glitter particle
produce cute and lively looking cheeks. 

+ Sebum control 
+ Long lasting Color
+ Lovely Puff Included


Brand : Rivecowe
Volume : 7g
All Skin Types
Made in Korea
Price: USD10.99
Shades: Shine Pink, Shine Coral, Shine Orange
Shelf Life:
Packaging: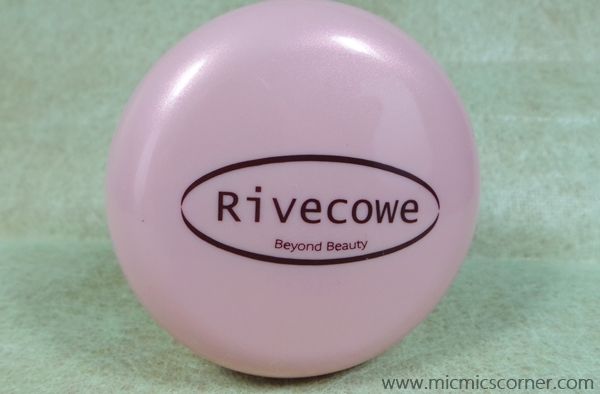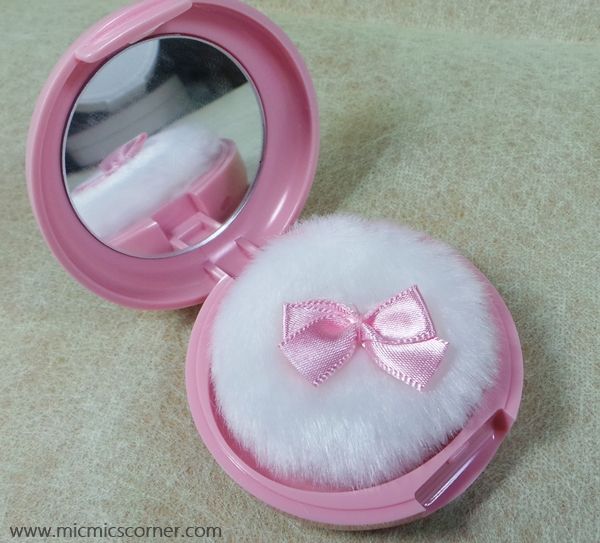 It is housed in a pink, plastic compact with mirror inside. It also came with a cute puff. It is so cute I don't wanna use it at first but after some time, I realized I need to use it to see if it's good that they included it. The blush itself has the brand name engraved on it. I received the shade
Shine Orange
which I think is the safest shade among the three. It is a shade that is perfect for everyday use.
Swatch (without flash/indoor)
I tried taking a photo of the swatch with flash but my camera's flash is just too bright that it washes away the color. I also forgot taking a photo of the swatch under sunlight. But still, you can see the subtle orange color with some fine gold glitters that adds a nice glow on the face.
[caption id="" align="aligncenter" width="295"]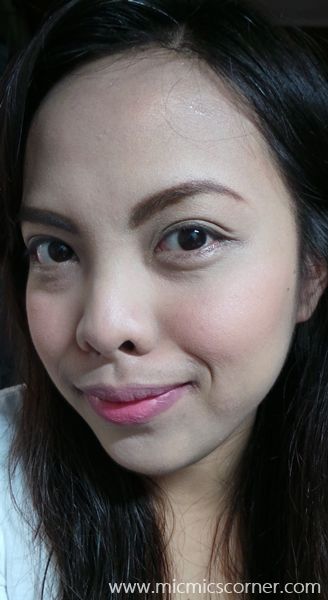 Upon application[/caption]
[caption id="" align="aligncenter" width="304"]
7 hours after application[/caption]
Here's what the product looks on my cheeks. As you can see, if applied lightly on the cheeks, it will give you a nice flush of color and will help your skin look glowing and healthy. I tested this product for a wear of 7 hours (4pm to 11pm) and I am surprised to still see the blush after that long 7 hours. It faded, yes and I find that not surprising at all. I tend to wipe my face everytime and also, considering the weather here in the Philippines, it is normal for our makeup to fade away. But this one worked amazingly and stayed nicely on my cheeks. Upon application, you will notice more the color over the shine it gives. After 7 hours, the shine is now more prominent and the color looks like your cheek is naturally blushing.
What I like:


Ingredients, manufacturing date and shelf life provided and are written in English.



Cute packaging with a functional mirror and puff.



Pigmented with fine glitters that makes the skin look glowing.


Although it has some fragrance, I didn't smell anything while applying.


The powder blush is really fine and smooth on the skin.


Lasted for 7 hours on my cheeks (I have combination to oily type of skin).


What I don't like:



No expiry date provided.



Contains parabens and fragrance.


Available in 3 shades only.


Not available locally.


A bit expensive for a blush but you can re-consider knowing that it performs really well.


Ratings:


Packaging: 4.5/5


Texture: 5/5


Scent: 4.5/5


Effectiveness: 5/5


Availability: 3/5


Affordability: 4/5


Overall Rating:
4.3/5
It is abvious, I am amazed by how this blush performed. I just hope they expand more on the shade selection and make it more accessible.
Check out Wishtrend's pages:
Shop
Facebook
Youtube
Micmic
Disclaimer: Product provided for review purposes. Review was done based on my personal experience with the product and is unbiased.