Here's a quick update on what my nails looked for the Halloween. For the record, I just stayed at home, no parties attended. Haha, that's me. I am more of a home buddy. Guess I've had too much already when I was younger, eh? Just kidding. =P
[caption id="" align="aligncenter" width="463"]
Top - Without flash
Bottom - With flash[/caption]
So here are photos of my nail art. I don't even know if I should call it a nail art because it doesn't look perfect to me. But I still like it. It is easy to do and my sister told me that it looked really awesome and super appropriate for Halloween.
Astig 
is one of the terms she used to describe this.
I used this San San nail polish in Luxury Black and I have to tell you that this polish is really nice. Aside from being affordable (around 30+ pesos, I think), it also goes very opaque in two coats with a shiny finish even without top coat. With this alone, my nails will still look nice.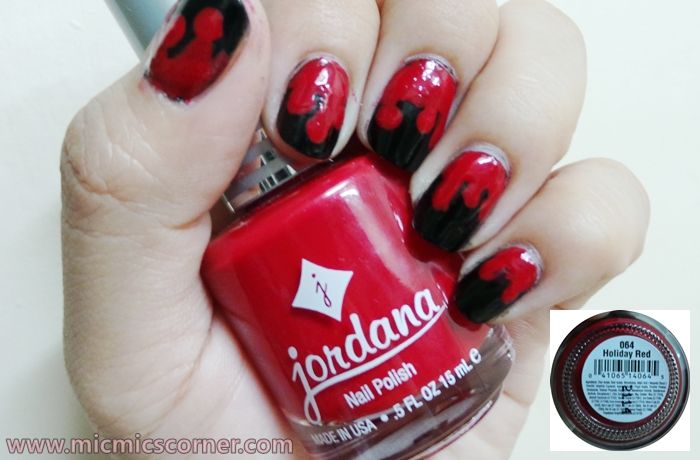 Of course, Dripping Blood theme wouldn't be perfect if I won't put a red nail polish. Good thing I have this Jordana nail polish in Holiday Red which I received from SaladBox. This is the second time I used this and I really love the color. It is the kind of red that does not make my hands look dark.
And yes, I used my favorite base coat which is the China Glaze Calcium Gel Fortifier and the top coat from Girl Stuff. These two will definitely make my nail polish last longer and look nicer with the added shine.
That's it for my nail art for this year's Halloween. I'll practice more to have a nicer art next year. =)
Micmic