The past days, I've been busy gathering news about the recent typhoon hit in our country (Philippines). My heart goes to the people who survived but does not know where and how to start living their lives again. I've experienced a part of what they went through. Our place got flooded fews years back when Ondoy hit Manila. Back then, I would think that it's the worst thing that could ever happen but I was wrong. So if there's one thing I'd like to appeal to you guys, it's for you to continue praying for my 
kababayans. 
Supports and relief goods are now on their way (some were distributed already) but I know it doesn't end there. May God help them surpass this trial.
On a lighter note, I wanted to share with you another product review. I've had this blush for a long time now. I bought this from
Makeupholics
last year, September (haul
here
) and I realized I haven't shared my thoughts about it.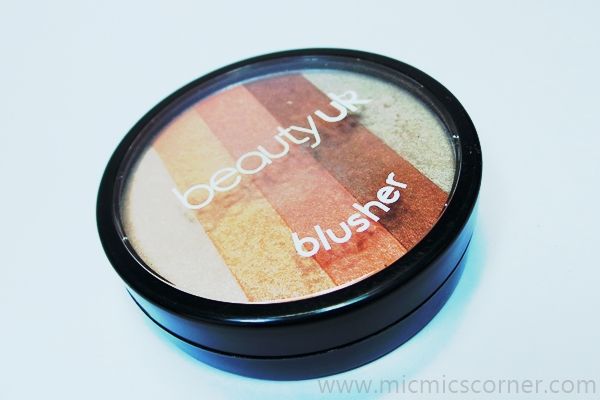 Beauty UK Stripey Blusher in No.4 Orange
These shimmering, brush-on powders creates a soft, red carpet glow.
Other color: No.3 Pink
Source: http://www.beautyukcosmetics.com/products/face/no4-orange
Price: 230 pesos
Ingredients: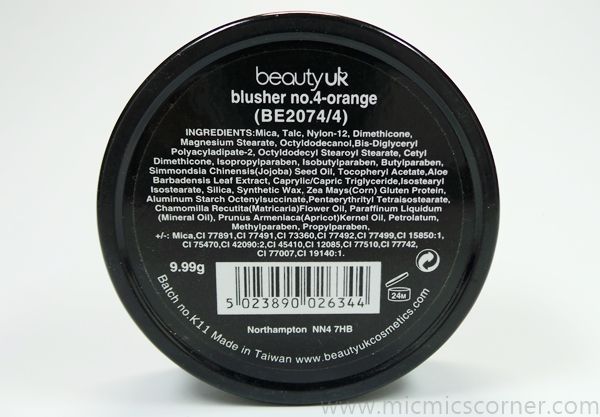 Just so everyone knows, it contains talc and parabens.
Packaging is pretty basic; screw cover without mirror. Ingredients and life span printed on the bottom part. It looks like eye shadows to me and honestly, you may use this for that purpose. You can create an eye makeup look already just by having this.
Swatches: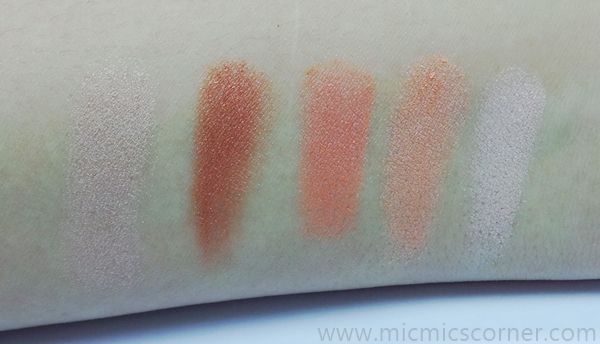 The colors are more on the warm side and they are really pigmented so be very careful when using this. You don't want too much orange-ness on your cheeks, I'm telling you. Haha! You may use these colors all at once or choose specific color/s as your blush.
Here's a swatch of all the colors combined at the back of my hand. I am loving the glowing effect of this blush.
On my face, I like using all colors as my blush then the darker shades goes also on the hollows of my cheeks to give dimension. This blusher gives my skin a nice flush of color and it matches my skin tone nicely. What I think is a bit off is that it made my imperfections more visible like the bumps on my cheeks.
To sum everything up:
What I like:


Packaging has ingredients and shelf life printed on it.


Screw-type lid is one of my favorites. Although it's a bit hard to open, I like that it prevents from accidentally opening the product. So I might as well go through the hassle than waste the product inside.


Texture is smooth and not powdery.


Unscented.


Pigmented.


Lasts pretty decent on the cheeks (approx. 3-4 hours).


Can be used as an eye shadow.


Affordable.


You get a lot of product.


What I don't like:


Packaging feels a bit on the cheaper side (well, it's pretty cheap price wise so it's not a biggie).


I would have wanted a mirror together with the blush just so I can do my touch ups anytime, anywhere.


Made my bumps of the face more noticeable.


Only available online in some shops.


Ratings:


Packaging: 3.5/5


Texture: 4/5


Scent: 5/5


Color payoff: 4/5


Lasting power: 3.5/5


Availability: 3.5/5


Affordability: 5/5


Overall Rating:
4/5
I can't complain much on the packaging since the price is really low and affordable. One thing though is retouch is definitely needed if you plan on using this for the whole day. Also, shimmers may make the pores appear larger so I won't suggest this if you have large pores. If you have oily skin, this can fare you as long as you apply sparingly so that you won't look too shiny mid day. Overall, I love the fact that this enhanced the color of my cheeks, gave them dimension and glow at the same time. I don't see myself repurchasing anytime soon since I still have 90% of the product left.
Micmic