Hello once again, my dear friends. I am trying to fit in a product review during my very busy day. It is quite chaotic here in our house right now because it is undergoing a major renovation. We are actually planning on moving out at least for the time being. My would be problem if ever that happens is my internet connection. Well, we'll see how I can solve it once the moving out happens. For now, I should do what I got to do and that is to share with you my latest beauty finds.
For today's review, it'll be about my current bb cream which is the Colour Collection Whitening BB Cream. I first heard about this bb cream in Sample Room where I got a full size as a sample. Then, I also got another full sized tube when I purchased BDJ Elite Box.
Gluta Whitening BB Cream is a multi-benefit product that not only works externally -- it also penetrates deeper using breakthrough Nanotechnology to deliver 5 wonderful benefits to your skin.
It acts as a whitening cream with its glutathione and papaya extract to even out skin tone and promote healthy cell renewal. It acts as a tinted makeup base or sheer foundation because of its self-adjusting shade that complements all Asian skintones. It doubles as a moisturizer with shea butter and soothing aloe vera, and works as a toner with hazel extracts that treats blemishes. Finally, it protects your skin from harmful UV rays with SPF27.
Full size: 40ml
Price: PHP 599
The tube is housed in a light blue box that contains all the information needed like product description, application process and ingredients.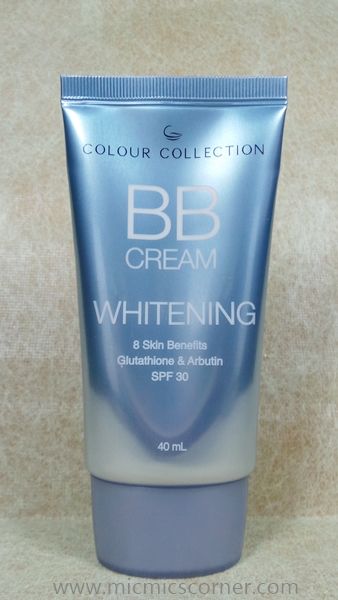 The metallic light blue tube contains 40ml of product, average amount of bb creams I normally see in the market.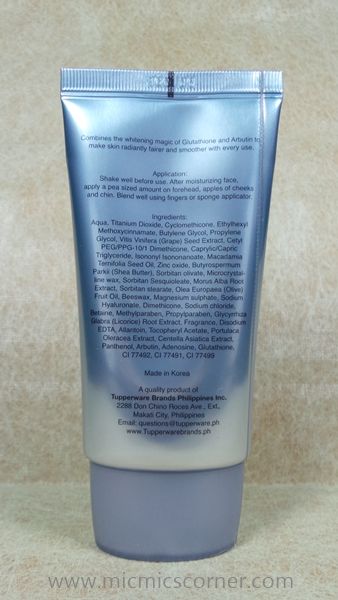 At the back of the tube, you will see the same information printed at the back of the box. Even if you throw away the box, you will still be sure that you have necessary information. I wasn't able to find manufacturing or expiry dates though. Tube type packaging is also convenient as we can squeeze out and use everything inside.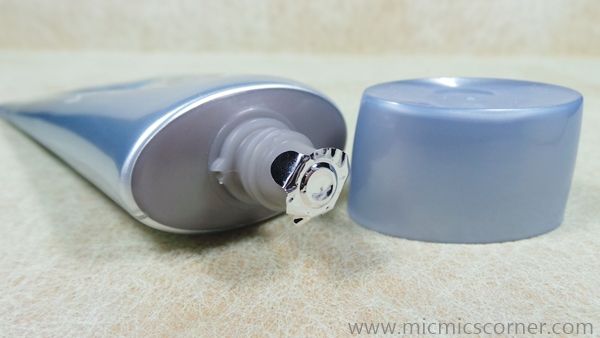 Product is sealed so it is guaranteed unused when bought.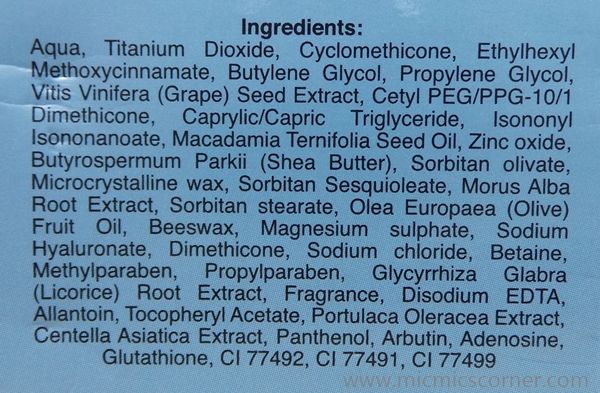 Swatch: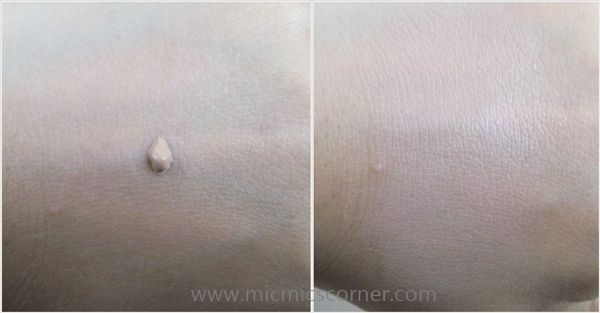 I was surprised to see that this bb cream has a mild yellow undertone to it and does not come off grayish. Most of the bb creams I've tried a re a bit on the grayish side which makes me look like a ghost. Though it is thick, it blends easily and gives a decent coverage. It appears a bit light at first but blends well on my skin tone after some time.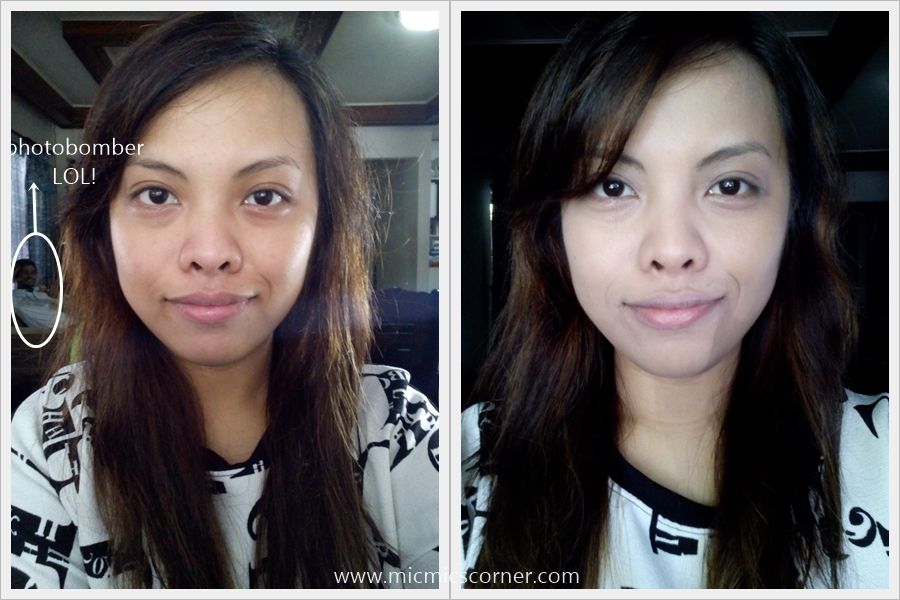 Left photo shows my bare face. I have uneven skin tone and yes, I am not pretty, haha. Don't judge, okay? Right photo, although appeared brighter because I leaned forward to have better natural lighting, shows that the bb cream was able to brighten up my face and cover imperfections.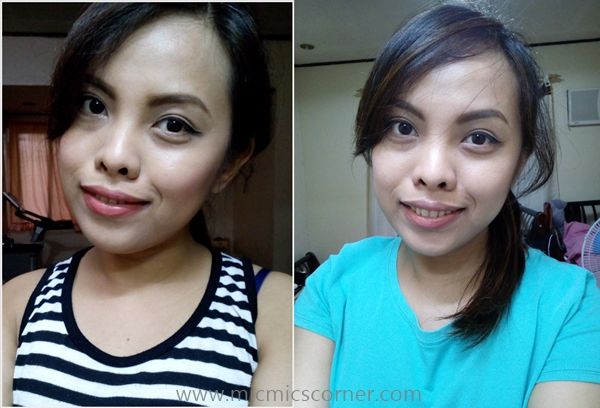 Here are two photos taken under artificial lighting. Left photo was taken around 4pm in the afternoon. I did not set it with powder or setting spray. Right photo was taken after less than 5 hours. It still looks decent and natural on me. It did not look cakey and it didn't melt. It faded in some areas but nothing drastic.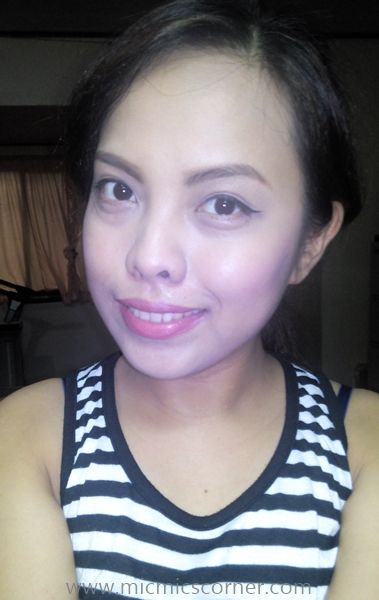 On flash photography, it shows really white and we know it's because of the SPF 30 it contains.
Below is a video showing how I used this bb cream. Feel free to watch and see the transformation before your eyes.
What I like:


Sealed, tube type packaging.


No overpowering scent but of course, it is better if it is unscented.


Blendable consistency.


Gives nice coverage for minor imperfections.


Yellow toned and no grayish or white-ish effect on the face.


I did not see much whitening effect but the SPF 30 is really helpful because when I am exposed under the sun, my skin does not feel burned.


Stays for a decent number of hours.


If you have dry skin, you may go and not set it with powder.


Available locally.


Did not cause any breakouts or irritations.


Available locally.


What I don't like:


No manufacturing or expiry dates.


One shade only.


If you have really oily skin, you will be needing a good primer and setting powder. Like me, after 5 hours, my T-zone got a bit oily.


Quite pricey but then again, it is effective so we can reconsider.


Though locally available, you may only get it at Tupperware distributors/resellers/agents.


[caption id="" align="aligncenter" width="288"]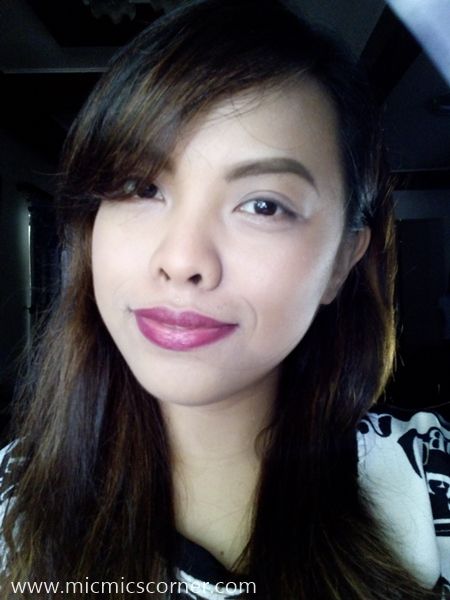 Me with the Colour Collection Whitening BB Cream and set with Ben Nye Colorless Face Powder[/caption]
Ratings:


Packaging: 5/5


Texture: 5/5


Scent: 4/5


Shade selection: 2/5


Effectiveness/Coverage: 4/5


Lasting power: 3.5/5


Availability: 3.5/5


Affordability: 4/5


Overall Rating:
3.9/5
I love how this enhanced my skin tone without making my face look too white or cakey. It lasted pretty long although some areas got oily but I don't mind that much since I know now what to do to make it last longer. Good thing the shade did match my skin tone that's why it is my current favorite bb cream.  I just hope they make the shade selection a bit wider and make it more accessible to the market. Good thing I have a back up though. Also, I will try the Anti-Aging counterpart of this soon. Watch out for my review.
Micmic