Few days ago, I posted here on my blog about my meet up/late lunch date with Katleya of Eyahnism. It is also the day when I got the brushes that I purchased from her. In case you didn't know, Katleya is the owner of The Sugar Bomb, a shop that sells pocket-friendly Goody brush, Fashion 21-inspired accessories on Facebook. Their items are really on the affordable side that's why I got tempted to get not just one but two brushes; one for me and one for my mom.
I originally wanted a tourmaline type of brush as it says it's good in taming static and frizzy hair. But sadly, it got sold before I even tell Eyah that I'll be getting it. She suggested this paddle brush to me and told me it's gonna help me with my very unruly hair. I trusted her suggestion and without any doubt, bought it right away. I've used a paddle brush before but I can barely remember the effect on me. You see, I am lazy with combing or brushing my hair. I can finish a day without combing. All I do is run my fingers through them and I'm done.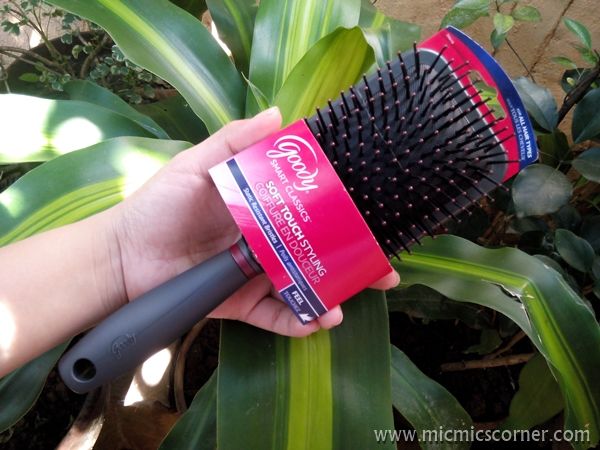 The Goody Smart Classics Paddle Brush
Php 350 (Mall price is Php 449)
I am so happy when I get to read the description. It is also for static, frizzy hair. Hurray! I didn't get my first choice which is a bit expensive than this one but at least I have something that can still help me with my concern.

The size of the brush is on the bigger side; not good for travel. The handle provides a nice grip and since it is a bit big, it covers a wide area whenever I use it.
What I love about Goody brushes are the very polished look like every part looks perfect, at least to my eyes. It is made of plastic but of a very sturdy kind.
Of course, I had to put this brush to the test. Photos below are my photos before and after using the brush on dry and wet hair.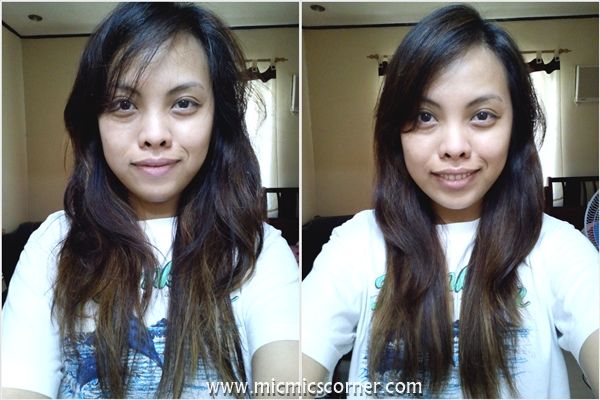 After waking up, my hair is usually a hot mess. All tangled up, I am afraid to comb it because they might break. I was surprised when I tried it. My hair looks really tamed and shiny. There are very few hairs on the floor but nothing that will make me bothered. When I looked at the brush, there are no hairs left on it. That amazed me. Normally, my brush would get a lot of hair tangled on the bristles.
I also tested it on wet hair. So after taking a bath, my hair is really soft because I used a conditioner/treatment but that does not mean my hair can surpass combing without any breakage. It still has it's share of few fall outs and I hated it. I have thin hair and the least I want is my fair falling off. Glad to say, no hair fall was seen when I used the paddle brush on wet hair.
What I like:


Sleek looking and sturdy brush.


The bristles did not hurt my very sensitive scalp (I am suffering from a mind Psoriasis).


Tames my hair, wet or dry.


Few to no hair fall whenever I use it.


Affordable when you buy it as The Sugar Bomb.


Locally available. I am just not sure if TSB still has this but you can check department stores nationwide.


What I don't like:


Not travel friendly.


There are still some minimal hair fall observed.


Well, it is pricier compared to other brands but I gotta say it is still affordable for a very effective brush. It is the quality you are paying for, as what my mom told me.


Ratings:


Packaging/Appearance: 4/5


Performance: 4/5


Availability: 5/5


Affordability: 3/5


Overall Rating:
4/5
This is my HG brush! I am in love with it. How I wish they have a smaller version of this that I can bring with me whenever I travel.
Micmic
Disclaimer:
Product bought by my own money. All opinions are based from my personal experience with the product.