Hi. How are you? My day went a bit tiring for me because when I woke up, my mom is like cleaning 2 rooms. We normally get scared when we see our mom do that because it only means one thing, GENERAL CLEANING. Even if she wants to clean just the two rooms, she will bring out almost all the stuff inside then bring them back inside once everything is cleaned and well organized. Of course, I had to help her. I originally wanted to post this earlier but this can wait.
[caption id="" align="aligncenter" width="560"]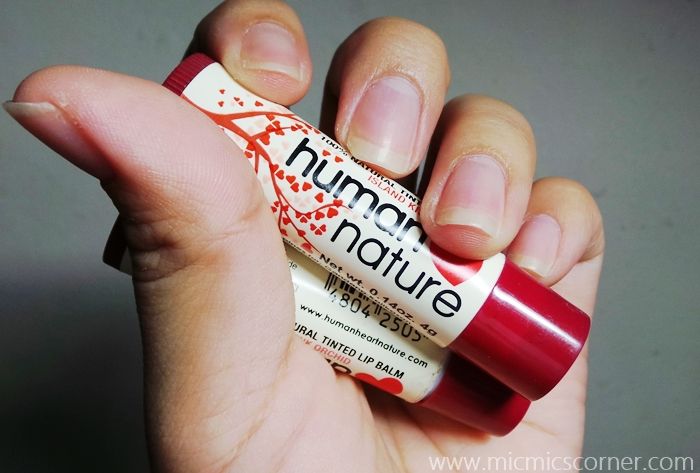 Human Heart Nature 100% Tinted Lip Balms
Php 79.75 at Human Heart Nature's
website
[/caption]
For today's blog post, I will be reviewing these lip balms that have been sitting in my vanity area for months now. I bought these Human Heart Nature 100% Natural Tinted Lip Balms last March and two out of 3 tubes I bought expired right after I finished testing them (last week of October). I hate having to throw makeup before even finishing them. It breaks my heart but I gotta do that.
As you can see, the print on the first tube is slightly different from the two tubes. That one is still with me because it will not expire until next year. I am the one to blame. If I used them earlier this year, I would've maximized these babies and prolly emptied at least one right this time.
Important details on the packaging
Product Description (source)
Get a hint of color and nourishment in one soothing lip balm! A feel-good blend of cocoa butter,beeswax and all-natural plant oils keeps your lips soft and moisturized all day.Available in three fun shades:Pink Orchid (pink)Flame Tree (red)Island Kiss (coral)Did you know: FD&C as well as D&C are color agents found in many chemical lip make-up and are made from coal tar. According to the Environmental Working Group (www.ewg.org), most of these have been shown to cause cancer. Now that's NOT something to smile about! But here's something that is – Human Nature does not use ANY synthetic colorants. Only the Good.Ingredients: Ricinus communis (castor) seed oil, beeswax, Theobroma cacao (cocoa) seed butter, caprylic/capric triglyceride (coconut oil derived), Helianthus annuus (sunflower) seed oil, Mentha piperita (peppermint) essential oil, Calendula officinalis (calendula) extract, Rosmarinus officinalis (rosemary) extract, tocopherol, (+/-): zinc oxide (CI 77497), iron oxide (CI 77491), manganese violet (CI 77742), mica (CI 77019), titanium dioxide (CI 77891)0.14 oz. (4g)Php 79.75
That's how much product each tube contain inside. I had a hard time putting one back. That's actually one problem I always encounter with lip balms. When I try to twist it to see the entire product, it just wont go back and I had to push it a bit.
I got all the shades available and out of the three, I only like one which is Flame Tree. Good thing this one isn't expired yet.
Swatches
[caption id="" align="aligncenter" width="342"]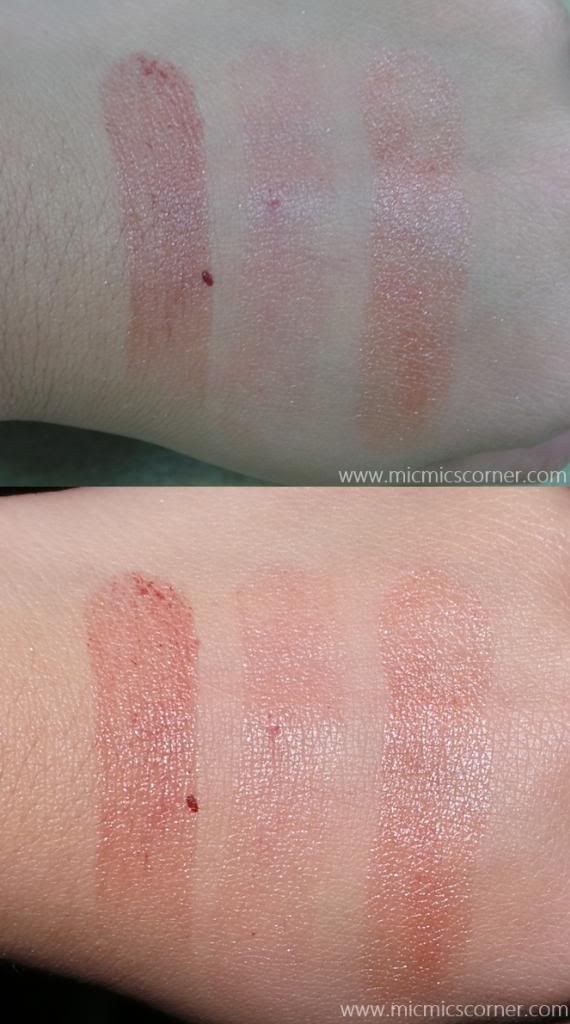 One swipe each
Top - without flash
Bottom - with flash[/caption]
[caption id="" align="aligncenter" width="316"]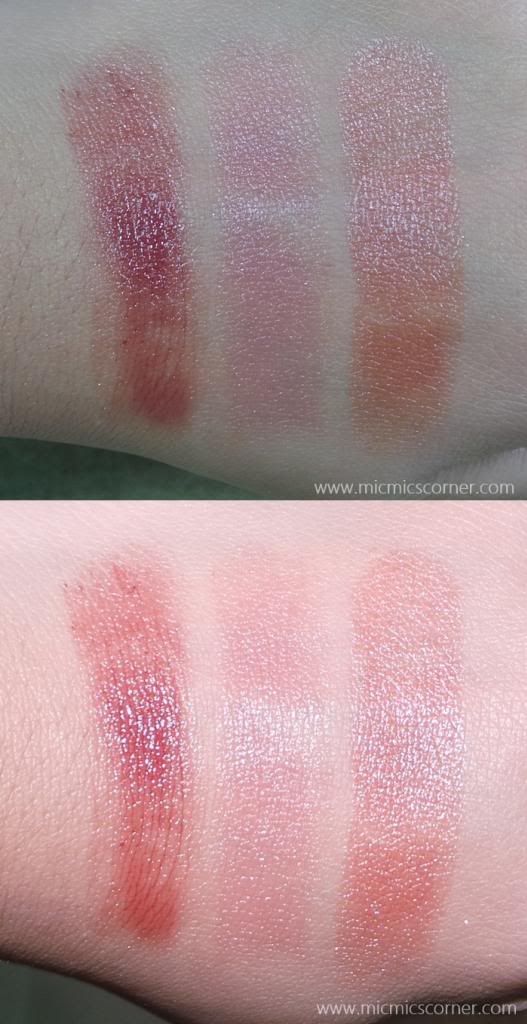 3 swipes each
Top - without flash
Bottom - with flash[/caption]
As a reference, here's what my bare lips look like. Please don't mind the facial hairs.
Flame Tree (red)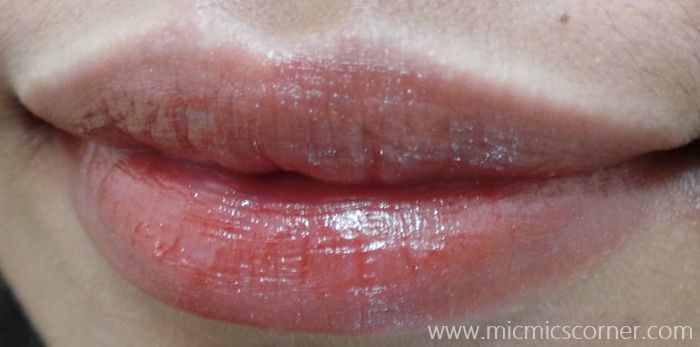 Pink Orchid (pink)
Island Kiss (coral)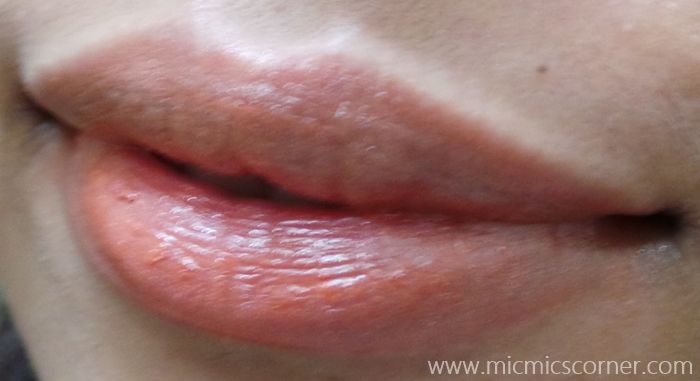 Aside from my brow pencil, I didn't use any products that's why my face looked like that. As you can see, Flame Tree really made my face brighter and fresher even without face makeup. The Pink Orchid didn't show up while Island Kiss just don't match my skin tone. My lips looked healthier with Flame Tree while the other two emphasized the dryness of my lower lip.
What I like:


Informative packaging.


Minty feel on the lips.


Smooth on the lips.


Moisturizing.


No irritations felt.


Organic.


Affordable.


Locally available.


What I don't like:


Packaging is ordinary. UPDATE: Well, as what April commented below, for 80 peso worth of product that works well, this product is an okay product. Well, most lip balms a packed this way so I shouldn't complain anymore. Thanks April because I realized this because of your comment. =)


Limited shade selection.



Not that pigmented especially Pink Orchid.



Though it's moisturizing, Pink Orchid and Island Kiss accentuated my dry lips.


Lasts only for 2 hours on lips (with no food or drink taken).


Removed totally after eating.


I think it is only available online and to some outlets of HHN.


Ratings:


Packaging: 4/5


Texture: 5/5


Scent: 5/5


Effectiveness (moisturizing): 4/5


Color payoff: 3/5


Lasting power: 2.5/5


Availability: 3.5/5


Affordability: 5/5


Overall Rating:
4/5
UPDATE: I adjusted the rating on the packaging. Read the update above for my reason. 
I think this one does a nice job in moisturizing my lips. I also love the minty taste and scent to it. Plus it's affordable. Areas that need working out are the packaging, shade selection and lasting power. I love
Flame Tree
for everyday use. but I don't see myself repurchasing it.
Micmic