Here's a quick review on the
Inti-Mate Bra Converter
that I got from
Sample Room
(see my haul
here
).
I have used this a couple of times already and now that I have this set, buying a racerback bra or a throwing away a loose bra is not necessary anymore.
Inti-Mate Bra Converter
Inti-Mate is the perfect bra accessory that can prevent loose or falling straps, and instantly convert your conventional bra into a racerback bra – no more awkward visible straps while wearing sexy tops, and even sportswear!
Inti-Mate also gives you added support, as it gives you the effect of a push-up bra – instant support, cleavage, and confidence!
Inti-Mate comes in the form of a very feminine floral shape, that is to be clipped on both your bra straps. It comes a pack of three colors – black, nude, and transparent – adding a minimalist touch to your intimate wear.

1 box = 3 pcs.
Price: Php250
(source: http://www.sampleroom.ph/tools/Inti-Mate-Bra-Converter)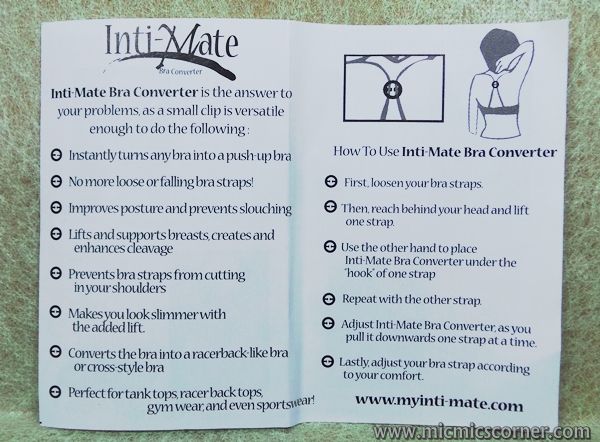 It does not only transforms a conventional bra to a racerback-like or cross-style bra. It is also intended to those who lost some weight and have loose bra. This will help in adjusting the fitting of the bra. I am now more excited to lose some weight. Above, aside from the benefits, you will also see the steps on howto use this. This package insert in included in the set so you are all good.
At the back, an illustration is given for better understanding on how this product works. Not a fan of this procedure though.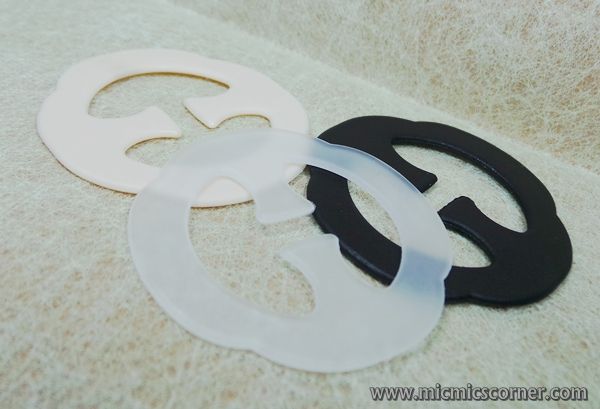 It comes in 3 colors that you can match on the color of the bra you are currently using. Or just use whatever you like. No one will see it anyways. Haha! At first, I thought the plastics are gonna break. Lo and behold, it surpassed a day worn without breaking.
Here is what actually happens when you don't own a cross-style or racerback-like bra. The straps would show in this kind of top. To some, this is okay since it is part of their fashion statement, but for some conservative girls like me (slight lang, chos!), hiding the straps would be a better option.
Watch the video below for an alternative way of using this bra converter. This is applicable if you have a companion like a husband or sister.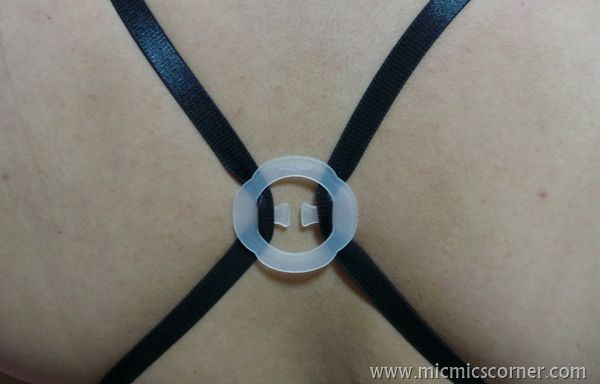 After putting the bra converter, it would look like this. I intentionally used contrasting colors for better illustration. Can you now get the idea why  it can also help loose or falling bra straps? It pulls the straps inwards hence better fitting.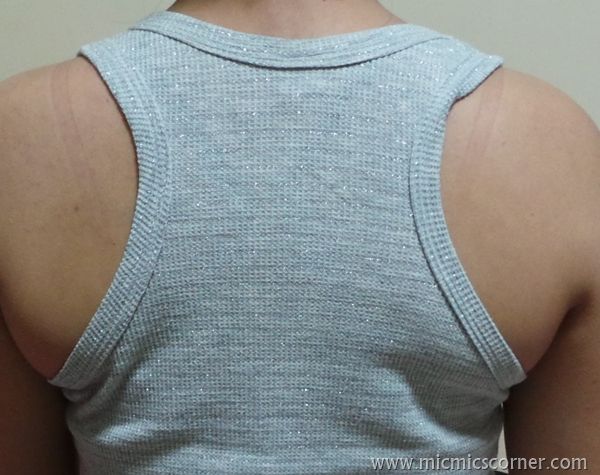 No more showing bra straps! Pardon the marks on my back. My initial thoughts when I tried it 2 times, I told myself that the plastic might snap especially because I like my bra to be tight. My bad for saying I won't buy this again. Well, I just might repurchase once the set I have is no longer okay for re-use.
What I like:


It comes in 3 and in different colors.


Perfect for those who don't have many types of bra in their closet.


No need to buy new bra in case the straps became loose.


Breasts appear more lifted.


The plastic is sturdy.


Available locally.


If you are going to think if buying this without knowing the benefits, you will think that the set if expensive. But, buying a new bra is more expensive right? So I guess I should say that this is more affordable.


What I don't like:


Application procedure is kind of tedious for me.


Not good for people with cluttered stuff. It might get lost.


Aside from the website, I don't know any place where I can get this.


Ratings:


Packaging/Appearance: 4/5


Performance: 4/5


Availability: 3/5


Affordability: 4/5


Overall Rating:
3.75/5
I am loving this product. I just hope I won't misplace it or else, I will need to get a new set.
Available at: www.beautyandminerals.com
Social Media
Online Shop: 
www.beautyandminerals.com
Facebook: 
www.facebook.com/beautyandminerals
Instagram: @beautyandminerals
Twitter : @beautynminerals

Email: beautyandminerals@gmail.com
Micmic
Disclaimer: 
Product bought by my own points in Sample Room and I paid for the shipping fee. All opinions are based from my personal experience with the product.