This is actually a very late post. I'm actually craving for some Ramen right now and I remembered I experienced eating a ramen burger last year from
Tempura Japanese Grill
so I am really sorry if this came in a bit late. To be honest, I can still remember the taste of this burger and I also want to try it again.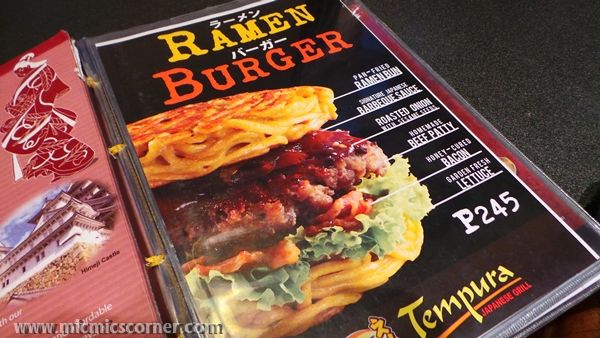 When we visited their branch in Tomas Morato that time, all I have in my mind is that I will be eating my usual bets there. Not until I saw this on their menu, RAMEN BURGER! You guys know how much I love eating Ramen, right? So this is something I'll definitely try! Well, of course, it will taste different because it lacks the soup.
For Php 245, you'll get this. Oh boy, I got even more excited to see it with chips. :)
The ramen bun is as thick as the patty making it quite hard to eat as a normal bread. What I did was I used a knife and fork instead. I love the flavors inside from the onions to the very juicy patty and the bacon and lettuce. This is an almost perfect dish. It's just that the bun is a bit heavy already making me full even before finishing the meal. I took home half of the serving and ate it as my midnight snack. Nonetheless, I'd love to have this again!
We also ordered other dishes there but I forgot what they are called and their prices so I'll just post the photos for you.
I didn't expect to devour this but I did! I love the mandarin oranges! So unlikely because I am not a fruit-eater.
With this, I find the salmon more flavorful and I like that it feels like it is melting inside my mouth.
This is what we came there for. My mom craved for some Tempura. :)
I forgot the name but this is a must try! PERFECTION! We asked them (crew) to cook this for us but if you prefer, you may grill it yourself.
The Tomas Morato branch is very spacious. You may bring a lot of friends or relatives here.
Ending this quick food post with my photo inside Tempura Japanese Grill in Tomas Morato branch. I hope they'll branch out to a place near my house. :P
You may check their menu here:
https://www.facebook.com/tempurajapanesegrill