This is my first ever product review for the year 2014. This was supposed to be posted last month but due to hectic schedule, I had to move it. So this is my take on Maybelline Clear Smooth BB Stick which I've been using since November last year. This has been my go to face makeup when I am in a hurry and whenever I only need a face brightening product.
Maybelline Clear Smooth Shine Free BB Stick SPF 21 PA+++
Php 289 | 10g
For oily skin
Comes in 2 shades (Fresh and Radiance)
The first BB stick with 12 hour anti-shine powder finish! With its silky smooth application, it gives you a shine free powder finish every time! (copied from my press kit)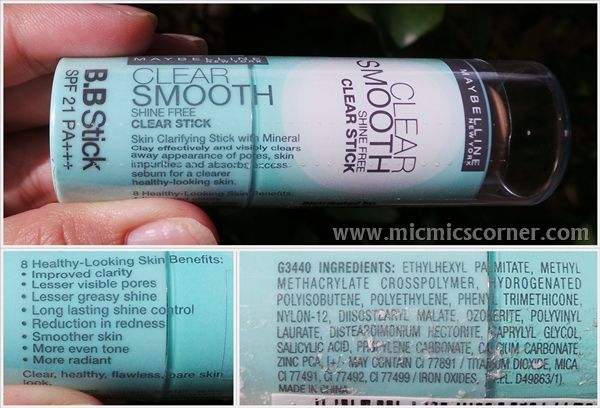 On the plastic that seals the product, you will see the product description and the ingredients. This is not so much of a big deal but I think it is better if the ingredients were printed on the product itself and not on the plastic. That's just for future reference if ever. Like when we heard of something about a certain makeup ingredient then we want to check if our makeup has it, diba? But you can always search online. Matrabaho nga lang.
The packaging resembles a lipstick to me. Like the mechanism on how to get the product is very similar. This is just a bit bigger. Made out of plastic but is sturdy enough to hold the product. The Bb stick does not wobble inside. Twisting it to get the product is smooth and easy peasy.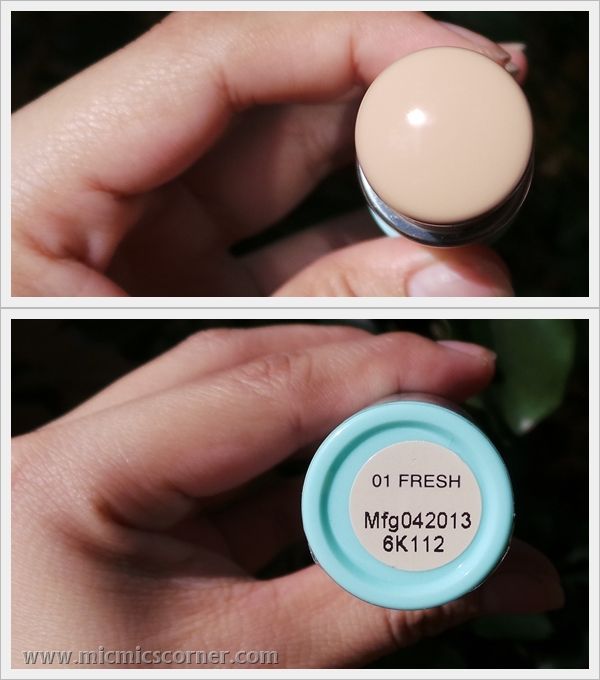 This only has 2 shades, Fresh (lighter) and Radiance (darker). How I wish they have a wider shade selection. Though Fresh is lighter than my skin tone, I was still able  to blend it out using a darker shade of powder. Thank goodness!
The texture of the product is very powdery. It spreads like a cream based product but once you touched it, you'll feel as if you've applied a powdered type of product on to your face. It does not feel heavy nor greasy. It brightens the skin but keeping the natural look.  However, if you have dry kin, this might accentuate dry patches. Oh, I must also say that the smell isn't pleasing to me. It smells like plastic or some kind of chemicals that I don't really like. It goes off after some time.
Here's a photo of my face before and after using the product. I used 2 layers and as you can see, the coverage is light to medium. It is easy to spread but hard to build the coverage on my face. My scar on my left lower part of the cheek is still noticeable and my under eye area is still a bit dark. Other than those areas, my skin looks bright, even and matte.
I put the bb stick to the test and wore it without setting powder. After more than 7 hours, I saw my face isn't shine free anymore but when I touched it, it still feels nice like it is not greasy.
To test it again for the shine free effect, I used it with setting powder this time. I wore it for 12 hours and did not retouch the bb stick and powder. The powder did a great job in making the bb stick last longer. After 12 hours, the high points of my face looked a bit shiny but not oily. It looked better compared to when I used it alone. I am definitely using this with powder on top.
UPDATE:

When used in flash photography, this is what it looked on me. It does give a slight white cast on the face.
What I like:


Description, ingredients and manufacturing date on the packaging.


Travel friendly.


Has SPF 21 PA+++ making it a good product to prevent sun damage.


Powdery finish.


Instant brightening effect.


Lasting power (if set with a good powder).


No irritations experienced.


Affordable.


Available locally.


What I don't like:


The plastic-like smell.


Only 2 shades available.


Accentuates dry patches.


Hard to layer on for more coverage hence it only covers light to medium.


Faded in some areas like the sides of my nose and under eyes.


Not shine free for 12 hours when used alone (at least on me)


Extremely oily individuals should use a very good powder/setting spray.


The product might melt if placed in warm areas.


Can give white cast when used in flash photography.


Ratings:


Packaging: 4/5


Texture: 4/5


Scent: 2/5


Shade selection: 2/5


Effectiveness/Coverage: 3.5/5


Lasting power: 4/5


Availability: 5/5


Affordability: 4/5


Overall rating: 3.5/5
I think this bb stick is okay if you don't have much to cover on your face. You may use concealer of this can't work alone, coverage wise. Again, the downside is the scent and the shade selection. Other than that, I think this bb stick is a good product to use for everyday. If you are like an office or school girl that needs something to even out your skin tone, brighten you face especially the under eye area and you don't like splurging too much on a bb product, this one is for you. But if you want something that can cover major imperfections this isn't something that I'd recommend.
Watch the video below to see the demo on how I used this product.
Check Maybelline Philippines in the following sites/accounts:
Facebook
Twitter
Instagram
Micmic
Disclaimer: Product provided by the company. Review was done based on my personal experience with the product and is unbiased. I was not paid to do this review.