Finally, le blog is now okay. It felt like I've been away for a month! I missed posting here. This is my outlet that's why when it went down, I was kind of in a bad mood. Just a teeny tiny bit tho! :)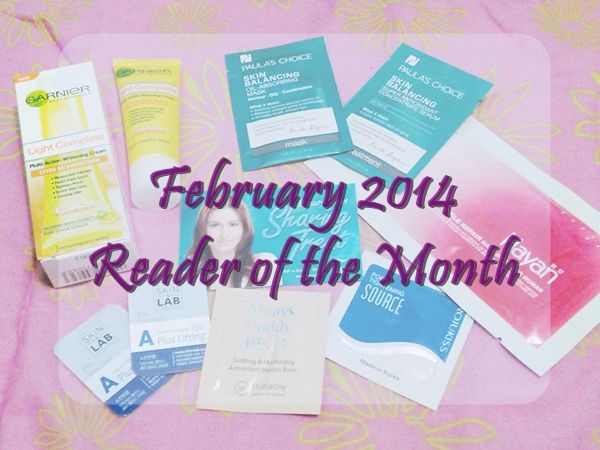 Yes, I officially have my very first
Reader of the Month
. She's no other than 
Roselle Gonzaga, 
commenting under the name 
Style and Glow
. She's also a blogger and I appreciate that she visits my blog and leave valuable comments despite her being busy with her own craft. Thank you, I appreciate it so much. Email me at admin@micmicscorner.com on how to get the items. Congratulations!
This month's prizes:
Garnier Light Complete Multi-Action Whitening Cream
Hayan Korea Wrinkle Repair Mask Sheet
Paula's Choice Skin Balancing Super Antioxidant Concentrate Serum Sample
Paula's Choice Skin Balancing Oil-Absorbing Mask Sample
ElishaCoy Always Nuddy BB 24 Sample
Rojukiss Pore Tightening Source Sample
Skin & Lab Dr. Vita Clinic A Plus Lifting Samples
Aesthetic Institute of the Philippines 500 peso Gift Card
Again, same mechanics. Previous winner is only eligible to win 3 month after they've won. This is to give way to other readers.
What to do to qualify:


Like my Facebook Page


Follow me on Bloglovin and Networkedblogs


Leave comments related to the topics. It may be a 'thank you' comment, a suggestion or anything that is related with whatever I have posted here on my blog. Rude and below the belt comments will not be tolerated. Also, I value quality of comments. Quantity is okay but be sure that you will leave sensible ones. Be consistent not only here but on my social media accounts as well, likeFacebook, Twitter, Instagram and Youtube (not mandatory tho but I will consider).


You must be a Philippines resident.


Thank you, my dear readers, my friends. Having you is what keeps me going and what motivates me to go further in this journey. =)
Micmic