Hi! How have you been?
I know I've been lacking in doing reviews lately. I just find it really hard to test out products while I'm here in our current house. Everything seems chaotic here and the ambiance isn't really motivating for me. Like our stuff is scattered everywhere. Dogs running here and there and I can't seem to find a bit of privacy. But I need to do what I gotta do. :)
Since last year, the serum that I've been using is this
Hayan Aesthetic Vitamins Serum
. I have to say this now that this is one of my favorites with regards to skincare. What happened was I fell in love the moment I smelled it and the love grew when I started using it.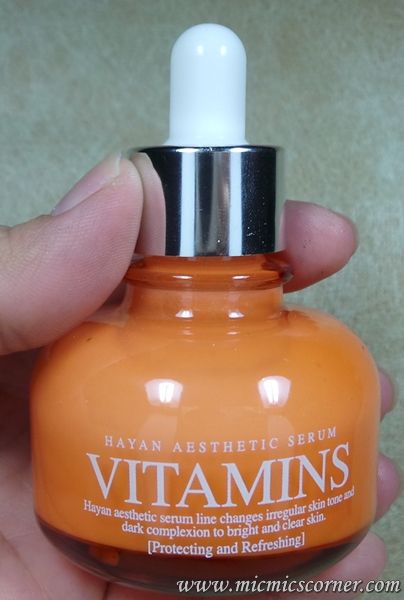 Product Description:
(Protecting and Refreshing)
Vitamins protect the skin from environmental impurities as it aids in the natural rejuvenation of the skin. This serum naturally supports skin cells and revitalizes skin that has lost its transparency giving it a naturally fresh and healthy glow.
Php700 | 40ml
Purchase at any branch listed below.
Branches nationwide:


Hayan Starmall EDSA


Hayan SM Sta Mesa


Hayan SM Southmall


Hayan SM Sta.Rosa


Hayan SM San Lazaro


Hayan SM San Pablo


Hayan SM Rosario


Hayan Victory Mall Caloocan


Hayan Maunlad 2 Mall Bulacan


Hayan Ortigas


Hayan Angeles Nepo Mall


Hayan Naga City


Hayan Quezon Povince


Hayan Caloocan


Hayan SM Masinag


Hayan Victory Mall Antipolo


Hayan Starmall Alabang


Hayan Angeles Jumdo Jenra Mall


Hayan Dau Jumdo Jenra Mall


Instructions and Ingredients
I always appreciate a product or a brand whenever I find 'caution' information on the box or packaging. That goes to show that they are honest enough to admit that even if their products are tested, there are still chances that untoward effects may be observed so we still need to be careful.
Manufacturing and Expiry Dates:
Another major plus for me is when a product has an expiry date. It is important for me to know when will a product expires. Using expired products may cause irritations and we don't want that. But the shelf life should also be taken into consideration because it guides us on how long we can use the product after opening. See the one that says "12M"? That's the shelf life. For this one, it is 12 months after opening.
Packaging is somewhat similar to the other serum I've tried. This came in a bottle with a pipette or dropper used to dispense the product. This is hygienic and very easy to do. One thing though is that it is hard to reach the bottom part when only have few product left. I love using a product til it's very last drop and I think I'll have to disregard the pipette once the product reaches the bottom part of the bottle.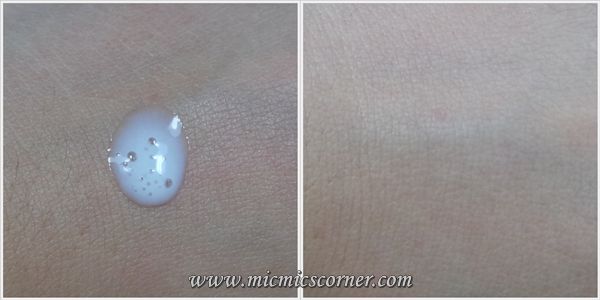 Consistency is quite thin and it does not feel heavy, sticky nor oily on the face. It is quickly absorbed by the skin and also, it has a fresh floral scent that does not bother me at all. It goes off once the serum is absorbed. Loving how it disappears on my face. I can use this day and night if I want to.
From what I've observed, this serum does not give an overnight result. Long term usage is advisable to see full effects. My skin is now more brighter and my mom would tell me thatm y skin is clearer now. Though I am using other products such as toners and moisturizers, I still wanna give this credit because I've been using this for more than 3 months now and I am loving my skin's current condition. Of course, it is not perfect but I don't get to experience pimples that much lately and my skin is not that dull anymore.
What I like:


Basic packaging with important details printed on it.


Has a pipette for hygiene purposes.


The serum is not sticky. It gets easily absorbed.


I like the scent.


Does a great job. I got complimented for having better skin months after I used this.


Still affordable at 700 pesos for a 40ml product that does it's job (might be pricey for some).


Will last for months.


What I don't like:


Pipette won't reach bottom part of the bottle. Checked it again last night and it actually touches the bottom part of the bottle but I find it hard to get the product till the very last drop using the pipette so I had to tap the head of the bottle on to my palm to dispense remaining product.


Bottle is very delicate to hold or carry around since it is in glass form.


You can only buy this at those branches stated.


Ratings:


Packaging: 4/5


Texture: 5/5


Scent: 4/5


Brightening effect: 4/5


Moisturizing effect: 3.5/5


Availability: 3.5/5


Affordability: 3.5/5


Overall Rating: 3.9/5
So far, I am still loving this
Hayan Aesthetic Vitamins Serum
and I'll definitely continue using it until I feel the need to use a new one. Just a little reminder, use a moisturizer after this especially if you have dry skin because though this moisturizes, I think it can't last a long time.
What's your favorite serum? I'd love to read your experience with it.
Check Hayan Korea's sites and social networking accounts:
Website - 
http://www.hayankorea.com/inc_html/index.html
Facebook - 
https://www.facebook.com/hayankorea
Twitter - https://twitter.com/HayanKorea
Instagram - 
http://instagram.com/hayankorea_ph
Micmic
Disclaimer: Product provided for review purposes. Review was done based on my personal experience with the product and is unbiased.