I know I haven't been posting reviews lately. That is because I am quite busy at home with chores as well as the renovation thing. I feel so guilty not being able to do what I really wanted to do but that's life. Maybe in the coming days, I'll be able to review a product for you girls. For now, allow me to share with you what products I received with this special edition
GlamourBox
featuring
Snoe
.
Being a Snoe products user, I got really excited when GB announced that they'll be having a special edition box. I must say, Snoe products really deliver.
Here's the list of the products inside. Six full sized products and one sample size.
My box with its contents! =)
1. Hair Heroes Agent Zero Cleansing Serum | Php599 (250ml)
Full Size
Got sensitivities? Let Agent Zero save the day! Made with zero fragrance, sulfates and silicones, this vegan hair and body cleanser won't irritate even the most delicate babies, kids and adults.
It is not a secret that I have a very sensitive scalp that reacts to almost all of the products I use on my head. I am keeping my fingers crossed that this will help me with that without compromising the positive effects on my hair, of course.
2. Snoe White Beauty Barin Organic Papaya | Php139 (150g)
Full Size
Be the fairest of them all! Delight in the fresh, fruity smell of carefully hand-selected fresh papaya fruits in this organic beauty bar. It gently exfoliates skin to erase all signs of dark spots and blemishes.
I am in love with my current whitening soap but I'll definitely give this a try since its mells soooo good!
3. Snoe White Beauty Bar in Lightening Licorice | Php139 (150g)
Full Size
Make your sensitive skin stand out! The special beauty bar with licorice safely brightens and nourishes skin for a younger, silkier complexion with a pinkish glow.
I cannot remember trying out licorice soaps before. Well, I am definitely going to use this. Who doesn't want younger, silkier complexion with a pinkish glow?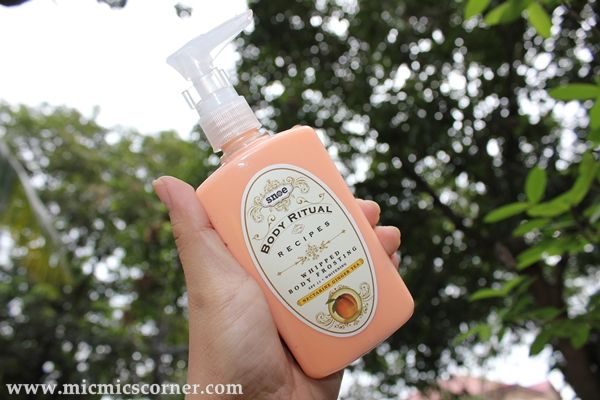 4. Body Ritual Recipes Whipped Body Frosting Lotion | Php249 (150g)
Full Size
If your skin's feeling dehydrated, whip out this indulgent lotion for an instant moisture fix. Infused with skin-protective Vitamin E, papaya extracts and SPF15, you'll see, smell and feel addicted to your radiant skin!
I have already tried this and I am hooked right away! It is not greasy, to begin with. That's the first thing I look for in a lotion. And the smell, it's DIVINE!
5. Fizzy Clean Foaming Hand Sanitizer | Php179 (50ml)
Full Size
Hands feel clean, soft and silky-smooth with this quirky alternative to traditional hand sanitizers. Soft bursts of foam wash away dirt and germs while leaving skin hydrated. Feel the fizz!
Not that excited to use this but I realized that this is one of the most useful products included in the box. We need clean hands every time so this will go in my bag just to be sure. :P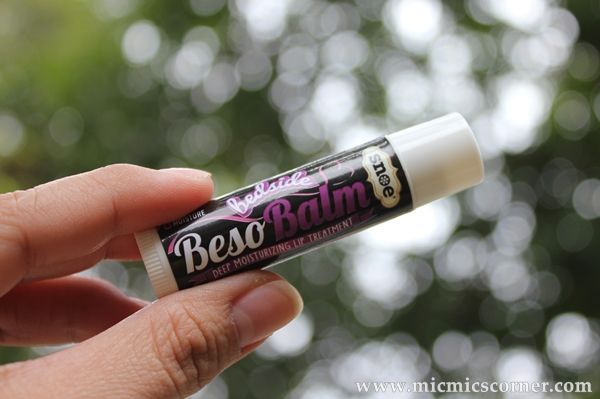 6. Bedside Besobalm Deep Moisturizing Lip Treatment in Pink Pout Pucker | Php249 (4g)
Full Size
Keep this on your bedside so you won't forget to treat your puckers while you sleep. A word of warning, though - It creates luscious pink lips that may attract the opposite gender!
LOL! Love the warning! This is a minty lip balm and that makes it a must try for me. Love mints! :)
7. Poudre Extraordinaire Face Powder in Vanilla Creme, Perfect Beige or Warm Honey | Php799 (35g)
Sample Size
Armed with acai berry, the most nutritious fruit in the world, this mineral powder is more than just a makeup. It protects skin from free radicals, tightens and smoothens fine lines yet totally blends naturally into the skin.
This was raved by so many bloggers last year so having this (even if in sample size) made me so happy. I just wish they included the shade of the actual product we got so that when we need to purchase the full size, we know what to get right away.
Want to see more of my unboxing? Watch the video below.
So that's my special edition GlamourBox. Excited to use the items and see if Snoe will continue to amaze me with their items!
Check these to know more about the box and the products:
Glamourbox website: http://glamourbox.ph/
Glamourbox Facebook page: https://www.facebook.com/GlamourboxPH
Snoe Beauty Inc. website: http://www.snoebeauty.com/
Snoe Beauty Inc. Facebook page: https://www.facebook.com/SnoeBeauty\
Micmic
Disclaimer: I wasn't paid to do this post. Box and its contents are bought by my own money.