Yes, I know. This is AGAIN late. I kinda have this last February 24 but I forgot to post it here on my blog. Well, I heard that some schools are going to have their prom this March so I think this is still going to be a bit helpful to some students. I hope. This is the Rosy Glow Prom Makeup Look.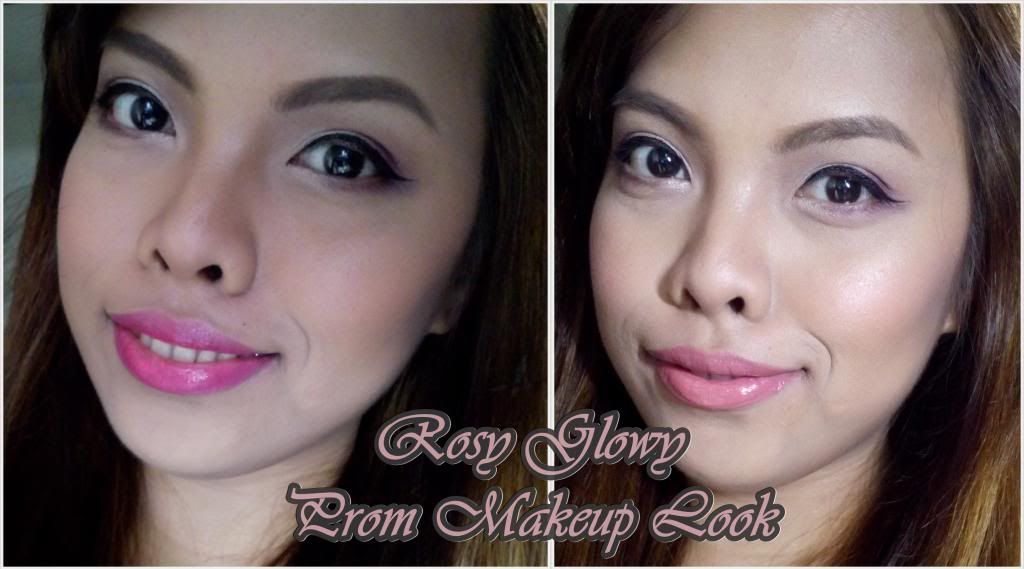 What's important during this kind of event is to use camera-friendly and long wearing products. And, that's what I did. I focused first on creating a flawless canvass. It is always the best thing to prioritize first and everything else will follow.
For the eyes, I used different hues of rosy shades. This give the look that romantic feel. Girly and not too much on the safe side, I think. The winged eyeliner added that extra oomph but I still want to create a very student-friendly look so I did not use falsies. I think most of the students are still not used to wearing false eyelashes so I decided I can go without those.
This look can go well with either hot pink lip color or a nude one. Here, I used the hot pink one and I love how it blended well without making me look too loud. I think, the looks is so fresh and girly. Typical high school look, I must say.
Of course, nude is always in. If you want to be extra safe with your look, go nude. This makes me look so nice and accommodating. Something that my date, if ever I'll be going to a prom again, will like.
Products used:
L'oreal Base Magique Transforming Smoothing Primer
Glory of New York Total Coverage Foundation in 203
L'oreal True Match Super Blendable Concealer in Light/Medium
Snoe Bedside Besobalm Deep Moisturizing Lip Treatment in Pink Pout Pucker
Ellana Minerals Lip and Cheek Tint in Ruby
Ben Nye Neutral Set Colorless Face Powder
Snoe What's Up Brow
ELF Eyelid Primer
Wet n Wild ColorIcon in Walking on Eggshells
San San Single Eyeshadow in Deep Earth Brown
Etude House Rose Flowering Eyes Palette
Hayan Real Black Liquid Eye Liner 
Avon Ideal Luminous Blush in Peach
Yves Rocher Sexy Pulp Mascara
Avon Ultra Color Lipstick in Hibiscus
NYX Xtreme Lip Cream in Buttery Nude
Evian Moisturizing Mist (not shown in the video but this will make the makeup last longer)
Tools Used:
Artist Studio Angled Flat Top Brush (for foundation and cheek stain)
Suesh Blending Sponge (for concealer)
Artist Studio Angled Liner/Brow Brush (for the eyebrows)
Beauty Cosmetics Brushes
Virginia Olsen Blending Eye Brush
In2it Medium Shader Brush
Shu Uemura Karl Lagerfeld Lash Curler
Watch the video below to see how I did this look.
Micmic